Red beans are not the only beans in Louisiana.  Try these white beans as a repose from cliche'.  This little gem is from my Gourmand World Cookbook Award nominated cookbook Third Coast Cuisine: Recipes of the Gulf of Mexico.  Does it sound like I'm blowing my horn?  Damn right!  I'm proud of that.  You have something you created get international notoriety and you'll be warming up the old trombone too.
Cajun White Beans
1 pound dry Cannelloni Beans, soaked overnight
1 medium onion, chopped
1 stalk celery, chopped
1 bell pepper, chopped
1/4 lb. pork tasso, sliced
5 cups water
2 tablespoons Cajun Seasoning
Soak beans overnight. The next day, place beans, onion, bell pepper, seasoning, and pork Tasso in a slow cooker.  Pour in enough water to cover beans, roughly 5 cups. Cook on low heat for 6-8 hours or until beans are soft.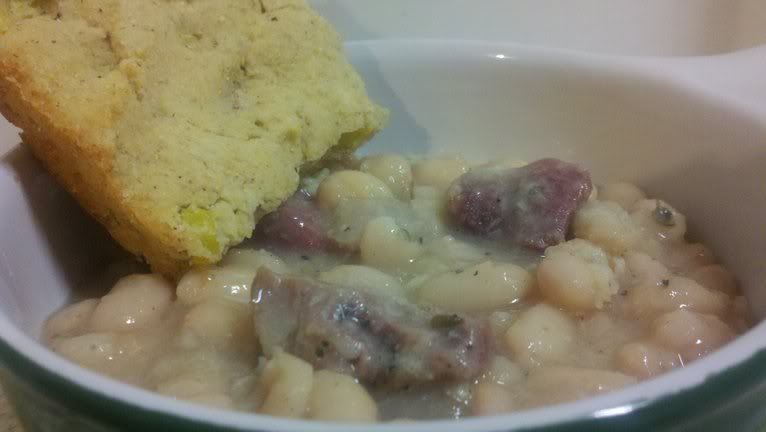 The other day I caught an episode of Two Fat Ladies the quaint BBC cooking show hosted by corpulent culinarians Clarissa Dickson Wright and Jennifer
Paterson.  The particular episode I watched the ladies were waxing about how much they love the food of the American South.  I couldn't help but think Who wouldn't?
The ladies decided to demonstrate some traditional Southern recipes for their British audience.  They then went on to cook a menu that was anything but Southern.  The Two Fat Ladies are adorable. . .  except when they are butchering your native cuisine.  That got me thinking Why is it UK'ers cannot get Southern food right?
I remember another Brit, Danny Boome, on his old show Rescue Chef for the Food Network showing up in Atlanta to help a young bride make a traditional Southern chicken dinner.  Instead the menu consisted of chipotle-marinated chicken in a cornmeal batter, mango salsa, lemon-sour cream corn muffins, black beans and a raspberry tea cocktail with Prosecco.  Innovative?  Yes.  Traditional?  Hardly.
That's why I was so happy when my review copy of Modern Hospitality – Simple Recipes with Southern Charm by MasterChef winner Whitney Miller arrived.  Miller is from Poplarville, Mississippi which is not too far from my home in South Alabama.  I went to college just 25 miles from Poplarville.  I knew Whitney would get it right and I was not disappointed.
Modern Hospitality weaves recipes, tips on entertaining and wholesome narrative with effortless grace.  There are plenty of color photos of both the food and Whitney's famous smile.  Where the MasterChef cookbook was a chrome-plated amalgamation of recipes from contestants and every judge not named Gordon this book is all Whitney.  And, because I know you're wondering, there is a foreword by Gordon Ramsay.
Whitney's recipes strike a perfect balance between tradition and innovation.  She takes indigenous ingredients and gives them a make over like in her Field Peas with Okra and Andouille Sausage – three great ingredients that are seldom put together. When Miller does her version of a tried and true recipe her twists are whimsical yet logical.  Like her Jalapeño Cornbread.  It is cornbread kicked up with corn kernals, cheddar cheese and fresh jalapeño.
When I say it is cornbread I mean it is real cornbread – there's no flour and more importantly no sugar.  You can play games with the fat in order to make it healthier or more luxurious but flour and sugar are two of my pet peeves.  Well, the flour thing isn't a peeve as much as it is a philosophical difference.  It's CORNbread not a baguette.  The sugar, however, is non-negotiable.  Cornbread should never, ever, under any circumstances be sweet.  If you add sugar you don't have cornbread; you have corn cake.
Here, let me show you what a real cornbread recipe looks like courtesy of Miss Whitney Miller.
Author:
From "Modern Hospitality – Simple Recipes with Southern Charm" by MasterChef winner Whitney Miller.
Ingredients
2 cups fine ground cornmeal
1 TBL baking powder
1 tsp salt
1 large egg
1/2 cup low-fat buttermilk
1/2 cup fat-free milk
1/4 cup plus 1 1/2 TBL canola oil
1/2 cup corn kernals
3 TBL shredded cheddar cheese
2 TBL diced fresh jalapeño
Instructions
Preheat oven to 450 degrees F.
Mix the cornmeal, baking powder, and salt in a large bowl. Add the egg, buttermilk, fat-free milk, and 1/4 cup of the oil and stir until well combined. Mix in the corn, cheese, and jalapeños.
Add the remaining 1 1/2 TBL oil to 9-inch cast-iron skillet. Rub the oil around to thoroughly coat the bottom and sides of the skillet. Heat in the oven for 6 minutes. Remove from the oven and pour in the batter.
Bake until the crust is golden, 25 to 30 minutes. Cut into wedges and serve hot.
This recipe was one of the favorites from my days at Mars Hill Cafe.  It is almost too simple to make.  In essence it is just pasta tossed in pesto mayo.  You can easily alter to fit your own tastes like adding sun dried tomatoes or perhaps a little Italian olive salad.  Heck, you can even add both; I won't judge you.  Listed below is the base recipe.  Don't hesitate to freestyle.  Check this out:
I have never been a fan of traditional mayonnaise-based Cole slaw.  I have never been able to figure out why either?  I like mayo, I like cabbage, I dig carrots but not all in the same little shredded goo.  I am not alone either, for every person I know that likes Cole slaw I know a dozen that share my dislike for it.
I have found that I am a fan of vinegar-based slaws like curtido from Central America and the slaws found at many Jewish delicatessens.  When I make a slaw I usually toss it with a dressing of some sort like an Asian ginger-sesame vinaigrette.  I developed a slaw at one restaurant we called Mardi Gras Slaw because it contained the three colors of carnival: purple, green and gold.  Purple was easy, purple cabbage instead of green.  Green came from finely diced jalapeño.  The gold was from golden raisins.  It's perfect for a Mardi Gras themed party, a Fourth of July cook-out or just as a colorful addition to most any meal.  Here's the recipe:


Mardi Gras Slaw
1 head purple cabbage, shredded
2 jalapeños, seeds and membrane removed then finely diced
1/3 cup golden raisins
1/2 teaspoon onion powder or 1 tablespoon finely diced green onion
1/2 teaspoon celery salt

2/3 cup Roasted Garlic Balsamic Vinaigrette (recipe follows)
In a large bowl toss the cabbage with the celery salt, mixing thoroughly.  Add the jalapeño, raisins and onion powder (or green onion) then toss.  Incorporate the vinaigrette thoroughly and refrigerate for at least one hour.


Roasted Garlic Balsamic Vinaigrette
1 cup balsamic vinegar
1 cup garlic infused oil*
1 cup olive oil
1 teaspoon salt
1 teaspoon black pepper
1 tablespoon Creole or other whole grain mustard
1/4 cup sugar
In a small sauce pan, mix the balsamic and the sugar. Heat on low to reduce by half.   Once cool, pour the reduction into a blender and add mustard, salt and pepper then blend (don't forget the lid).  Remove the blender's small cap slowly pour in the oil in a thin steady stream.  Once all oil is in, put the cap back on and blend on high for one minute.
*Making garlic infused oil is easy.  Break down a head of garlic so that all of the cloves are separated and their paper (peel) removed.  Place a small sauce pan over medium heat and add a cup of canola oil.  When the oil is hot, drop the garlic into the oil and basically fry it until it is a deep caramel color, roughly 20 minutes.  Allow the oil to cool before using.  With a fork mash the fried garlic cloves and spread on toasted French bread because it is tastilicious.