Today I joined fellow chefs Marc Walden and Jon Gibson as we roll out our new restaurant Little House Midtown. Jon prepares an incredible salad and I talk about us being selected to participate in the Seafood, Science and Celebrity 2012 event with Food Network Star's Martie Duncan and American Idol Taylor Hicks.
Updated: Friday, 21 Sep 2012, 9:28 AM CDT
Published : Friday, 21 Sep 2012, 7:55 AM CDT
Roasted Baby Heirloom Beet Salad
Servings – 4
Ingredients:
1lb Heirloom Beets or any mutli-colored beets
1 small head baby frisee – washed
4oz Mixed Salad greens
2 slices Benton's bacon or your favorite bacon – cooked and chopped
2oz Fig/Balsamic Glaze
2oz Buttermilk Bleu Cheese or any mild Bleu cheese
Extra Virgin Olive Oil
Kosher Salt
Fresh ground Black pepper
Steps:
Preheat oven to 375.
Trim tops off the beets and wash thoroughly. Pat dry with paper towel.
Using a sheet of aluminum foil, place beets in the center and drizzle with olive oil. Be generous!
Sprinkle with salt and pepper.
Fold up aluminum foil to seal beets inside.
Place wrapped beets on a baking sheet pan and place in oven.
Depending on the size of the beets, check after 25 minutes and every 10 minutes after, until beets are fork tender.
Remove beets from oven, leaving them wrapped in the foil and let cool to room temperature.
Save the roasting oil to dress the salad with.
Once the beets are cooled, peel the beets with your fingers. You can use a small pairing knife.
Then slice the beets or cut into wedges.
Plating:
In a small mixing bowl tear the baby frisee into bite size pieces, then add the mixed greens.
Drizzle the roasting oil over the greens and gently toss, adding salt and pepper to taste.
Arrange greens on a plate, then place beets on top of the greens.
Drizzle the fig/balsamic glaze in a zig/zag pattern.
Crumble the blue cheese over top of salad and finish with sprinkling the chopped bacon.
Fig/Balsamic Glaze Ingredients:
1 Cup fresh figs – Mission or Brown Turkey
1 Cup balsamic vinegar
1 teaspoon vanilla
Steps:
Peel and macerate figs in a small non-metal bowl until a paste forms.
In saucepan, add vinegar, fig pulp and simmer on low heat until mixture reduces down to about half. Stir occasionally (every 5-8 minutes) . This will take about 30-45 minutes.
Allow fig/balsamic reduction to cool.
Place mixture in blender or food processor.
Blend thoroughly until mixture combines and becomes smooth.
This step will also help release the seeds from any pulp that has not cooked down.
In separate bowl, strain out fig seeds.
Add 1 teaspoon vanilla, combine well to fig balsamic reduction.
This glaze is VERY concentrated.
Use about 1 teaspoon at a time or to taste.
Little House Midtown
2351 Airport Blvd.
Mobile
Hours:
10:30a.m.- 2:30p.m.
5p.m. – 9 p.m.
(251) 447-2623
http://www.littlehousebistro.com
The Mayan culture was one of the most important in the history of the New World.  They were the only pre-Colombian civilization to have a full written language.  They built sophisticated urban areas including pyramids that rival those of the Giza plateau.
But it is the Mayan calendar that has most people's attention these days.  If you believe some apocalyptic theorists the stunningly accurate Mayan calendar predicts the end of the world later this year.  However, that isn't wholly true.  What it actually predicts is a galactic alignment where the earth, sun and center of the Milky Way Galaxy line-up perfectly.
What does that mean?  No one really knows for sure which is of course the problem.  The last time it happened was 26,000 years ago so it stands to reason that no one living back then is still around to ask about it.  We do know this, however, the earth was engulfed in it's last major ice age then.
The Mayans had a great abundance of natural food sources to choose from including chilies, sweet potatoes and chocolate.  It was that menu that inspired this stew.  Despite the sweet potatoes and chocolate this isn't a terribly sweet dish.  Enjoy.
Author:
Ingredients
1 large sweet potato, diced
1 baking potato, diced
1 small onion, diced
1 dried chili
1 fresh chili like a jalapeno, finely diced and membrane removed
1 cup chicken, turkey or vegetable stock
Water as needed
1 can black beans
1 can hominy, drained
1 TBL dark chocolate or bitter sweet cocoa powder
Salt to taste
Instructions
In a pot bring the stock and enough water to a simmer to cover the potatoes.
Add to the potatoes salt, onion, both chilies and cook until potato is fork tender, about 15 minutes.
Add the black beans (with liquid), hominy and cocoa powder. Simmer another 10 minutes. Season to taste, serve and enjoy.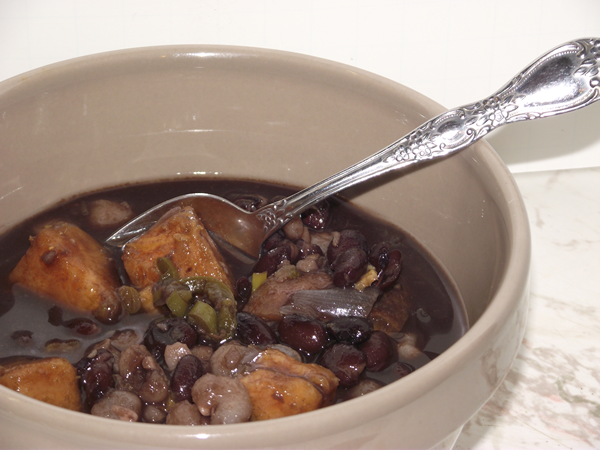 Notes
Adjust chilies to adjust heat.
The Mayans would not have had access to black pepper but if you want to use it I won't judge ya.
It's National Breakfast Month and Stuart drops by Studio 10 for some quick and easy breakfast recipes featuring Driscoll's Berries.
Click to get the recipe for Mixed Berry Smoothies HERE.
Click to get the recipe for Blueberry Breakfast Parfait HERE.
Click to get a recipe for Whole Wheat Blueberry Pancake HERE.