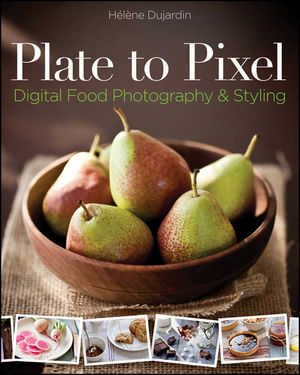 Author and food photographer, Helene Dujardin, walks readers through food photography and styling from beginning to end, in her new book, Plate to Pixel: Digital Food Photography & Styling (Wiley; May 2011). From photography fundamentals such as composition, lighting, and exposure, to food styling tips on making food look as appetizing as possible, this book is the comprehensive resource to turn to when shooting food.
Photographing food is complex and Dujardin aims to help readers develop their food photography skills with the techniques in her new book. Knowing how to make a dessert look so luscious that viewers gain two pounds just gazing at it gives the photographers the power to tease taste buds from miles away. Whether showcasing the creations coming out of a personal kitchen, or aspiring to a career in food photography, readers will devour the information in Plate to Pixel.
Final day to sign-up is 5-16-12. To enter simply leave a comment below.
New in the Ultimate series, The Ultimate Low-Calorie Meals Book offers hundreds of recipes and ideas that make eating healthy and watching your weight easy and delicious. These recipes are ideal for light and nutritious everyday meals that form the basis of a healthy lifestyle. Filled with dishes the entire family will love, recipes are clearly marked with icons that let you quickly identify recipes that are ready in 30 minutes or less, high in fiber, and low in sodium.
Packed with more than 400 delicious and nutritious low-calorie meals and hundreds of beautiful photos, The Ultimate Low-Calorie Meals Book is a great resource at a great price.
Features more than 400 flavorful calorie- and fat-conscious recipes, including main dishes, snacks, sandwiches, pizza, desserts, restaurant favorites, and make-ahead meals
Includes more than 300 gorgeous full-color photographs that make every page inspiring and easy to follow
Special Healthy Eating Basics chapter
Special features include substitution charts that help make every meal more calorie-conscious, up-to-date diet and nutrition advice, and much more.
Last day to sign-up is 4-18-12.  To enter simply leave a comment below.
For more than 75 years the Better Homes and Gardens brand has been one of America's most trusted sources for information on cooking, gardening, home improvement, home design, decorating and crafting. Through refreshing ideas, clear directions and beautiful photographs, the brand has inspired millions of Americans, with more than 38 million books sold since 1930, including the New Cook Book, New Garden Book, and New Decorating Book—all cornerstone titles in their categories.
Today, the Better Homes and Gardens brand encompasses books, magazines, television, radio and online media. The greater BH&G family includes partner brands such as Family Circle, Patchwork and Quilting, Country Garden, and Diabetic Living, all of which publish under the BH&G imprint.
Well the good folks at BH&G have just released another great cookbook that is perfect for those busy parents on the go.  The Ultimate Casseroles Book features more than 400 comfort food classics.  It's a beautiful cookbook with easy-to-read recipes from virtually every cuisine on the planet.  It's full of food porn too, over 300 color photos for those of you who like to eat with your eyes.  WTVC is giving away a copy of The Ultimate Casseroles Book.
Last day to sign-up is 4-11-12.  To enter simply leave a comment below.
Palm Beer has offered to give one lucky WTVC reader a Belgian Beer Kit featuring a pair of uniquely-shaped beer glasses and Belgian Beer on the Menu, a book about Belgian beer/food pairings.
A Pair of Palm Beer Glasses – a $20 Value: Scientific studies show that the shape of glassware will impact head development and retention. Why is this important? The foam created by pouring a beer acts as a net for many of the volatiles in a beer. What's a volatile? Compounds that evaporate from beer to create its aroma, such as hop oils, all kinds of yeast fermentation
byproducts like alcohol, fusels and fruity esters, spices or other additions.
Beer Sommelier Ben Vinken's book "Belgian Beer on the Menu" – a $40 Value: Ben Vinken, the author, is a world authority when it comes to Belgian beers.  He is a beer sommelier and describes beer like one would wine, and he is a pioneer in the field of beer and food pairing
Although no actual booze is included in the give- away, here's a look at some of Palm's delicious brews:
PALM the sociable beer for every day, for everyone.
"Speciale Belge" is one of the better Belgian beers of the early 20th century. This smooth-drinking, amber-coloured top-fermentation beer has a sensible alcohol content.  Special PALM malts determine its honey-like mellowness and PALM's own selected yeasts give it a fruity yeast aroma. Fine aroma hops from Kent afford subtle harmony. PALM is the absolute number one "BELGIAN AMBER BEER".
RODENBACH Caractère Rouge and RODENBACH Vintage 2009
In addition to the RODENBACH VINTAGE, which was introduced for the third time already this year, the Roeselare-based brewery also developed 900 unique bottles of RODENBACH Caractère Rouge in cooperation with top chef Viki Geunes. Because of his astute, unique tasting skills and his exceptional creativity, PALM Breweries asked Viki Geunes to cooperate in its product innovation and development.
STEENBRUGGE, a holy order from PALM Breweries.
In 2003 the prior of Sint-Pietersabdij authorised PALM Breweries to brew the STEENBRUGGE abbey beer. He instructed Belgium's leading family brewer to carefully preserve the legacy of St Arnoldus for future generations. PALM Breweries solemnly promised to safeguard the unique, ancient recipe.
BRUGGE Tripel, the taste and smell of Bruges' rich history.
A top-fermented beer with a characteristic smoked yeast aroma.  Undergoes secondary fermentation in the bottle.  The secret of its complex taste is "Gruut", a traditional blend of herbs from Bruges.  A sturdy beer for the passionate enthusiast of heavier connoisseurs' beers.  BRUGGE Tripel has won the Gold Medal at the prestigious "Monde Sélection Brussels" three times.
ESTAMINET
Estaminet Premium Pils is the latest example of PALM Breweries' craftmanship. You can see, smell and taste the result: a golden-yellow pilsner with a subtle hop aroma, low alcohol content (5.2%) and distinct fruity flavour. Estaminet Premium Pils is a thirst-quenching, refreshing beer.
BOON GEUZE
A hazy and rusty orange hued beer with a half inch of white head. The aroma is nice with notes of hay and oak. The flavor is earthy and oaky, and much sweeter than expected. Sharpness in the finish.
This giveaway is closed.