The Great Cookie Debate – Chunks vs Chips
Published
January 3, 2011
|
By
Stuart
In the pantheon of cookies one stands above all the rest.  Yes Oatmeal Raisin has it's place as does Peanut Butter.  And Christmas isn't Christmas without Snickerdoodles.  White Chocolate Macadamia Nut?  Well, that's kind of it's own category – it's like the Ferrari in a garage full of Mustangs.  It's the same thing but at the same time it's not the same thing.
No, the king of the cookie hill is of course the Chocolate Chip.  If you don't believe me ask any third grader.  But in the past several years a challenger has been emerging to rival the exalted Chocolate Chip and it's cut from the same cloth.  I speak of course of the Chocolate Chunk.
The "Chunk" is very similar to the "Chip."  You might think it's a chip off the old block but it is very much its own cookie.  "Chunk" is like your girlfriend's younger sister.  She looks exactly like your girlfriend only hotter.  "Chip" is reliably consistent.  There is a set chocolate to cookie ratio that's dependable.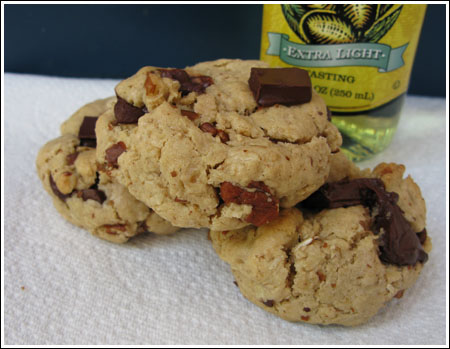 "Chunk" is willy nillly.  Most of the time you'll get a choc-to-cook ratio similar to "Chip."  However, the shape of "Chunk" gives it a different texture and a larger surface area.  But what makes "Chunk" so appealing is that there is usually one bite in every cookie with a chunk the size of a marble in it.  That's the money bite.
The money bite has such a chocolate burst that it's dizzying.  It's your first shot of whiskey.  It's the first time you saw blue lights in your rear view.  It's that first awkward slow dance at the 8th grade formal.  But you best be careful when you eat the money bite for if you get to it too quickly the rest of the cookie will be anticlimactic.
So that's the great cookie debate – chunks vs chips.  Where do you stand?
Stuart in 80 Words or Less
Stuart is a celebrity chef, food activist and award-winning food writer. He penned the cookbooks Third Coast Cuisine: Recipes of the Gulf of Mexico, No Sides Needed: 34 Recipes To Simplify Life and Amigeauxs - Mexican/Creole Fusion Cuisine. He hosts two Internet cooking shows "Everyday Gourmet" and "Little Grill Big Flavor." His recipes have been featured in Current, Lagniappe, Southern Tailgater, The Kitchen Hotline and on the Cooking Channel.
Help with Gulf Oil Spill Recovery
2015 1st Place Luck of the Irish Cook-off
2015 4th Place Downtown Cajun Cook-off
2015 2nd Place Fins' Wings & Chili Cook-off
2014 2015 4th Place LA Gumbo Cook-off
2012 Taste Award nominee for best chef (web)
2012 Finalist in the Safeway Next Chef Contest
2011 Taste Award Nominee for Little Grill Big Flavor
2011, 12 Member: Council of Media Tastemakers
2011 Judge: 29th Chef's of the Coast Cook-off
2011 Judge: Dauphin Island Wing Cook-off
2011 Cooking Channel Perfect 3 Recipe Finalist
2011 Judge: Dauphin Island Gumbo Cook-off
2011 Culinary Hall of Fame Member
2010 Tasty Awards Judge
2010 Judge: Bayou La Batre Gumbo Cook-off
2010 Gourmand World Cookbook Award Nominee
2010 Chef2Chef Top 10 Best Food Blogs
2010 Denay's Top 10 Best Food Blogs
2009 2nd Place Bay Area Food Bank Chef Challenge
2008 Tava: Discovery Contest Runner-up