Review: Better Homes & Gardens' Dinner in a Bowl
Published
March 9, 2012
|
By
Stuart
I was thrilled when I cut open the package sitting on the front porch when I got home from work today.  That's because inside was my review copy of Better Homes & Gardens new cookbook Dinner in a Bowl: 160 recipes for simple, satisfying meals.  I love the concept of this book.  Check it out:
Foolproof recipes for tasty and fuss-free one-dish dinners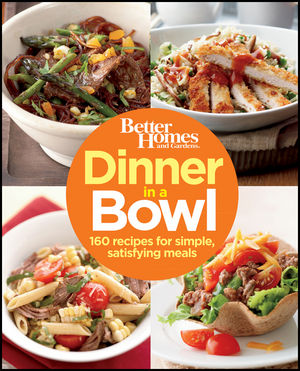 Everyone loves a delicious home-cooked meal, especially those as satisfying as the recipes featured in Better Homes and Gardens One-Bowl Dinners. This globetrotting collection of flavorful recipes ranges from the exotic (such as Southeast Asian Curry) to the familiar (such as our best savory Beef Stew) to the downright comforting (Chicken and Dumplings). Within the selection are dozens of weeknight-worthy meals—from the ever-so-easy ramen noodle bowl to quick clever pasta tosses—and plenty of recipes to share with friends such as Beef Burgundy, Paella, and Jambalaya.
With recipes arranged by world region, you'll find just what you're in the mood for, whether it's an Asian stir fry or an Italian spaghetti and meatball dinner. To round out the book, a chapter dedicated to main-dish salads offers a fresh spin on the one bowl meal.
Features more than 160 recipes and 100 luscious full-color photos that will fire any appetite
At-a-glance icons identify 30-minute meals, kid-friendly dishes, healthy recipes, and meals that are great for entertaining friends
Chapters include a "Make-It-Mine" recipe, letting you customize based on you and your family's tastes, or what you have in the pantry
Full nutrition information with every recipe
Italian and Asian Noodle charts for quick identification
Like all of BH&G's cookbooks, Dinner in a Bowl is conceived well and executed flawlessly.  It is smart and practical and the recipes are quite tempting.  I'm not a huge fan of pasta salad but I have to admit I'm thinking of running out to the store to get the ingredients for the Pasta Salad Niçoise.  This book has just flung a craving on me.
Stuart in 80 Words or Less
Stuart is a celebrity chef, food activist and award-winning food writer. He penned the cookbooks Third Coast Cuisine: Recipes of the Gulf of Mexico, No Sides Needed: 34 Recipes To Simplify Life and Amigeauxs - Mexican/Creole Fusion Cuisine. He hosts two Internet cooking shows "Everyday Gourmet" and "Little Grill Big Flavor." His recipes have been featured in Current, Lagniappe, Southern Tailgater, The Kitchen Hotline and on the Cooking Channel.
Help with Gulf Oil Spill Recovery
2015 1st Place Luck of the Irish Cook-off
2015 4th Place Downtown Cajun Cook-off
2015 2nd Place Fins' Wings & Chili Cook-off
2014 2015 4th Place LA Gumbo Cook-off
2012 Taste Award nominee for best chef (web)
2012 Finalist in the Safeway Next Chef Contest
2011 Taste Award Nominee for Little Grill Big Flavor
2011, 12 Member: Council of Media Tastemakers
2011 Judge: 29th Chef's of the Coast Cook-off
2011 Judge: Dauphin Island Wing Cook-off
2011 Cooking Channel Perfect 3 Recipe Finalist
2011 Judge: Dauphin Island Gumbo Cook-off
2011 Culinary Hall of Fame Member
2010 Tasty Awards Judge
2010 Judge: Bayou La Batre Gumbo Cook-off
2010 Gourmand World Cookbook Award Nominee
2010 Chef2Chef Top 10 Best Food Blogs
2010 Denay's Top 10 Best Food Blogs
2009 2nd Place Bay Area Food Bank Chef Challenge
2008 Tava: Discovery Contest Runner-up