Chefs Get Second Chance at the Ultimate Culinary Title
Premiering Sunday, November 4th at 9pm ET/PT
NEW YORK – August 7, 2012 – Food Network reveals the cast for returning primetime competition series The Next Iron Chef: Redemption with a roster of elite competitors, most returning for a second chance at the ultimate culinary title. The fifth season is all about redemption, with many cast members taking another shot to prove their skills are Iron Chef-worthy, along with some newcomers who have their own redemption stories. The cast includes: Nate Appleman, Amanda Freitag, Eric Greenspan, and Jehangir Mehta from The Next Iron Chef: Season Two; Elizabeth Faulkner, Alex Guarnaschelli and Spike Mendelsohn from the cast of The Next Iron Chef: Super Chefs; and first-time Next Iron Chef competitors Tim Love and Marcel Vigneron. Premiering on Sunday, November 4th at 9pm ET/PT, Alton Brown will again host this 8-episode, top-rated series, which recently completed production in Los Angeles and Las Vegas.
The tenth slot will go to the winner of a web-exclusive competition taking place on FoodNetwork.com, the four chefs taking part in the web battle are: Duske Estes and Robert Trevino, who have previously competed on The Next Iron Chef, and newcomers Lee Anne Wong and Madison Cowan.
In The Next Iron Chef, the contestants bet on their culinary skills and put their reputations on the line for the chance to compete in legendary Kitchen Stadium. The winner will join the ranks of chefs including Bobby Flay, Marc Forgione, Jose Garces, Masaharu Morimoto, Michael Symon and Geoffrey Zakarian as a member of the Chairman's team on Iron Chef America.
I've got a hunch we'll be seeing something of this nature for Food Network Star next year as well.  Thus far there has been no casting call for season nine and I've heard a few comments from former cast members.  However, no one has been willing to go on record about it.
Last week the Iron Chefs visited the set of Chopped.  This week the inverse happens.  Iron Chef Jose Garces faces off against challenger Madison Cowan. Chef Cowan is the first ever Grand Champion on the hit series Chopped. Judges are Karine Bakhoum, Laurent Tourondel and Farmer Lee Jones.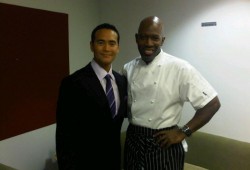 Chef Madison Cowan is a hands-on dad, author, restaurateur and former street resident with roots in London, Detroit and Jamaica. He also runs Madison Cowan LLC, a global culinary production company that oversees operations in licensing and consulting, cookery demonstration, television appearances and mobile clandestine dining that has reached throughout Africa, Europe, Japan and South America.
In 2010 Food Network selected him as a contestant for their hit Primetime series, Chopped where he competed and won three consecutive episodes to become the first ever Chopped Grand Champion. He will next be seen on BBC America's exciting new series No Kitchen Required, set to premiere April 2012. Madison has also written his first cookbook Soul Voyage about cooking from your soul, no matter the ingredients, location or who you are, as well as chronicling a few of his journeys. Madison currently resides in New York.
The Chopped kitchen is a tough venue to be sure but there is no place like Kitchen Stadium for there waits Iron Chef Jose Garces for Battle: Kale.
Check below for the outcome.
[ad] Empty ad slot (#1)!
Garces                       Cowan
Taste: 23                          Taste: 26
Plating: 13                        Plating: 13
Originality: 12                  Originality: 14
Total: 48                           Total: 53
A few months ago a friend within the Food Network family hipped me to who the four Food Network Star participants in Chopped: All Stars would be.  So I've known since last fall that we'd get to see the charms of Penny Davidi and Chris Nirschel on display once again and have managed to keep it to myself.  Even better we also get to see Vic Moea and Justin Balmes cook again.
The talent in this group runs the gamut.  Chris is the chef at what many consider a wannabe Olive Garden, Penny is a one trick pony but she does that one trick extremely well and then Vic and Justin are top notch chefs.  But these guys make up just one night of Chopped: All Stars.  Dig the rest.
Part 1, "Iron Chefs Do Battle" Premieres Sunday, April 8th at 9pm ET/PT  Competitors: Iron Chefs Cat Cora, Marc Forgione, Jose Garces and Michael Symon.  Judges: Scott Conant, Aaron Sanchez, Geoffrey Zakarian
Part 2, "Prime Time vs. Day Time" Premieres Sunday, April 15th at 9pm ET/PT  Competitors: Show hosts Keegan Gerhard (Food Network Challenge), Jeffrey Saad (United Tastes of America, Cooking Channel), Aarti Sequeira (Aarti Party) and Marcela Valladolid (Mexican Made Easy).  Judges: Amanda Freitag, Aaron Sanchez, Geoffrey Zakarian
Part 3, "Food Network Star Contestants" Premieres Sunday, April 22nd at 9pm ET/PT  Competitors: Food Network Star Season Seven Finalists Justin Balmes, Penny Davidi, Vic "Vegas" Moea and Chris Nirschel.  Judges: Scott Conant, Amanda Freitag, Aaron Sanchez
Part 4, "Judge Remix" Premieres Sunday, April 29th at 9pm ET/PT  Competitors: Chopped judges Alex Guarnaschelli, Marc Murphy, Marcus Samuelsson and Chris Santos. Judges: Amanda Freitag, Aaron Sanchez, Geoffrey Zakarian
Part 5, "Grand Finale" Premieres Sunday, May 6th at 9pm ET/PT Competitors: Prior episode winners.  Judges: Anne Burrell, Amanda Freitag and Aaron Sanchez.
Read full chef bios HERE.  Read bios for judges and host Ted Allen HERE.
Read my exclusive interviews with Alex Guarnaschelli (HERE), Scott Conant (HERE), Justin Balmes, (HERE) Penny Davidi (HERE), Chris Nirschel (HERE), Marc Forgione (HERE), Michael Symon (HERE) and Ted Allen (HERE and HERE).