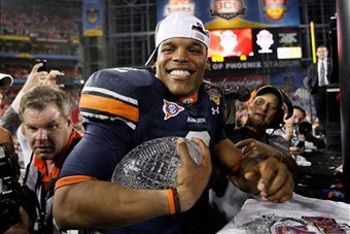 Well football fans the post season is on us.  The first week of bowls has given us a few fireworks and the intensity keeps building all the way up to the most important game of the college football season – the Peach Bowl between Virginia and my Auburn Tigers.  The LSU/Alabama rematch is pretty important too.  The NFL playoffs for their part are almost decided.  Whether you prefer your bowl games of the Peach or the Super variety it's time to whip up some special recipes.
This was submitted to me by Chef Kelley Self Whatley, an Auburn fan, for a series on tailgating I did for Current Magazine.  With the defending national champions set to play on New Years Eve I thought this a good time to break this one out.
| | | |
| --- | --- | --- |
| "War Eagle" Buffalo Chicken CheeseDip | | |
Author:
Ingredients
5 or 6 large cans of white chicken breast (not dark and white mixed)
1 to 2 Tablespoons vegetable oil
2 medium Vidalia onions, chopped
1 cup Frank's Hot Sauce (do not use any other kind)
2 large packages of cream cheese
1/2 cup Ranch Dressing (not low fat)
2 cups shredded Sharp Cheddar Cheese
Instructions
Heat oil in a nonstick skillet over medium-high heat.
Add chopped onions and cook until tender
Lower heat and add cream cheese, chicken (drained and break apart the large chunks), hot sauce, ranch dressing and 1 cup cheddar cheese. Stir until well blended over medium heat.
Put mixture in greased casserole dish and top with 1 cup cheddar cheese (more if desired).
Bake 350 for 20-25 minutes.
Serve with bagel chips, tortilla chips or butter crackers.
When you're grilling up some pre-game fun, bland food and flavors are simply out of the question. So say, "Sayonara, boring," because this tailgating guide will help you up the ante from regular, run-of-the-mill meals to bold, knock-their-socks-off gourmet grilling. Inside, you'll learn the rules for making your parking lot party a winner, plus discover five mouth-watering recipes that are sure to score you a tailgating touchdown.
[ad] Empty ad slot (#1)!
One doesn't have to be an economic whiz to realize these are volatile financial times we live in.  Everyone, save the government, understands this.  In the past year the Tri-City area has lost the Lunch Box in Satsuma and Checker's Drive-in, Colonel Dixie and Strickland's Butcher Shop all in Saraland.  With that in mind you really have to respect the folks at the Covered Dish.
They opened last December just off Shelton Beach Road and they just keep plugging along despite an ever declining economy.  The interior is quaint if not cozy with seating for maybe 30.  The décor is a contemporary take on the classic diner with a tribute on one wall to Alabama's recent National Championship.  Be forewarned Auburn and LSU fans, the Covered Dish doesn't do equal time but don't let that stop you from a homemade meal.
The menu is sparse but they supplement that with a healthy special's board which is always preferable.  It harkens back to an age when restaurants designed their menus around what was in season at the moment – before the Franken-foods so prevalent today.  The day I visited they offered, among other things, chicken noodle soup and homemade lasagna.  I opted for something off of the menu, a pulled pork sandwich with baked beans.
The baked beans, they admitted, were a commercial product, but one that had received a little TLC. They had been augmented with a subtle spice blend while some finely diced bell peppers added an air of freshnessand a touch of crunch.  I am a baked bean aficionado and I thought these were a fine example of the recipe.
The pulled pork was a classic slow roasted Boston Butt.  It was tender and moist with plenty of flavor.  Though it was oven roasted and not smoked, a side of KC Masterpiece added the perfect amount of smoky sweetness for those who prefer their pulled pork to be of the BBQ variety.  However, it would have been just as good with the addition of a few of the dill pickle chips that come with the plate and a generous squeeze of mustard.  I left satiated and ready for a pork-induced nap.
Among the sandwiches on the menu you will also find a BLT, grilled chicken on whole wheat, a bacon burger, a Buffalo chicken sandwich and a chicken salad on croissant.  From the special's board you can also assemble yourself a meat & 2 or meat & three plate, both served with either cornbread or biscuit.  Other menu sides include chips, side salad and coleslaw plus an ever changing array from the special's board.  They also offer homemade desserts and fresh salads.
The Covered Dish is located at 202-B Norton Ave where it crosses Shelton Beach.  It can be a little tough to spot but not impossible to find.  They are open for lunch Monday through Friday and also provide dinner service on Thursday and Friday until 8 PM.  Give them a call at 251-675-7704 for carry out or delivery orders or to pre-order a whole pie or cake for a special event.
Last week while in LA I made a special trip to Spago in Beverly Hills.  Why?  Well other than the fact that it is one of the most famous restaurants in the world was to meet (hopefully) its even more famous chef and owner, Wolfgang Puck.  I was able to steal a few minutes of Chef Puck's time during the busy Thursday lunch rush.  If you don't know who Cam Newton is crawl out of your cave and google his name.  Today I got this message from Chef: