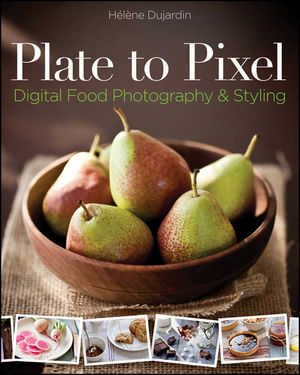 Author and food photographer, Helene Dujardin, walks readers through food photography and styling from beginning to end, in her new book, Plate to Pixel: Digital Food Photography & Styling (Wiley; May 2011). From photography fundamentals such as composition, lighting, and exposure, to food styling tips on making food look as appetizing as possible, this book is the comprehensive resource to turn to when shooting food.
Photographing food is complex and Dujardin aims to help readers develop their food photography skills with the techniques in her new book. Knowing how to make a dessert look so luscious that viewers gain two pounds just gazing at it gives the photographers the power to tease taste buds from miles away. Whether showcasing the creations coming out of a personal kitchen, or aspiring to a career in food photography, readers will devour the information in Plate to Pixel.
Final day to sign-up is 5-16-12. To enter simply leave a comment below.
Dinner Conversations
Stuart Reb Donald has built a reputation for doing some of the most poignant interviews of America's favorite chefs and food writers. Whenever a network is rolling out a new cooking show they make sure to call Stuart to interview the stars.
In addition to interviews published by several different publications the anthology also includes interviews from Stuart's blog Wannabe TV Chef including the popular series 7 Questions, WTVC Exclusive and Inside Look. Just a few of the chefs profiled include Bobby Flay, Michael Symon, Tory McPhail, Graham Kerr, Alton Brown, Amanda Cohen and Alex Guarnaschelli.
This is a perfect last minute gift for that obsessed foodie as it is an instant download.  This giveaway is closed.
It gives me great pleasure to walk you through Jeff Pirtle's new eCookbook DinneRevolution because Chef Jeff is doing something special just for Wannabe TV Chef readers.  He's giving it away for FREE, at least for a while anyway, it normally retails for $27.00.
Pirtle was born, raised and culinarily educated in Seattle before plying his trade up and down the Pacific Coast finally settling down in Charlotte, NC.  Chef Jeff's focus has always been on nutritious recipes because his duties often had him overhauling the menus at health-care facilities and hospitals.  In fact he received a certification in dietary management from the University of North Dakota.  The guy knows his stuff.
DinneRevolution contains 200 recipes carefully constructed to be packed with both flavor and nutrition.  Finally eating healthy doesn't have to taste bland.  And best of all most include 10 ingredients or less and take less than 30 minutes to prepare.  That's by design.  According to Pirtle, "I have purposely written the recipes to be extremely family friendly and easy to prepare, so even the most novice of cooks can do this, and I provide clear and simple instructions for each recipe."
Oh yeah, remember me saying that you could get it for free?  I wasn't lying.  For a limited time Chef Jeff is offering a free download.  But hurry, the offer expires soon.
Four Roses – The Return of a Whiskey Legend
As with the story of just about any American icon, the legendary story of the highly acclaimed, award-winning Four Roses brand is filled with folklore and adventure, family feuds and romance, with a cast of colorful characters any fiction writer would die for. A father and son enamored of the Southern cause during the American Civil War; another son, a Confederate Colonel, who dies
defending Atlanta; and his sons who would successfully turn the family business into one of the last family-owned whiskey brands in the United States; a whiskey magnate from Canada who would alter the brand's composition within the United States and drive it to be a "bottom shelf" brand; and, finally, a passionate and determined master distiller who would never give in until Four Roses regained the prominence it once had with the American public.
Historian and Four Roses brand ambassador Al Young puts his storytelling talents to good use in this masterfully told history of what was once the most popular and best-selling bourbon in America, a brand so revered that it took its rightful place at the top of Times Square in New York, along with other beloved brands such as Coke and General Electric.
It is a story of this international brand's humble beginnings, and perhaps the startling truth behind how the brand actually got its name — contrary to legend; how the label was almost driven out of existence in the United States just a few decades ago; and how it rose from the ashes to its current place and stature in the world, which includes such countries as Austria, the Czech Republic, France, Germany, Italy, Japan, the Netherlands, Spain, Switzerland, the United Kingdom and, of course, once again the United States.
If the Four Roses story is familiar to you, you will find this book a fascinating and long overdue journey with a trusted old friend. But if this is your first taste of the brand and its history, you might want to pour yourself a sip or two, relax and get ready to savor every moment.
This giveaway is closed.