Though I do greatly enjoy Top Chef Masters I don't care for its predecessor Top Chef.  It is not a show about food or cooking; it's a show about yelling and backstabbing.  Granted yelling and backstabbing between some very talented chefs but yelling and backstabbing just the same.  It's the same reason I don't watch Hell's Kitchen.
Recently I made sure to record a few episodes of Bravo's new reality cooking competition Around the World in 80 Plates.  The show is hosted by veteran TV chefs Curtis Stone and Cat Cora.  Here's the official Bravo description:
Around the World in 80 Plates takes culinary competition to the next level as 12 chefs travel across the globe testing their skills and determination. In each episode, the contestants will travel to a different international city where they will learn the local customs, cultures, and cuisines as they participate in a gauntlet of culinary challenges. Ultimately, they will face-off in a kitchen takeover where they will not only recreate, but reinvent the menus for world-renowned restaurants and their demanding owners.
After watching a few episodes I can't say it's appointment TV for me.  Cat and Curtis, as expected, are great and the exotic locations are terrific.  But basically it's Top Chef on vacation.  It's not a cooking show it's just another yelling and backstabbing show.  If you enjoy Hell's Kitchen or Top Chef or Big Bother or Survivor then you'll probably dig it.  I'd rather watch paint dry.
FOR IMMEDIATE RELEASE
04/01/12
POPULAR FOOD NETWORK TO CEASE PROGRAMMING AT MONTH'S END
New York City – The E.W. Scripps Company announced today that after 19 years in production their popular Food Network will cease programming at the end of April. The move took many in assembly by surprise. The press conference was held at Chelsea Market on 75 9th Avenue, home of the Food Network Studios.
Milton Funderburk, Acting Assistant Vice-Chairman of Cable Programming for Scripps was asked why the media conglomerate was closing the doors on its most popular cable franchise, "The time is right. After all when we purchased TFN back in '97 we thought it would fail miserably.  That was the plan.
"We acquired the Network as a tax right off. We never dreamed anyone would actually watch it. Our thought was why would anyone want to watch someone else cooking on TV? I mean if they wanted to see someone cook, they could just go cook something.  Apparently we under estimated the American public's desire to live vicariously."
Comments from Guy Fieri on Food Network's pending demise.  Article continues below.
Since the Food Network began programming in 1993 viewership has continued to grow though it was shaky in the beginning.  Those first shows featured chefs who were virtual unknowns like Bobby Flay, Mario Batali and Emeril Legasse.  Now it is one of the most successful cable channels in television history which fueled more questions about why Scripps was giving TFN the axe.
Funderburk explained, "It wasn't long after we took the Network over that we realized, we may have stumbled onto something here.  Viewership was growing exponentially and other vicariousity networks were springing up.  Not only were viewers watching people cooking instead of cooking themselves but they were watching the Travel Channel instead of going on vacation, eschewing exercise for the Fitness Channel and watching HGTV in living rooms that were literally falling apart around them.  I've heard that Time Warner is actually planning on unveiling the Sleeping Channel for people who are too lazy to fall asleep for themselves.
"The trend even crossed over into mainstream media.  Instead of keeping up with politics America was watching The West Wing.  There was no reason to invite the annoying neighbor over when you could tune into Jay Leno.  Why watch fact-based news programming when there was MSNBC?"
When asked about the future of Food Network Canada Funderburk replied, "That's toast, too.  Not that anyone will notice, it's Canada.  I know it's the largest state in the US but hardly anyone lives there.  Let's be honest if it wasn't for the band Rush America would have never bought Canada from the Alaskans."
The ultimate reason Funderburk offered for 86'ing their most popular holding was it's very popularity.  The demand for food programming is so high that not only have other cable channels like Bravo and TLC entered the market but so have mainstream networks NBC and FOX.
Funderburk, noticeably angry, proclaimed, "If there is one thing I can't stand it is being copied.  If everyone is going to dabble with food programming then we'll just wash our hands of the whole thing.  It doesn't matter to us.  We've always got our newspaper division.  That's not going anywhere."
Just a quick note to congratulate Richard Blais for winning Top Chef All Stars.  Your life is about to change.  Enjoy the ride, chef.
For those who missed the fireworks last night on Bravo here is a nice breakdown from TVfanatic.com: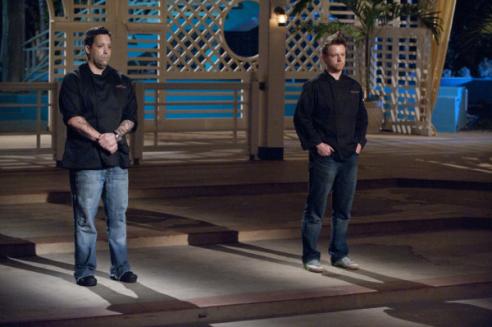 The Final Challenge
No Quickfire, there's just too much to do! The finale seemed a bit rushed to me, but at least Mike and Richard got to open up the restaurant of their dreams, with eliminated foes as their sous chefs. In an interesting twist, the chefs could not directly pick the latter; instead, the sous chefs "auditioned" for Mike and Richard.
While it's a fun twist, I wonder how happy the eliminated chefs must be to cook for the finalists. The fact that chefs who aren't chosen seem rather excited to enjoy their time in the Bahamas probably makes Richard and Mike more nervous.
The chefs are apprehensive, of course, because in addition to gems like Angelo and Antonia, there is also Jamie and Marcel. Richard gets Antonia, Spike, and Angelo, a fairly strong team, while Mike picks Jaime (ouch!), Carla, and Tiffany.
Richard's Restaurant: A surf and turf restaurant named Tongue & Cheek. So Richard!
Menu:
Amuse Bouche: Raw Oyster with Lemon Horseradish Ice Cream and Salsa Verde.
Raw Hamachi with Fried Veal Sweetbreads, Asian Pear, Pickled Radish, and Garlic Mayonnaise
Pork Belly with a Black Cod Cutlet, Bone Marrow, Beets, Brussels Sprouts, and Kumquat
Beef Short Rib with Mushrooms, Red Cabbage Marmalade, and Celery Root Horseradish Puree
Cornbread with Foie Gras Ice Cream and Whipped Mango
The food is generally well-received by the judges, although they seem a bit confused by the foie gras ice cream. I'm awfully curious to know what that tastes like.
Mike's Restaurant: An Italian-themed restaurant named Iz, as his mother called him Izzie while growing up.
Menu:
Spiced beets with Mozzarella, Chocolate, and Truffle Vinaigrette
Halibut with Kumquats Marmalade, Cauliflower Puree, and Pancetta Crumbs
Braised Pork Shoulder with Pepperoni Sauce, Roasted Cabbage, and Turnips
Rosemary Caramel Custard with Pine Nuts, Citrus, Cherry and Apple
Mike's restaurant gets rave reviews, as well, although his dessert isn't as well-received.
[ad] Empty ad slot (#1)!
…
FOX has ordered a second season of Gordon Ramsay's newest culinary competition series, MASTERCHEF, it was announced today by Mike Darnell, President of Alternative Entertainment, Fox Broadcasting Company.
"Gordon Ramsay is an incredible talent and the biggest culinary star on television today, so we're very happy to have Gordon and MASTERCHEF back for another season on FOX," said Darnell. "MASTERCHEF has resonated with viewers this summer, and we look forward to seeing where Gordon takes the show in Season Two."
"It's amazing and refreshing to see how much passion and raw talent there is from amateur home cooks across America," said Ramsay. "It's extraordinary the amount of energy and excitement the show brought in Season One, and I'm thrilled to be back at FOX for a second season."
"The amazing reception for MASTERCHEF on FOX has been hugely rewarding for all of us at Shine Group," said MASTERCHEF executive producer and Shine Group Chairman and CEO, Elisabeth Murdoch. "As the creators of this unique global franchise, we're thrilled to see the U.S. audience love this show as much as we do. We are looking forward to building on this early success with an even broader, bigger search in Season Two, and to seeing the brand grow as it continues to do so in Australia, the U.K., France and around the world, breaking viewing and ancillary records as it goes."
MASTERCHEF is the No. 1 new program of the summer among Adults 18-49, outperforming the next highest-rated show by +14%.
For those that believe they are the next MASTERCHEF please visit fox.com/masterchef.