It's hard to believe that Food Network is doing away with Ace of Cakes but I guess it is time.  It is the only cake-orientated show I have ever liked.  It seems that every cake show that comes out only serves to get worse.  Cake Boss, Food Network Cake Challenge, Cupcake Wars, et al.  None of them are worth the parchment paper they are baked on.
The word on the streets is there are plans for some sort of Duff only show but so far nothing concrete has come out.  I hope so, Duff is a great natural character.  So on behalf of all the people who have watched Ace of Cakes over the years I would like to wish good luck to Duff, Adam, Mary Alice, Anna, Elena and the adorably sexy Katherine Hill as well of all the others who have served up fondant covered fun.  Adios, cake dudes, you will be missed.
It is cool that Food Network is giving the folks at Charm City Cakes a celebrated swan song.  I wonder if they will do the same for the recently axed Private Chef of Beverly Hills.  I would like one last farewell from the gang at Big City Chefs, some of whom I am proud to count as friends.
The final episode of Ace of Cakes airs tonight at 10/9 Central.
Food Network announced Sunday Nov. 21st that there will only be one more season of Ace of Cakes. Too bad because this was the only cake-oriented TV show that was not a complete snore fest. Cake Boss, Cupcake Wars and those Food Network Cake Challenges are absolutely wretched.
Chef Duff Goldman said via the Charm City Cakes blog, "There are, of course, lots of mixed feelings about this news: we love our crew, we love being a part of a funny, genuine show that highlights our fair city and the work of a bunch of goofball friends. But Ace of Cakes has been in production for nearly five years—it's like having a film crew document all four years of high school and then some. Though it's incredibly bittersweet, after over 110 episodes, we think it's time to catch our breath and explore some exciting new opportunities."
According to TMZ, who was the first to break the news, the network is currently working on some projects that feature Chef Duff.  Read the entire TMZ story HERE.
So the Private Chefs of Beverly Hills is blowing up.  People are eating it up (pun intended).  Gal-pal Sasha Perl-Raver is the leading search item in conjunction with the show and in episode three she unveiled a cake that is all the buzz.  Sasha recently published the recipe for her much talked about Tahitian Vanilla Cake.
After having suffered hundreds of hours of boring Food Network Cake Challenges I have finally seen a cake that I would actually like to try.  Why does this cake sound better to me than those lame Disney cakes or even the masterpieces churned out by the talented gang at Charmed City Cakes?  No F'ing fondant!  Sure it makes the cake prettier but fondant is devoid of flavor and has an uncomfortable texture.  It's like eating glue and the last time I checked we are not supposed to eat glue.  Anyway, here is Sasha's recipe for Tahitian Vanilla Cake.
An alternative title for this post might have been Ace of Cakes vs Iron Chef as Cheflebrity Duff Goldman takes on fellow FN colleague Michael Symon.  This makes the second week in a row that Food Network employees have squared off against each other in Kitchen Stadium.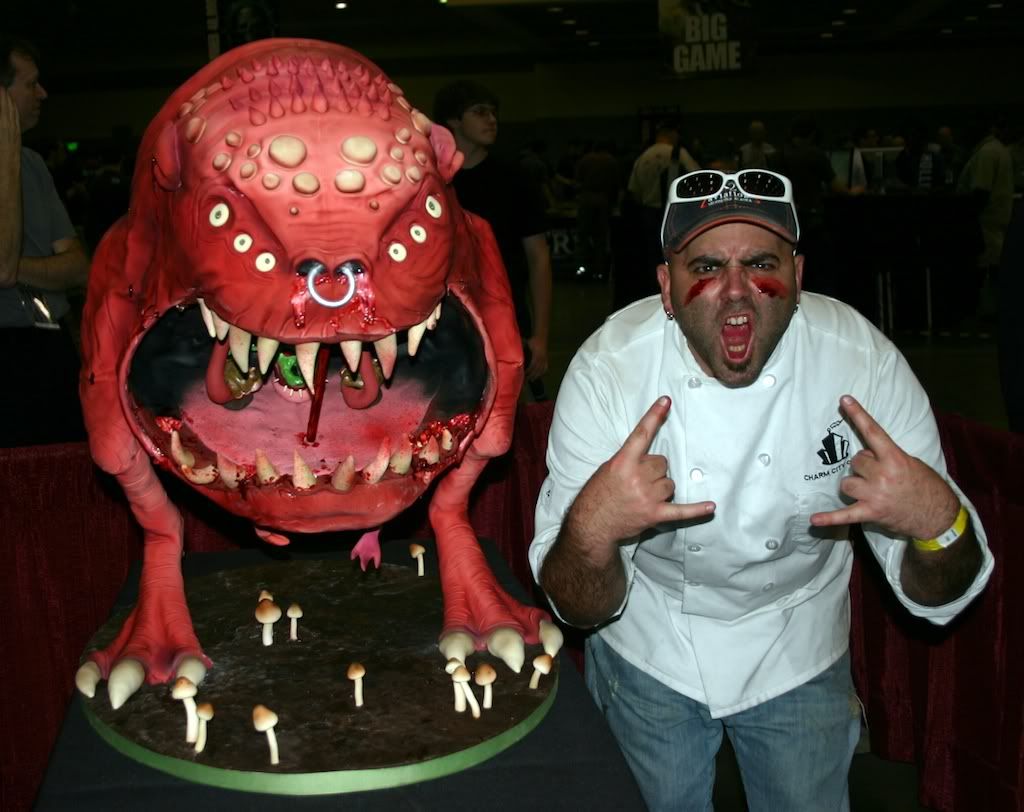 Many fans may not know that Duff is not just an Ace of Cakes, but a chef as well having studied at the Culinary Institute of America's Napa Valley campus.  He even did a little time working the line at The French Laundry owned by the man many consider the best chef in the world, Thomas Keller.
However, Chef Duff's tenure in Yountville was hardly a cakewalk.  Goldman famously abandoned his station in the middle of a rush only to return later begging for forgiveness.  Duff has also worked for Todd English at his DC restaurant Olives before returning home to Baltimore to open Charm City Cakes.
This is not Goldman's first competition on the Food Network.  He has appeared on Food Network Challenge multiple times both as a contestant and a judge for various cake challenges.  Goldman vs Symon premieres Feb 06, 2010 at 10:00 PM ET/PT.  Rumor has it one of Duff's signature power tools makes an appearance.
UPDATE: Iron Chef Symon smoked Duff winning 56 – 48 proving that savory is not a part time job.
If you haven't yet, check out my exclusive interview with Iron Chef Michael Symon HERE.
[ad] Empty ad slot (#1)!