The Mayan culture was one of the most important in the history of the New World.  They were the only pre-Colombian civilization to have a full written language.  They built sophisticated urban areas including pyramids that rival those of the Giza plateau.
But it is the Mayan calendar that has most people's attention these days.  If you believe some apocalyptic theorists the stunningly accurate Mayan calendar predicts the end of the world later this year.  However, that isn't wholly true.  What it actually predicts is a galactic alignment where the earth, sun and center of the Milky Way Galaxy line-up perfectly.
What does that mean?  No one really knows for sure which is of course the problem.  The last time it happened was 26,000 years ago so it stands to reason that no one living back then is still around to ask about it.  We do know this, however, the earth was engulfed in it's last major ice age then.
The Mayans had a great abundance of natural food sources to choose from including chilies, sweet potatoes and chocolate.  It was that menu that inspired this stew.  Despite the sweet potatoes and chocolate this isn't a terribly sweet dish.  Enjoy.
Author:
Ingredients
1 large sweet potato, diced
1 baking potato, diced
1 small onion, diced
1 dried chili
1 fresh chili like a jalapeno, finely diced and membrane removed
1 cup chicken, turkey or vegetable stock
Water as needed
1 can black beans
1 can hominy, drained
1 TBL dark chocolate or bitter sweet cocoa powder
Salt to taste
Instructions
In a pot bring the stock and enough water to a simmer to cover the potatoes.
Add to the potatoes salt, onion, both chilies and cook until potato is fork tender, about 15 minutes.
Add the black beans (with liquid), hominy and cocoa powder. Simmer another 10 minutes. Season to taste, serve and enjoy.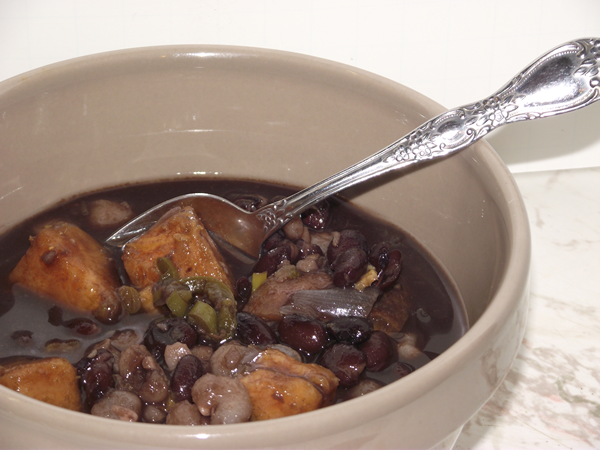 Notes
Adjust chilies to adjust heat.
The Mayans would not have had access to black pepper but if you want to use it I won't judge ya.
This recipe is similar to the original chocolate that the Conquistadors discovered when they arrived in ancient Mexico and Central America.  Montezuma purportedly drank fifteen gallons of the stuff everyday to help him service his 15,000 concubines.
Author:
This recipe is from my 2010 Gourmand World Cookbook Award nominated Third Coast Cuisine. You should really buy a copy.
Ingredients
2 cups boiling water
1 chili pepper, cut in half, seeds removed
5 cups whole milk
1 vanilla bean, split lengthwise
1 to 2 cinnamon sticks
8 ounces bittersweet chocolate, cut into 1/4″pieces
2 tablespoons honey, or to taste
l tablespoon almonds or hazelnuts, ground extra fine
Instructions
In a large saucepan over medium-high heat, add chili pepper to boiling water.
Cook until liquid is reduced to 1 cup.
Remove chili pepper; strain the water, and set aside.
In a medium saucepan over medium heat, combine milk, vanilla bean and cinnamon stick until bubbles appear around the edge
Reduce heat to low; add chocolate and honey; whisk occasionally until chocolate is melted and silky.
Turn off heat; remove vanilla bean and cinnamon stick.
Add chili-infused water, a little at a time, tasting to make sure the flavor isn't too strong.
Notes
If chocolate is too thick, thin with a little more milk.

Good bye, Good Eats
In the annals of food television there have been five shows that have stood out from the rest by virtue of their importance to the genre.  The first four, I Love to Eat (James Beard), The French Chef (Julia Child), The Galloping Gourmet (Graham Kerr) and Emeril Live (Emeril Legasse) each made their indelible marks on food television by enticing people into their kitchens.
The fifth show, Good Eats, made its mark by teaching burgeoning home gourmets what to do in their new-found playground.  Alton Brown created, wrote, produced and starred in, "a smart and entertaining food show that blends wit with wisdom, history with pop culture, and science with common cooking sense."  His words not mine.
Recently I heard a rumor that Food Network had canceled Good Eats so I started tugging on various grapevines to see what would shake loose.  My original sources were pretty reliable but I wanted to double-check before reporting something like "Good Eats Canceled."
I contacted Alton's publicist, Beau Benton and asked straight out if the rumor was true.  The answer?  No. . . and yes.
No.  Food Network did not cancel Good Eats.
Yes.  The show will soon be ceasing production for good.
The decision was Alton's.  When I inquired about a press release or official statement Benton said, "He announced it on Twitter."
Sure enough, "G.E. fans, I've decided to cut the half hour series at 249 eps. There will be 3 new 1 hour eps this year and that's it. But mourn not. New things brew on the horizon…"good" things."
I was lucky enough to spend an afternoon with Alton a few weeks ago.  We were both taking part in a fund-raiser in tiny Dauphin Island, Alabama.  Of all of the communities effected by the Oil Spill, Dauphin Island's economy suffered the most losing 66% of its projected revenue for the summer of 2010 which included cancelling the world's largest deep-sea fishing rodeo for the first time ever.  Camille, Frederick, Katrina, and Ivan couldn't do that.  Alton gave of his time to help attract a record crowd to the island's annual gumbo cook-off.
This is sure to leave Food Network fans feeling shell shocked.  Especially considering the May law suit that has halted production of another long standing hit series Diners, Drive-Ins and Dives.  If things do not work out in court that means that two of the network's most popular shows would no longer be a part of their line-up.
Brown will still be on Iron Chef and there are hints of other projects in the works.  Recently, Alton and I got to speak a good bit about, well, everything and he was kind enough to answer 7 Questions. READ HERE.
I saw this Tweet from Tyler Florence to Alton.  It's hysterical:
[blackbirdpie url="http://twitter.com/#!/TylerFlorence/status/72821165185441792″]
SPOILER ALERT: This is the recap from TV.com:
Battle: Chocolate
Chefs: Iron Chef Cat Cora battles Alex Stupak
Stupak is the pastry chef for Wylie Dufresne's Clinton Street institution WD~50
Full Recap
Theme: Chocolate
Judges
Ted Allen
Domenica Catelli
Jeffrey Steingarten
Challenger Stupak's Dishes
Marinated Bay Scallops w/ Cocoa Lime Vinaigrette
Chocolate Stuffed Quail
Milk Chocolate Pudding
Soft White Chocolate w/ Strawberries
Chocolate Capsule w/ Chocolate Cake
Iron Chef Cora's Dishes
Seabass Tartare w/ Caviar Chocolate Ganache
Butternut Squash and Chocolate Anglotti
Cocoa and Vanilla Bean Poached Lobster
Rabbit Mole
Chocolate Passionfruit S'Mores
Chocolate Medley
Iron Chef Cora
Taste: 23
Plating: 12
Originality: 11
Total: 46
Challenger Stupak
Taste: 23
Plating: 12
Originality: 14
Total: 49
Winner: Alex Stupak