The Mayan culture was one of the most important in the history of the New World.  They were the only pre-Colombian civilization to have a full written language.  They built sophisticated urban areas including pyramids that rival those of the Giza plateau.
But it is the Mayan calendar that has most people's attention these days.  If you believe some apocalyptic theorists the stunningly accurate Mayan calendar predicts the end of the world later this year.  However, that isn't wholly true.  What it actually predicts is a galactic alignment where the earth, sun and center of the Milky Way Galaxy line-up perfectly.
What does that mean?  No one really knows for sure which is of course the problem.  The last time it happened was 26,000 years ago so it stands to reason that no one living back then is still around to ask about it.  We do know this, however, the earth was engulfed in it's last major ice age then.
The Mayans had a great abundance of natural food sources to choose from including chilies, sweet potatoes and chocolate.  It was that menu that inspired this stew.  Despite the sweet potatoes and chocolate this isn't a terribly sweet dish.  Enjoy.
Author:
Ingredients
1 large sweet potato, diced
1 baking potato, diced
1 small onion, diced
1 dried chili
1 fresh chili like a jalapeno, finely diced and membrane removed
1 cup chicken, turkey or vegetable stock
Water as needed
1 can black beans
1 can hominy, drained
1 TBL dark chocolate or bitter sweet cocoa powder
Salt to taste
Instructions
In a pot bring the stock and enough water to a simmer to cover the potatoes.
Add to the potatoes salt, onion, both chilies and cook until potato is fork tender, about 15 minutes.
Add the black beans (with liquid), hominy and cocoa powder. Simmer another 10 minutes. Season to taste, serve and enjoy.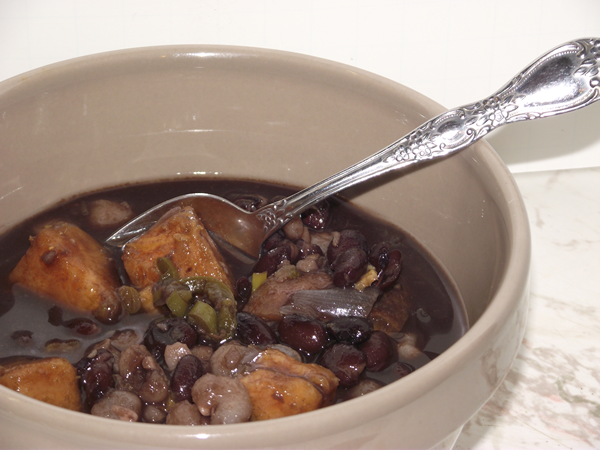 Notes
Adjust chilies to adjust heat.
The Mayans would not have had access to black pepper but if you want to use it I won't judge ya.
The past few weeks I have taken to hiking the woods behind the house. About a half-mile deep I have found a creek roughly 15 feet across and 3 to 4 feet deep.  I have made it my halfway point.
Today I packed a light weight collapsible rod-n-reel called an ultralight into my backpack and on it was a small lure. When I got to the creek I first checked the trees for moccasins (they like to hang on limbs and drop onto their prey) and then I pulled out the ultralight. To my surprise I had several aggressive hits. The largest looked to be a descent size bream according to the brief flash I got as it shook my hook. As sometimes happens when fishing I hung the lure leaving me no choice but to cut the line.
I had no other artificial lures so I tied on a small hook, shot weight and a cork. Next to the creek was a leaf pile that had been building with each successive autumn creating a natural compost. I raked the leaves until I got to the rich soil beneath. I used my hunting knife to dig up the dirt and sure enough I spotted of few small wigglers (earthworms).  Before long one was impaled on the brass hook and the cork was drifting with the current.
It didn't take long for the cork to submerge and start heading opposite the current.  I was treated to 10 to 15 seconds of fight before pulling my prey from the stream.
The Pumpkinseed was about three and a half inches in length with a fat belly, not quite big enough to eat, but close. As I removed the hook it pissed on me. Who could blame it, right? The memories of how I had learned to manipulate nature into food came rushing back only after the skills had done their job. Hopefully, I won't ever need to use these talents but it is nice to know I can still put food on the table should civilization ever take a powder.
Thanks, dad.