The first order of business – Happy Fourth of July!  Because of the holiday Food Network delayed the exit interview until Tuesday.  I hope that hasn't sent anyone into DTs.
Other than the occasional guest spot on Iron Chef America or Best Thing I Ever Ate the Food Network had earned a reputation for snubbing new media foodies.  A serious amount of disrespect considering that there are foodie web sites that are actually older than the Food Network.  Most people, given the opportunity, would rather watch Average Betty than Barefoot Contessa.  We'd rather see Chef Unleashed than the abomination that is Extreme Chef.
But that changed a little on August 2, 2008 when Ask Aida premiered.
The Aida in question was Aida Mollenkamp who had previously been the editor of the mega food site CHOW.com.  Last year another food blogger, Aarti Sequeira (AartiPaarti.com, GoodBite.com) competed and won Food Network Star 6.  It isn't much, but it's a start.
Enter Justin Davis, one part of the husband-wife food blogging team behind GastronomicDuo.com.  Justin was poised to be the next new media foodie to find stardom on the latest installment of Star.
Justin hardly received any face-time the first two weeks, dominated the screen in week three, became a promising competitor in week four.  But in week five Justin's run was over.  His elimination was puzzling since Chris had a much worse performance than anyone else on the show, for the second time this season.  But at the same time Justin never really put in a great performance.
Alicia Sanchez voiced displeasure with her experience on the show in a blog post that has since disappeared.  In it she suggested that contestants were not eliminated because of performance but according to script.  She has also voiced her suspicions about whether Chris and Penny were actors who were planted to spice things up.  As it turns out, Penny was an actress.  Last week Justin Balmes seemed less than joyful over his Star experience as well.
This week I get the feeling that Justin Davis was just relieved to be off the show based on this from his elimination post at Gastronomic Duo, "If Food Network wants Penny's, Chris's and Jyll's, they can have them. I was called the opposite of authentic, I would say the same for the show. "
Justin mentioned some of the close friends he made on the show even mentioning that when Justin B. was eliminated he actually teared up.  At the same time he clearly was not enamored with all of his fellow contestants saying, "A lot of the other finalists, I felt, were like little children standing in a room yelling Hey, look at me!  Look at me!"  He said inwardly he felt, "I don't know that I want to play this game."   "I put myself out there to be judged and to be critiqued.  I can't be upset about how it turned out," he admitted clearly upset.
It was obvious both watching the show and talking to him that Justin was not happy being part of Food Network Star.  His performance on the show was easily that of someone who was disengaged.  I think Bobby Flay nailed it when he said, "He dropped out of high school and I feel like now he is dropping out gain."  Justin himself said, "I learned something about myself; I learned I'm not cut out for reality TV."  An honest assessment.
Justin was also nice enough to share some of the warmer behind-the-scenes happenings.  He was especially impressed with the approachability of season two winner Guy Fieri saying, "He took the extra time to kind of step away from everything that was happening, which is the competition, and took a minute to talk to everyone as a person not as Guy Fieri.  It was really interesting to see that side of him.  He concluded, "I found him to be a humble and welcoming person."
How has traffic to Gastronomic Duo been effected by your appearance on Star?
It definitely has seen an upswing.  I feel like we're a little bit more on the radar.  Especially locally, my local appearances, we've seen a lot of really good traffic.  I'd still like to see a lot more obviously.
We've been running it for two years and I think the first year and a half was trying to figure out what it was going to be.  We've finally got it to the point that it looks good; it feels good. Now we just have to get the video in play.
To date Aida and Aarti are the only two Food Network celebs to get their start on the Internet.  Do you think that the network is missing out by not tapping new media sources for on-air talent?
I think that there's a huge food blogging community out there and I have found them to be, for the most part, really supportive.  People want to start this online discussion about food and I think that food bloggers have a lot to say.  Do I think that they are totally missing out?  I don't know.  I wouldn't deter any food blogger from trying to go on the show.
On your blog post yesterday you alluded to "big things" on the horizon.  Can you give us a hint as to what you have in the works?
I'm lining up doing a small online series; it's just going to be a quick four episodes.  Get it up and get it out there and try to market myself.  I think we'll find some really fun special guests.  I think it'll be an interesting thing.  I want it to be an expansion of my blog.  It's my half of the blog.
I'm all about seducing women with food.  I think that if I can teach men to cook a lady something that they're going to love I feel like they're going to have a much better chance at getting a second date.  I'm going to do a little video series on that and see what the response is.
[ad] Empty ad slot (#1)!
Be sure to stop by each Monday for my exclusive mourning after exit interviews with each exiled foodie (HERE). This year I have also added the WTVC (WannabeTVchef) Food Network Star Polls – six categories for contestants who best embody the spirit of former Food Network Star competitors. Be sure to check them out HERE. Click HERE to get all the news, gossip and snark on Food Network Star season 7.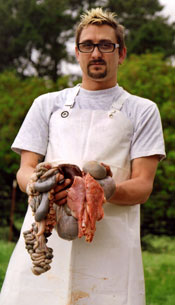 The following video is a proposed pilot for a very raw cooking show starring Incanto executive chef Chris Cosentino.  "Chef Unleashed invites the viewer on a global eating exploration.  It's a new kind of reality show, about where good food really comes from—when it's done right."
Cosentino is well know for his nose-to-tail approach to cooking.  As a chef he has a tremendous respect for the animals that feeds us and that is why he uses all them in his cooking, so nothing goes to waste.  That is a far more nature-friendly approach than treating animals as a minority group surrounded by a bunch of half-baked activists.
This is the kind of cooking show I would love to see and I think Americans could benefit from.  Let me warn you that if you are the type that can't bare to see Bambi drilled with a .306 through the jugular then this will be hard for you to watch, but you need to watch it.  Once you see Chris' actions and emotions you'll understand where he's coming from.  Plus we're only ever three days without power away from having to live like this again.  Anyway, this is what Extreme Chef should have been like.
Chef Unleashed from Chris Cosentino on Vimeo.
So what is Extreme Chef?  Here's what the Food Network site has to say about it:
You thought Iron Chef was tough? Those crazy Chopped baskets seem impossible? Extreme Chef takes competitive cooking to a whole new level. Host Marsh Mokhtari takes seasoned chefs out of their kitchen comfort zones and throws unpredictable curveballs.
Here's what the web site says about host Marsh Mokhtari:
Born in the UK, Marsh, a seasoned world traveler, has lived on four continents. His globetrotting started at an early age when he spent his first six years in Iran, and then later moved to England, where he ultimately earned a degree in medical physics from the University of Newcastle. While there, he played American football for the UK national team and rugby for the Newcastle Falcons.
He went on to enjoy a successful career in executive search in London. While on sabbatical in Australia, he had a fortuitous encounter with a film crew and found his true calling. The lure of acting, adventure and travel took Marsh to Bolivia where he hosted Death Road, a one-hour special for History Channel that garnered him instant credibility and notoriety. The National Geographic Channel saw the potential and commissioned a series of specials, Perilous Journeys, featuring Marsh. Marsh was guest star on numerous TV shows and recently completed shooting an independent feature, Carjack. Marsh is also currently the host of Food Network's new series, Extreme Chef.
Here's what I have to say about both:
Mokhtari has no background in food.  None.  There aren't chefs or food writers out there who need a job?  For that matter 1 out of every 8 Americans is out of job.  Couldn't they have hired one of them since they were going with someone unqualified to host the show anyway?  That aside, he has a good camera presence and is good looking.
As for the premiss of the show as a whole – it's better than Cupcake Wars, but I doubt I ever labor through another episode.  I'm just not a fan of taking someone who is good at something and then doing everything you can to F with them.  It isn't entertaining.  You know what is entertaining?  Watching someone who is really good at something do the thing they are really good at unimpeded.
The contestants were annoying as hell in the premiere, or should I say one chef was annoying as hell, Chef Paul Menta.  They were joined by celebrity chef Marco Canora who was on Next Iron Chef a few years back.  In addition to making accomplished chefs cook alligator over a Bic lighter they also have "X Factors" which are stupid physical challenges that have nothing to do with cooking.  The one bright spot of the show was that Chef Gina Clarke is a stone cold fox.  Food Network get her a show – a real show.
If you want to know what Extreme Chef should have been, check out Chef Unleashed with Chris Cosentino.
#FoodNetworkFail