Last week the Iron Chefs visited the set of Chopped.  This week the inverse happens.  Iron Chef Jose Garces faces off against challenger Madison Cowan. Chef Cowan is the first ever Grand Champion on the hit series Chopped. Judges are Karine Bakhoum, Laurent Tourondel and Farmer Lee Jones.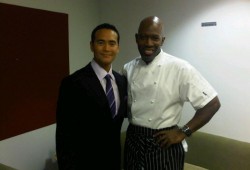 Chef Madison Cowan is a hands-on dad, author, restaurateur and former street resident with roots in London, Detroit and Jamaica. He also runs Madison Cowan LLC, a global culinary production company that oversees operations in licensing and consulting, cookery demonstration, television appearances and mobile clandestine dining that has reached throughout Africa, Europe, Japan and South America.
In 2010 Food Network selected him as a contestant for their hit Primetime series, Chopped where he competed and won three consecutive episodes to become the first ever Chopped Grand Champion. He will next be seen on BBC America's exciting new series No Kitchen Required, set to premiere April 2012. Madison has also written his first cookbook Soul Voyage about cooking from your soul, no matter the ingredients, location or who you are, as well as chronicling a few of his journeys. Madison currently resides in New York.
The Chopped kitchen is a tough venue to be sure but there is no place like Kitchen Stadium for there waits Iron Chef Jose Garces for Battle: Kale.
Check below for the outcome.
[ad] Empty ad slot (#1)!
Garces                       Cowan
Taste: 23                          Taste: 26
Plating: 13                        Plating: 13
Originality: 12                  Originality: 14
Total: 48                           Total: 53
SPOILER ALERT: The following information is the outcome of Morimoto vs. Zakarian.  If you want information on the combatants click HERE.  If you are only interested in the outcome read on.
Judges for Battle: Cauliflower were Farmer Lee Jones, Jeffrey Steingarten, and Julie White.  In a stunning turn, Fraser took on the Iron Chef without any sous chefs so Iron Mike kicked his out as well.
Battle: Cauliflower
Symon                   Fraser
Taste: 26                Taste: 22
Plating: 12             Plating: 10
Originality: 11       Originality: 12
Total: 49                 Total: 44
Winner: Iron Chef Morimoto
Next week's match-up is between Bobby Flay vs. Curtis Stone.