FOR IMMEDIATE RELEASE
04/01/12
POPULAR FOOD NETWORK TO CEASE PROGRAMMING AT MONTH'S END
New York City – The E.W. Scripps Company announced today that after 19 years in production their popular Food Network will cease programming at the end of April. The move took many in assembly by surprise. The press conference was held at Chelsea Market on 75 9th Avenue, home of the Food Network Studios.
Milton Funderburk, Acting Assistant Vice-Chairman of Cable Programming for Scripps was asked why the media conglomerate was closing the doors on its most popular cable franchise, "The time is right. After all when we purchased TFN back in '97 we thought it would fail miserably.  That was the plan.
"We acquired the Network as a tax right off. We never dreamed anyone would actually watch it. Our thought was why would anyone want to watch someone else cooking on TV? I mean if they wanted to see someone cook, they could just go cook something.  Apparently we under estimated the American public's desire to live vicariously."
Comments from Guy Fieri on Food Network's pending demise.  Article continues below.
Since the Food Network began programming in 1993 viewership has continued to grow though it was shaky in the beginning.  Those first shows featured chefs who were virtual unknowns like Bobby Flay, Mario Batali and Emeril Legasse.  Now it is one of the most successful cable channels in television history which fueled more questions about why Scripps was giving TFN the axe.
Funderburk explained, "It wasn't long after we took the Network over that we realized, we may have stumbled onto something here.  Viewership was growing exponentially and other vicariousity networks were springing up.  Not only were viewers watching people cooking instead of cooking themselves but they were watching the Travel Channel instead of going on vacation, eschewing exercise for the Fitness Channel and watching HGTV in living rooms that were literally falling apart around them.  I've heard that Time Warner is actually planning on unveiling the Sleeping Channel for people who are too lazy to fall asleep for themselves.
"The trend even crossed over into mainstream media.  Instead of keeping up with politics America was watching The West Wing.  There was no reason to invite the annoying neighbor over when you could tune into Jay Leno.  Why watch fact-based news programming when there was MSNBC?"
When asked about the future of Food Network Canada Funderburk replied, "That's toast, too.  Not that anyone will notice, it's Canada.  I know it's the largest state in the US but hardly anyone lives there.  Let's be honest if it wasn't for the band Rush America would have never bought Canada from the Alaskans."
The ultimate reason Funderburk offered for 86'ing their most popular holding was it's very popularity.  The demand for food programming is so high that not only have other cable channels like Bravo and TLC entered the market but so have mainstream networks NBC and FOX.
Funderburk, noticeably angry, proclaimed, "If there is one thing I can't stand it is being copied.  If everyone is going to dabble with food programming then we'll just wash our hands of the whole thing.  It doesn't matter to us.  We've always got our newspaper division.  That's not going anywhere."
I know what everyone thought when they first heard that Food Network was spinning off Dinner: Impossible with a new show called Restaurant: Impossible.  I thought the same thing, "Oh, they're ripping of Kitchen Nightmares."
Think about it, an intimidating English chef goes into struggling restaurants in an attempt to turn them around.  That's Kitchen Nightmares – the Fox reality show starring super chef Gordon Ramsay.  It's also the tag-line for Restaurant: Impossible. The only real difference I have seen between the two is that Restaurant: Impossible host Robert Irvine has a support team to help him out and a noticeable lack of bleeps.
I don't have a problem with Ramsay or any other chef dropping any words they want in the heat of a rush.  Goodness knows I do it.  I do have a problem with Fox telling Ramsay to do it just for shock value.  That's bush league.  That's why I have always preferred Ramsay's BBC shows to his American ones.
Well there is no issue with that from Robert Irvine.  He brings the same intensity and passion to the task as Ramsay but without all of the pretend anger.  The formula for Restaurant: Impossible is simple – Robert takes a look at the operation and fixes it.  These fixes include retooling menus, retraining or releasing employees and overhauling the decor.  In the end Irvine has given the owners the best possible chance to succeed.
My opinion:  I like it.  I like it a lot.  My only complaint is that I can't remember when it comes on so I end up stumbling on it half way through each time.  That's not Food Network's fault; it's mine.  So I think I'll make myself a reminder. . .
Don't forget!
Restaurant: Impossible
Wednesdays at 10pm/9c on Food Network.
Six or seven years ago I decided that all of my life's experiences had been preparing me for one thing – to be a TV chef.  The problem was I wasn't a professional chef and I didn't live in a large media market.  So I started changing my stars.  I began to write about food, I got out of my cubical and back into commercial kitchens, I started a web site and I bought a video camera.
Since then I have written two cookbooks (one has been nominated for a Gourmand World Cookbook Award), worked as a chef for a multitude of restaurants, appeared on several different TV shows, been the subject of a handful of interviews, I've talked shop with Bobby Flay, Ted Allen, Michael Symon, the list goes on and this site is currently ranked by Chef2Chef as one of the top 10 food sites on "the Online."
My journey isn't yet complete but at least I can see my destination on the horizon.  Next week I take another step, possibly the most important one so far.  A few months ago I was chosen to be a judge for the TASTY Awards which celebrate the best in food, fashion and lifestyle programming.  Next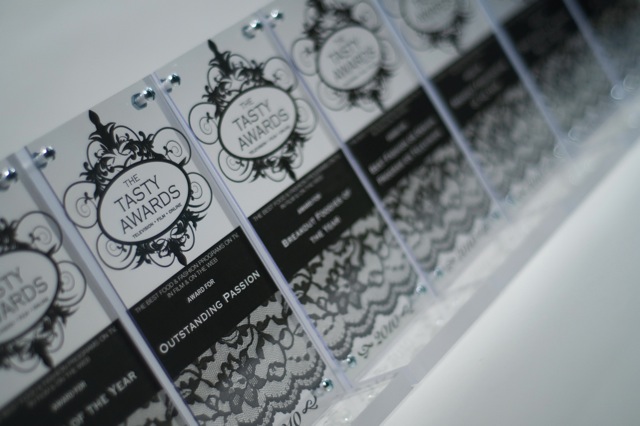 week I leave the casual pace of the Deep South and dive head first into the big leagues, Hollywood.
I am attending the TASTYs in person.  I get to meet up with some of my foodie pals IRL like Sara O'Donnel (Average Betty), Manouschka Guerrier (Private Chefs of Beverly Hills) and Susan Irby (The Bikini Chef).  Susan has been chosen as the TASTY Awards Red Carpet Ambassador.  She is giving me the bumpkin-friendly tour of LA.  Irby is originally from Georgia and will keep me from looking like a stereotype – I hope.  It won't be easy though as I have quite the "todo" list:
1. Ask a Mariachi band to play Freebird.
2. Make snarky comment about Malibu being the poor man's Biloxi.
3. Go to a Vegan restaurant and yell, "Salad is murder, too!"
4. Check flirtatious girls for Adam's Apples.
5. Visit a medical marijuana dispensary to see if bunions qualify.
6. Spray paint "SEC Football Rules" on the Hollywood sign.
7. Go to Beverly Hills and ask directions to Walmart.
The TASTYs will be presented January 13th at a Red Carpet Awards Show at Hollywood's legendary Egyptian Theater with live streaming at Hulu.com.  A few of the scheduled nominees and presenters include Gordon Ramsay (BBC, Fox), Candice Kumai (Lifetime Television, TLC), Luciene Salomone (WE tv), Ryan Seacrest (E!, Fox), Jeannie Mai (Style Network), Aida Mollenkamp (Food Network, The Cooking Channel), Manouschka Guerrier (Food Network), Guy Fieri (Food Network, NBC), Mario Batali (Food Network), Melissa and Joan Rivers (E!), Alton Brown (Food Network), Martha Stewart and the event will be hosted by Travel Channel's resident funny man Zane Lamphrey.
FOX has ordered a second season of Gordon Ramsay's newest culinary competition series, MASTERCHEF, it was announced today by Mike Darnell, President of Alternative Entertainment, Fox Broadcasting Company.
"Gordon Ramsay is an incredible talent and the biggest culinary star on television today, so we're very happy to have Gordon and MASTERCHEF back for another season on FOX," said Darnell. "MASTERCHEF has resonated with viewers this summer, and we look forward to seeing where Gordon takes the show in Season Two."
"It's amazing and refreshing to see how much passion and raw talent there is from amateur home cooks across America," said Ramsay. "It's extraordinary the amount of energy and excitement the show brought in Season One, and I'm thrilled to be back at FOX for a second season."
"The amazing reception for MASTERCHEF on FOX has been hugely rewarding for all of us at Shine Group," said MASTERCHEF executive producer and Shine Group Chairman and CEO, Elisabeth Murdoch. "As the creators of this unique global franchise, we're thrilled to see the U.S. audience love this show as much as we do. We are looking forward to building on this early success with an even broader, bigger search in Season Two, and to seeing the brand grow as it continues to do so in Australia, the U.K., France and around the world, breaking viewing and ancillary records as it goes."
MASTERCHEF is the No. 1 new program of the summer among Adults 18-49, outperforming the next highest-rated show by +14%.
For those that believe they are the next MASTERCHEF please visit fox.com/masterchef.