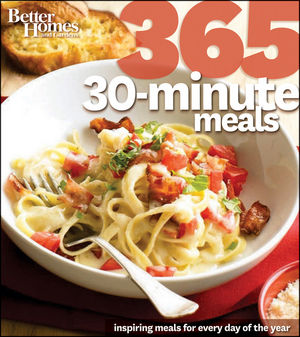 365 30-Minute Meals (Wiley Paperback; November 28, 2011; $19.99) is filled with a year's worth of fast, fresh and fun dinner ideas. With quick, easy-to-prepare recipes offering innovative dinner solutions for everyday staples like meat, poultry, fish, seafood, salads, stews, sandwiches, and more, this book is perfect for busy home cooks who need to get dinner on the table fast. Helpful cooking tips are spread throughout, and substitution suggestions help keep dinner on track even when you lack an ingredient.
A great value for busy families with 365 recipes in one affordable volume
Beautiful full-color inserts with more than 50 photos
At-a-glance icons that highlight Kid-Friendly, Healthful, and Quick-and-Special recipes
Helpful cooking tips and sidebars on cooking quick meals, as well as shopping, storing, prepping, and garnishing
Final day to sign-up is 6-16-12. To enter simply leave a comment below.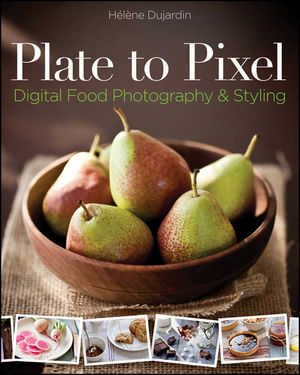 Author and food photographer, Helene Dujardin, walks readers through food photography and styling from beginning to end, in her new book, Plate to Pixel: Digital Food Photography & Styling (Wiley; May 2011). From photography fundamentals such as composition, lighting, and exposure, to food styling tips on making food look as appetizing as possible, this book is the comprehensive resource to turn to when shooting food.
Photographing food is complex and Dujardin aims to help readers develop their food photography skills with the techniques in her new book. Knowing how to make a dessert look so luscious that viewers gain two pounds just gazing at it gives the photographers the power to tease taste buds from miles away. Whether showcasing the creations coming out of a personal kitchen, or aspiring to a career in food photography, readers will devour the information in Plate to Pixel.
Final day to sign-up is 5-16-12. To enter simply leave a comment below.
New in the Ultimate series, The Ultimate Low-Calorie Meals Book offers hundreds of recipes and ideas that make eating healthy and watching your weight easy and delicious. These recipes are ideal for light and nutritious everyday meals that form the basis of a healthy lifestyle. Filled with dishes the entire family will love, recipes are clearly marked with icons that let you quickly identify recipes that are ready in 30 minutes or less, high in fiber, and low in sodium.
Packed with more than 400 delicious and nutritious low-calorie meals and hundreds of beautiful photos, The Ultimate Low-Calorie Meals Book is a great resource at a great price.
Features more than 400 flavorful calorie- and fat-conscious recipes, including main dishes, snacks, sandwiches, pizza, desserts, restaurant favorites, and make-ahead meals
Includes more than 300 gorgeous full-color photographs that make every page inspiring and easy to follow
Special Healthy Eating Basics chapter
Special features include substitution charts that help make every meal more calorie-conscious, up-to-date diet and nutrition advice, and much more.
Last day to sign-up is 4-18-12.  To enter simply leave a comment below.
For more than 75 years the Better Homes and Gardens brand has been one of America's most trusted sources for information on cooking, gardening, home improvement, home design, decorating and crafting. Through refreshing ideas, clear directions and beautiful photographs, the brand has inspired millions of Americans, with more than 38 million books sold since 1930, including the New Cook Book, New Garden Book, and New Decorating Book—all cornerstone titles in their categories.
Today, the Better Homes and Gardens brand encompasses books, magazines, television, radio and online media. The greater BH&G family includes partner brands such as Family Circle, Patchwork and Quilting, Country Garden, and Diabetic Living, all of which publish under the BH&G imprint.
Well the good folks at BH&G have just released another great cookbook that is perfect for those busy parents on the go.  The Ultimate Casseroles Book features more than 400 comfort food classics.  It's a beautiful cookbook with easy-to-read recipes from virtually every cuisine on the planet.  It's full of food porn too, over 300 color photos for those of you who like to eat with your eyes.  WTVC is giving away a copy of The Ultimate Casseroles Book.
Last day to sign-up is 4-11-12.  To enter simply leave a comment below.