Last year I made a pair of Burger Crawls, one in Los Angeles and the other in Mobile.  I waxed poetic about the Stout Burger at Stout, a gastro pub in the heart of Hollywood.  Likewise I gushed about the Wagyu Burger at Shamrock, Rose & Thistle Tea Room in Mobile's Spring Hill neighborhood.  I declared Shamrock's burger the best in the Mobile area and the Stout burger was the best I had ever eaten.  All that has changed.
My good friend, Pete Blohme has operated his celebrated sandwich shop over in Fairhope for years now.  Panini Pete's has been featured on the Food Network and the friendship that sprang from that first taping with Guy Fieri has evolved into something straight out of a cop/buddy film.  The Diners, Drive-ins and Dives host hit is off swimmingly with the South Alabama chef and since then Pete has been seen on multiple episodes of Guy's TV shows not to mention being a primary component in the Guy Fieri Road Show.
Well a few months ago, Pete opened up a satellite of his famous eatery in downtown Mobile.  Showing off the Tinsel Town flair that he picked up from his buddy Guy, Pete did a soft opening of his new digs last November and was nice enough to invite me in to take a gander.  The evening featured bite-sized versions of his popular menu items including his infamous turkey panino and some of his outstanding burgers.
One nibble in particular has haunted me since that night, Pete's Eastern Shore Burger.  A simple but eloquent offering of 100% Fresh Ground Certified Angus Beef on a perfectly toasted bun with onion confit and herbed goat cheese.  That's it, folks – a bun, a patty and two condiments.  Best.  Burger.  Ever.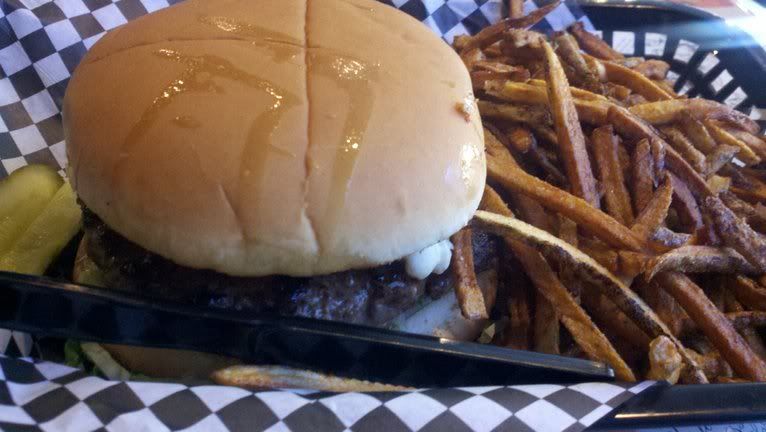 The other day I slipped back by the new location to chat with my buddy and to try the full half-pound version of the Eastern Shore Burger.  Bigger is better.  It's hard to put into words how perfectly the juicy burger, savory-sweet onions and the pungent goat cheese come together.  It's poetry on a bun.  It is officially my new favorite burger.
I also sampled Pete's one-of-a-kind shoestring fries.  Shoestring is putting it mildly.  These fries would make fat jokes about your typical shoestring fries and on bite number one it was obvious these were fresh cut.  They were fried crispy on the outside and tender in the middle then seasoned with an inventive blend that was a bit spicy (not unlike a Cajun Seasoning) and with the distinct air of cinnamon.  It was different yet comfortable.
There are a lot of cheflebrities out there who are heavy on the celebrity but light on the chef.  One stop at Panini Pete's proves that Blohme is not one of them.  His creativity and attention to detail is evident in every morsel you shovel down your gullet.
Last spring Pete, Guy and I had dinner with Alabama Governor Robert Bentley and a few hundred of our neighbors in Gulf Shores.  Check out the festivities.

This weekend I'll be covering the Guy Fieri Road Show in New Orleans.  I thought I would share here a short film I shot in April at a dinner I was invited to that celebrated the efforts of the volunteers who helped during Gulf Oil Spill clean up.
One year a blow-out preventer on the Deepwater Horizon oil rig failed.  Just weeks before federal inspectors had given the rig the "all clear."  They were wrong and because of that mistake eleven people lost their lives.  Over the next few months 200 million gallons of crude oil spewed into the Gulf of Mexico destroying both economy and ecology for 2 million Gulf Coast residents.  So far none of the responsible parties have offered much except broken promises but the people of the region have battled back just like they did after Ivan, just like they did after Katrina and just like they did after Rita.To celebrate the return of the Gulf and to honor the heroes of the oil spill a party of 500 took to the beach in Gulf Shores, Alabama for dinner, music and laughter.  Among the honored guests were Mayor Robert Craft of Gulf Shores, Mayor Tony Kennon of neighboring Orange Beach, State Attorney General "Big" Luther Strange, U.S. Representative Jo Bonner and Alabama Governor Robert Bentley.  But the three stars at this affair were not politicians but chefs – Lucy Buffett (owner of Lulu's at the Wharf and kid sister of singer Jimmy Buffett), Chef Pete Blohme (owner of Panini Pete'sin Fairhope) and Food Network Star Guy Fieri.  Oh, there was one more star, the beautiful Gulf of Mexico.Enjoy this short film in honor of those who gave their money, their time and especially their lives on 4/20/10.