Last week the Iron Chefs visited the set of Chopped.  This week the inverse happens.  Iron Chef Jose Garces faces off against challenger Madison Cowan. Chef Cowan is the first ever Grand Champion on the hit series Chopped. Judges are Karine Bakhoum, Laurent Tourondel and Farmer Lee Jones.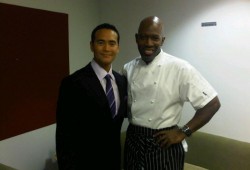 Chef Madison Cowan is a hands-on dad, author, restaurateur and former street resident with roots in London, Detroit and Jamaica. He also runs Madison Cowan LLC, a global culinary production company that oversees operations in licensing and consulting, cookery demonstration, television appearances and mobile clandestine dining that has reached throughout Africa, Europe, Japan and South America.
In 2010 Food Network selected him as a contestant for their hit Primetime series, Chopped where he competed and won three consecutive episodes to become the first ever Chopped Grand Champion. He will next be seen on BBC America's exciting new series No Kitchen Required, set to premiere April 2012. Madison has also written his first cookbook Soul Voyage about cooking from your soul, no matter the ingredients, location or who you are, as well as chronicling a few of his journeys. Madison currently resides in New York.
The Chopped kitchen is a tough venue to be sure but there is no place like Kitchen Stadium for there waits Iron Chef Jose Garces for Battle: Kale.
Check below for the outcome.
[ad] Empty ad slot (#1)!
Garces                       Cowan
Taste: 23                          Taste: 26
Plating: 13                        Plating: 13
Originality: 12                  Originality: 14
Total: 48                           Total: 53
February is not a month where one thinks of the bounty of the garden.  That's because in many parts of the country that garden is covered with 18" of snow while in others it just sits there all brown and putrid like the post-apocalyptic landscape from a Mad Max movie.  However there is one deeply green plant so rugged that it doesn't care about the temperature and lack of sunlight; kale.
Unfortunately most Americans only recognize kale as a garnish for a catering platter or artfully covering the ice on salad bars.  But kale is a mainstay of Scottish cuisine as it is one of the few plants sturdy enough to handle highland winters.  It is harvested from September through March and is a terrific source of Vitamin A (206% RDA), Vitamin C (134% RDA almost as much as an orange) and Vitamin K (684% RDA).  Kale also contains a good deal of cancer-fighting components like the two powerful antioxidants – carotenoids and flavonoids.  It also contains organosulfur a mysterious cancer-fighting compound; scientists don't understand exactly how organosulfur fights cancer they just know that it does.
Though a serving only contains 2 grams of protein it does contain 18 amino acids – the building blocks of protein.  The paltry 34 calories in a serving drop significantly once in the body because of kale's high fiber content.  Raw kale is on the list of negative calorie foods meaning that digesting it actually burns more calories than it contains.  That's right, the more you eat the more calories you burn.  If bakers could figure out how to incorporate kale into donuts the Krispy Kreme Diet could be a reality.
So now that you know why you should eat kale it's time to learn how to eat kale.  It is very versatile as you can enjoy it raw in salads or cooked in soups.  In fact because of kale's sturdy nature you can actually toss it with salad dressing hours before serving it without fear of it breaking down like lettuce does.  In soups kale is often paired with other rugged plants like potatoes and leeks.  Potato Leek Soup is a traditional menu item for Burns Night, an international celebration of all things Scottish held on or around January 25th, poet Robert Burns' birthday.
Scottish Potato Leek Soup
3 TBL olive oil
1 bunch leeks thoroughly cleaned and cut lengthwise and julienned
1 clove garlic
2 cups Yukon Gold potatoes, cubed
4 cups vegetable broth
6 c kale, torn into small pieces
Salt and pepper, to taste
1) Heat 2 TBL olive oil in a large soup pot over medium heat. Add leeks, salt and garlic. Sauté until leeks are tender, roughly ten minutes.
2) Add potatoes and broth then simmer for 20 minutes.
3) In a large sauté pan, cook the kale over medium heat in the remaining olive oil with salt to taste, until wilted but still a little firm.
4) With an immersion blender, puree the soup for a few seconds.  If you do not have an immersion blender skip this step as it is optional.  Season to taste with salt and pepper.  NOTE: this soup begs for a good deal of pepper.
5) To serve place equal portions of the sautéed kale into each serving bowl and ladle the soup on top of it.