Press Release from Food Network:
Food Network Crowns Cake Cavalier on 'Last Cake Standing' Season Finale and Names BBQ King in New Series 'Best In Smoke'
Season Premieres: Paula's Best Dishes, Guy's Big Bite, Diners Drive-Ins and Dives, Chopped
On-Air and Online "In the Kitchen" Theme Weekend: Mother's Day
Host Bryan Caswell kicks off the competition by challenging the six teams to create their best "single bite" for the judges. Once the clock starts, it's an all-out scramble to the meat truck, and the competitor who cooks up the best "single bite" wins immunity from elimination and joins the judging panel for the next round. Then, the competitors devise the ideal BBQ hors d'oeuvre for an upscale art gallery opening. The fate of the finalists hangs on the opinions of the gallery guests who decide which competitor is safe from elimination.
The competitors must create a BBQ-inspired salad and dessert from pre-determined ingredients, so only their skill will separate them from the pack. After two hours of cooking, the judges' favorite gets a special advantage going into the next competition. For round two, the competitors have three hours to whip up an appetizing BBQ snack for a children's birthday party, but the twist is no burgers or hot dogs allowed. At the party, each kid picks their favorite dish to decide who will be safe from elimination.
The four remaining competitors take it to the streets, operating vendor carts and serving up hot BBQ to tourists. For this challenge, their assistants are off the hook, so competitors pair up and work together in teams. At the park, the tourists purchase their choice BBQ dishes with tickets. The team with the most tickets wins and will participate in the final judging of the other team, while the competitor with the least tickets will say goodbye.
The final challenge tests the limits of the remaining competitors' culinary knowledge, as well as their stamina, by having them cater three different events in one day. Each location will showcase a different element of the New York lifestyle including ballparks, Broadway and bars. Each finalist must feature brisket in at least one of their meals, which can take up to twelve hours to cook. After catering three distinct events, the most well-rounded pit master is named "Best In Smoke."
So the Private Chefs of Beverly Hills is blowing up.  People are eating it up (pun intended).  Gal-pal Sasha Perl-Raver is the leading search item in conjunction with the show and in episode three she unveiled a cake that is all the buzz.  Sasha recently published the recipe for her much talked about Tahitian Vanilla Cake.
After having suffered hundreds of hours of boring Food Network Cake Challenges I have finally seen a cake that I would actually like to try.  Why does this cake sound better to me than those lame Disney cakes or even the masterpieces churned out by the talented gang at Charmed City Cakes?  No F'ing fondant!  Sure it makes the cake prettier but fondant is devoid of flavor and has an uncomfortable texture.  It's like eating glue and the last time I checked we are not supposed to eat glue.  Anyway, here is Sasha's recipe for Tahitian Vanilla Cake.
An alternative title for this post might have been Ace of Cakes vs Iron Chef as Cheflebrity Duff Goldman takes on fellow FN colleague Michael Symon.  This makes the second week in a row that Food Network employees have squared off against each other in Kitchen Stadium.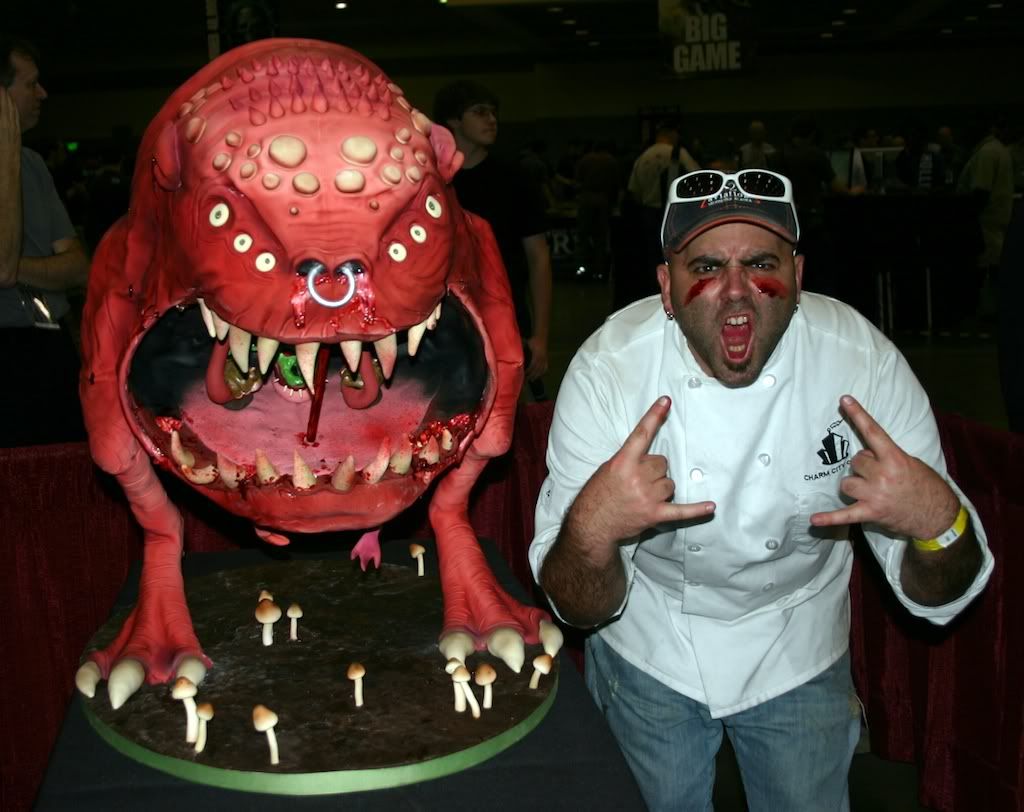 Many fans may not know that Duff is not just an Ace of Cakes, but a chef as well having studied at the Culinary Institute of America's Napa Valley campus.  He even did a little time working the line at The French Laundry owned by the man many consider the best chef in the world, Thomas Keller.
However, Chef Duff's tenure in Yountville was hardly a cakewalk.  Goldman famously abandoned his station in the middle of a rush only to return later begging for forgiveness.  Duff has also worked for Todd English at his DC restaurant Olives before returning home to Baltimore to open Charm City Cakes.
This is not Goldman's first competition on the Food Network.  He has appeared on Food Network Challenge multiple times both as a contestant and a judge for various cake challenges.  Goldman vs Symon premieres Feb 06, 2010 at 10:00 PM ET/PT.  Rumor has it one of Duff's signature power tools makes an appearance.
UPDATE: Iron Chef Symon smoked Duff winning 56 – 48 proving that savory is not a part time job.
If you haven't yet, check out my exclusive interview with Iron Chef Michael Symon HERE.
[ad] Empty ad slot (#1)!
I don't know why but this was the most popular post I had in 2009 and pretty much ever.  I don't get watching people decorate cake after cake that everyone knows do not taste good, but to each his own.  I'm satisfied with one episode of Aces of Cakes each week.
The special four-week stunt "Food Network Challenge: Last Cake Standing" premieres April 5th at 8pm ET/PT.
NEW YORK – March 5, 2009 – Since 2005, Food Network Challenge has captivated viewers with exciting food battles from around the country. Now in it's first-ever elimination-style competition, Food Network Challenge: Last Cake Standing, six Challenge all-stars vie for the title of "Best Cake Artist in America." Premiering Sunday, April 5th at 8pm ET/PT, the series throws the pastry chefs into a grueling four-round cake competition. The Challenge alumni will be thrown a number of difficult tasks, from creating one-of-a-kind wedding creations to undergoing a 24-hour cake-making marathon. Each week the judges eliminate one cake artist, and the winner takes home the biggest prize in Challenge history: $50,000! Challenge emcee Keegan Gerhard serves as host and notable pastry chef Patrick Coston and famed cake designer Kerry Vincent lead the judging panel.
"Last Cake Standing super- charges our popular Food Network Challenge series to make it the toughest, longest, most extreme cake competition ever," said Bob Tuschman, Senior Vice President, Programming and Production. "Viewers will be amazed, not just at the brilliant creations, but at the fierceness of the competition. Who knew cake decorating was an extreme sport?"
The six Challenge all-stars are: Michelle Bommarito (Ferndale, MI), Courtney Clark (Ann Arbor, MI), Mary Maher (Chicago, IL), James Rosselle (Los Angeles, CA), Elisa Strauss (New York, NY), and Bronwen Weber (Dallas, TX). Food Network Challenge: Last Cake Standing was shot in Denver, CO.
Episodes include:
Episode 1 – Premiering Sunday, April 5th at 8pm ET/PT
In the premiere of Food Network Challenge: Last Cake Standing, six enthusiastic Challenge all-stars receive their first task: illustrate one aspect of their lives through cake! The action-packed competition begins with surprise instructions to move into their kitchens and immediately start creating their signature cakes. At the elimination ceremony, a curveball shocks the competitors when they, instead of the judges, are told to eliminate the first cake artist.
Episode 2 – Premiering Sunday, April 12th at 8pm ET/PT
The five remaining competitors take a field trip to Denver's City Hall where they embark upon an exciting, but complicated challenge: create a top-notch wedding cake in only eight hours. The competitors serve as wedding ceremony witnesses and consult with the newlyweds before completing impromptu cake sketches. The judges reveal the next elimination and the winning cake is served at the reception that very night.
Episode 3 – Premiering Sunday, April 19th at 8pm ET/PT
The competition heats up when the four remaining competitors design over-the-top cakes based on an original superhero, decked out with extreme elements like moveable parts and fireworks. Hours before the competition, they are divided into teams and required to combine their cake designs. The winning team advances to the finale, and the losing duo faces off in an intense, 30-minute "cake-off" to determine who will move on and who will go up in smoke!
Episode 4 – Premiering Sunday, April 26th at 8pm ET/PT
The final three competitors endure a 24-hour cake-making marathon – the longest competition in Challenge history! The finalists create a unique five-foot birthday cake for a set of sextuplets. Upon completion, they must transport their cakes 20 miles to the birthday party. Strategy, endurance and skills are tested and one talented cake artist is finally crowned the winner!