The Mayan culture was one of the most important in the history of the New World.  They were the only pre-Colombian civilization to have a full written language.  They built sophisticated urban areas including pyramids that rival those of the Giza plateau.
But it is the Mayan calendar that has most people's attention these days.  If you believe some apocalyptic theorists the stunningly accurate Mayan calendar predicts the end of the world later this year.  However, that isn't wholly true.  What it actually predicts is a galactic alignment where the earth, sun and center of the Milky Way Galaxy line-up perfectly.
What does that mean?  No one really knows for sure which is of course the problem.  The last time it happened was 26,000 years ago so it stands to reason that no one living back then is still around to ask about it.  We do know this, however, the earth was engulfed in it's last major ice age then.
The Mayans had a great abundance of natural food sources to choose from including chilies, sweet potatoes and chocolate.  It was that menu that inspired this stew.  Despite the sweet potatoes and chocolate this isn't a terribly sweet dish.  Enjoy.
Author:
Ingredients
1 large sweet potato, diced
1 baking potato, diced
1 small onion, diced
1 dried chili
1 fresh chili like a jalapeno, finely diced and membrane removed
1 cup chicken, turkey or vegetable stock
Water as needed
1 can black beans
1 can hominy, drained
1 TBL dark chocolate or bitter sweet cocoa powder
Salt to taste
Instructions
In a pot bring the stock and enough water to a simmer to cover the potatoes.
Add to the potatoes salt, onion, both chilies and cook until potato is fork tender, about 15 minutes.
Add the black beans (with liquid), hominy and cocoa powder. Simmer another 10 minutes. Season to taste, serve and enjoy.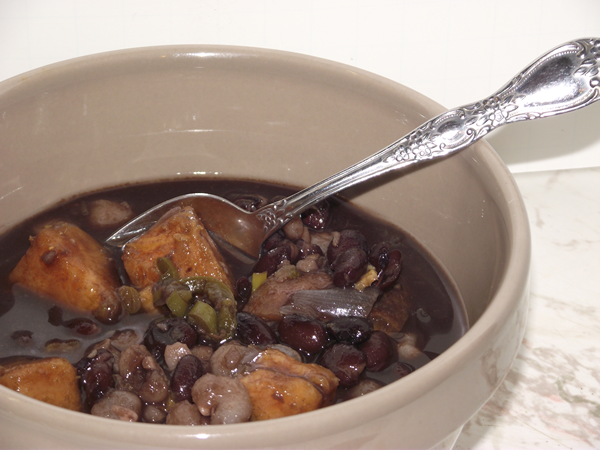 Notes
Adjust chilies to adjust heat.
The Mayans would not have had access to black pepper but if you want to use it I won't judge ya.