FOR IMMEDIATE RELEASE
04/01/12
POPULAR FOOD NETWORK TO CEASE PROGRAMMING AT MONTH'S END
New York City – The E.W. Scripps Company announced today that after 19 years in production their popular Food Network will cease programming at the end of April. The move took many in assembly by surprise. The press conference was held at Chelsea Market on 75 9th Avenue, home of the Food Network Studios.
Milton Funderburk, Acting Assistant Vice-Chairman of Cable Programming for Scripps was asked why the media conglomerate was closing the doors on its most popular cable franchise, "The time is right. After all when we purchased TFN back in '97 we thought it would fail miserably.  That was the plan.
"We acquired the Network as a tax right off. We never dreamed anyone would actually watch it. Our thought was why would anyone want to watch someone else cooking on TV? I mean if they wanted to see someone cook, they could just go cook something.  Apparently we under estimated the American public's desire to live vicariously."
Comments from Guy Fieri on Food Network's pending demise.  Article continues below.
Since the Food Network began programming in 1993 viewership has continued to grow though it was shaky in the beginning.  Those first shows featured chefs who were virtual unknowns like Bobby Flay, Mario Batali and Emeril Legasse.  Now it is one of the most successful cable channels in television history which fueled more questions about why Scripps was giving TFN the axe.
Funderburk explained, "It wasn't long after we took the Network over that we realized, we may have stumbled onto something here.  Viewership was growing exponentially and other vicariousity networks were springing up.  Not only were viewers watching people cooking instead of cooking themselves but they were watching the Travel Channel instead of going on vacation, eschewing exercise for the Fitness Channel and watching HGTV in living rooms that were literally falling apart around them.  I've heard that Time Warner is actually planning on unveiling the Sleeping Channel for people who are too lazy to fall asleep for themselves.
"The trend even crossed over into mainstream media.  Instead of keeping up with politics America was watching The West Wing.  There was no reason to invite the annoying neighbor over when you could tune into Jay Leno.  Why watch fact-based news programming when there was MSNBC?"
When asked about the future of Food Network Canada Funderburk replied, "That's toast, too.  Not that anyone will notice, it's Canada.  I know it's the largest state in the US but hardly anyone lives there.  Let's be honest if it wasn't for the band Rush America would have never bought Canada from the Alaskans."
The ultimate reason Funderburk offered for 86'ing their most popular holding was it's very popularity.  The demand for food programming is so high that not only have other cable channels like Bravo and TLC entered the market but so have mainstream networks NBC and FOX.
Funderburk, noticeably angry, proclaimed, "If there is one thing I can't stand it is being copied.  If everyone is going to dabble with food programming then we'll just wash our hands of the whole thing.  It doesn't matter to us.  We've always got our newspaper division.  That's not going anywhere."
Six or seven years ago I decided that all of my life's experiences had been preparing me for one thing – to be a TV chef.  The problem was I wasn't a professional chef and I didn't live in a large media market.  So I started changing my stars.  I began to write about food, I got out of my cubical and back into commercial kitchens, I started a web site and I bought a video camera.
Since then I have written two cookbooks (one has been nominated for a Gourmand World Cookbook Award), worked as a chef for a multitude of restaurants, appeared on several different TV shows, been the subject of a handful of interviews, I've talked shop with Bobby Flay, Ted Allen, Michael Symon, the list goes on and this site is currently ranked by Chef2Chef as one of the top 10 food sites on "the Online."
My journey isn't yet complete but at least I can see my destination on the horizon.  Next week I take another step, possibly the most important one so far.  A few months ago I was chosen to be a judge for the TASTY Awards which celebrate the best in food, fashion and lifestyle programming.  Next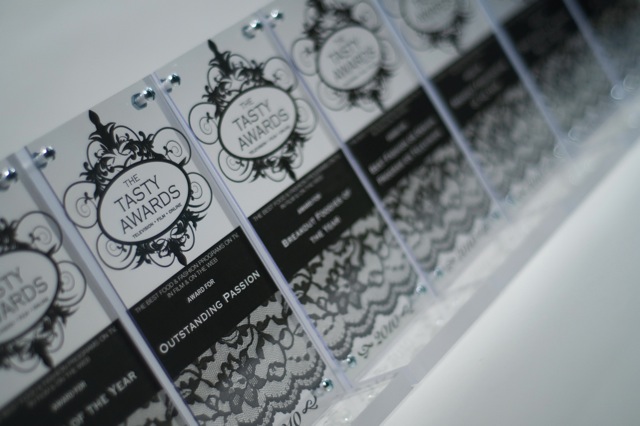 week I leave the casual pace of the Deep South and dive head first into the big leagues, Hollywood.
I am attending the TASTYs in person.  I get to meet up with some of my foodie pals IRL like Sara O'Donnel (Average Betty), Manouschka Guerrier (Private Chefs of Beverly Hills) and Susan Irby (The Bikini Chef).  Susan has been chosen as the TASTY Awards Red Carpet Ambassador.  She is giving me the bumpkin-friendly tour of LA.  Irby is originally from Georgia and will keep me from looking like a stereotype – I hope.  It won't be easy though as I have quite the "todo" list:
1. Ask a Mariachi band to play Freebird.
2. Make snarky comment about Malibu being the poor man's Biloxi.
3. Go to a Vegan restaurant and yell, "Salad is murder, too!"
4. Check flirtatious girls for Adam's Apples.
5. Visit a medical marijuana dispensary to see if bunions qualify.
6. Spray paint "SEC Football Rules" on the Hollywood sign.
7. Go to Beverly Hills and ask directions to Walmart.
The TASTYs will be presented January 13th at a Red Carpet Awards Show at Hollywood's legendary Egyptian Theater with live streaming at Hulu.com.  A few of the scheduled nominees and presenters include Gordon Ramsay (BBC, Fox), Candice Kumai (Lifetime Television, TLC), Luciene Salomone (WE tv), Ryan Seacrest (E!, Fox), Jeannie Mai (Style Network), Aida Mollenkamp (Food Network, The Cooking Channel), Manouschka Guerrier (Food Network), Guy Fieri (Food Network, NBC), Mario Batali (Food Network), Melissa and Joan Rivers (E!), Alton Brown (Food Network), Martha Stewart and the event will be hosted by Travel Channel's resident funny man Zane Lamphrey.
I saw the casting call for "Family Style" a year or so ago and thought that it might just prove interesting.  I thoroughly loved the documentary Food Network did about the opening of Iron Chef Morimoto's restaurant in Philly several years ago entitled Morimoto: Raw.  It was a behind the scenes look at how a big time restaurant opens.  It chronicled the ordeal with trying to open on schedule, dealing with contractors and creating buzz.  It was riveting television.  The first season of NBC's the Restaurant was similar before they began engineering behind the scenes drama.
That is what I was hoping for from Family Style.  It was billed as a show about a family-run restaurant with behind the scenes access.  The family is real, the Maggiore clan in San Diego is well respected for running some of the area's best Italian restaurants including Tuscany and Tommy V's.  The family patriarch, appropriately referred to as Papa Maggiore, is a bit of a legend in the uber-competitive Southern California restaurant scene.  The TV show, however, focuses on the brother-sister competition between Joey and Melissa as they each endeavor to open the best new restaurant in San Diego.
Here's how the Network describes it in it's one paragraph page on the FN web site:
Family Style is the new docu-series that follows siblings Joey and Melissa Maggiore as they each open restaurants in the San Diego area. Joey is opening the flagship restaurant in his chain of barbecue restaurants. Melissa is auditioning executive chefs for her full service eatery. Will Joey be able to open after he is unexpectedly pulled away from his restaurant? And how will Melissa respond when one of her chef candidates asks her out on a date?
So that's what I was expecting, a "docu-series" about opening new restaurants.  I was hoping for the behind-the-scenes adventures that come from opening a successful business and learning from the marketing push leading up to the grand openings.  What I got was Jersey Shore in a kitchen.
There are plenty of channels on the dial these days where you can get tips on how to use a chef's knife or recipes for chocolate covered macaroons.  Of course there's the Food Network and it's kid sister the Cooking Channel, TLC, FOX, NBC and the SPEED Channel.  Don't reach for your bifocals, you read that right – the SPEED Channel.  Racing's premiere cable channel has it's own cooking show, the Racing Chef starring award winning chef Nicky Morse.
Morse travels the NASCAR circuit cooking and teaching with the sport's best drivers, pit crew members and even fans. The Racing Chef is part Iron Chef and part Talladega Nights.  In his post as NASCAR's culinary pit boss, Chef Nicky has seen everything from a crew member that makes the best authentic, old-school manicotti to a guy roasting a whole alligator in the infield of a super speedway.  But just how did a gourmet chef well known among the country club set suddenly find himself rubbing elbows with blue collar stock car fans?
That is no short story.  Morse was a very successful chef by the time he was 30 years old but that is when fate entered into his life in the form of the big "C."  Hodgkin's lymphoma meant an end to the 70+ hour work week of a professional kitchen.  Something had to change.  A chance meeting with Jeg's Drag Racing Team of the NHRA was just the ticket.  After eight years as the crew chef for the championship team, the Racing Chef just kind of fell into his lap.
A few critics have described the show as campy.  Really?  It's a show about cooking and tailgating at stock car races, what were they expecting, Mad Men?  The reality is that the Racing Chef is wildly popular with it's target audience.  That's all you can ask for from any TV show.  Recently I spoke with Chef Nicky Morse and he agreed to answer 7 Questions:
1. How old were you when you first started to cook?
Professionally 18.  Of course when I was in diapers I said I was going to be a chef.
2. Is that really when you decided that you could make food your career, when you were in diapers?
You know what?  To be honest with you, yeah.  I didn't ever want to do anything else.  That's it.  That's all I was going to do.  You know it's funny, the other day my mom pulled some stuff out from when I was in grade school and read me some of the stuff where I had said I was going to be a chef.
3. Which chefs have influenced you the most?
I've had a lot of chefs influence me.  There's a guy named Harmut Handke, he's kind of given me a lot of inspiration in the culinary world. I looked at his work and I studied his work and I looked at a lot of his recipes.  He was the international chef of the year.  He was the manager for the United States for the Culinary Olympics.
I worked for a guy named Ziggy (Allespach).  Ziggy trained me and gave me the base for my education.  He had a French restaurant , well Continental cuisine but mainly French, and this was when I was just starting out.  He influenced me a lot.  He was top notch.  There was no other 4 star restaurant in Columbus, Ohio at that time to work at so I worked for him.
Your asking me for one I'm giving you two.  They kind of set my path for me.  I didn't ever work for Hartmut but Ziggy I was probably with him four and a half years.
4. If you hadn't followed this career path, what other career could you see yourself in?
You know what?  This is crazy and it's going to sound nuts.  You're going to be like, "What?"  I would love to do, like, somewhere between street magic and Candid Camera.  I love messing with, I mean I love messing with people.  I could mess with people 24 hours a day.  I love it.  And I'd love to do card tricks.
5. What's the highlight of your career so far?
I'd have to give you a couple of highlights.  When I started and I was working for Ziggy and I became his sous chef.  I mean I was the sous chef at the only four star restaurant around here.
And then what I'm doing now I would have to say is the highlight of my career.  It's almost like two different careers.  Working on television and working in a restaurant are two different things.
6. What aspect of your professional life do you enjoy the most?
I like working with my family.  Mitzi, my wife, she takes care of the web site.  I like my wife working with me.  My brother, Matt, wrote the theme song for the show.  My nephew, Martin, made my chef hat.  It's an amazing hat!  He had one day to make it.  My sister wrote and produced the show for years and her husband is still a producer.  I have a brother that helps me with graphics and a sister that helps me write things, checks my grammar.  I have a niece that created the logo.  Getting to work with my family and have everybody work and influence the show, that is the best part of my professional career.
7. What's next for Chef Nicky?
I'm going to open an online store.  Since I started this TV show I've had so many people e-mail me.  They want to buy a cookbook.  They want to buy a T-shirt. They want to buy something.  So I guess the fans, hopefully, are going to dictate to me what I'm going to do nest.  I'm at a point right now where I have to open a store.  There's too much demand for me not to open a store.
The Racing Chef with Nicky Morse airs Mondays at 9PM (ET) on SPEED.