Red beans are not the only beans in Louisiana.  Try these white beans as a repose from cliche'.  This little gem is from my Gourmand World Cookbook Award nominated cookbook Third Coast Cuisine: Recipes of the Gulf of Mexico.  Does it sound like I'm blowing my horn?  Damn right!  I'm proud of that.  You have something you created get international notoriety and you'll be warming up the old trombone too.
Cajun White Beans
1 pound dry Cannelloni Beans, soaked overnight
1 medium onion, chopped
1 stalk celery, chopped
1 bell pepper, chopped
1/4 lb. pork tasso, sliced
5 cups water
2 tablespoons Cajun Seasoning
Soak beans overnight. The next day, place beans, onion, bell pepper, seasoning, and pork Tasso in a slow cooker.  Pour in enough water to cover beans, roughly 5 cups. Cook on low heat for 6-8 hours or until beans are soft.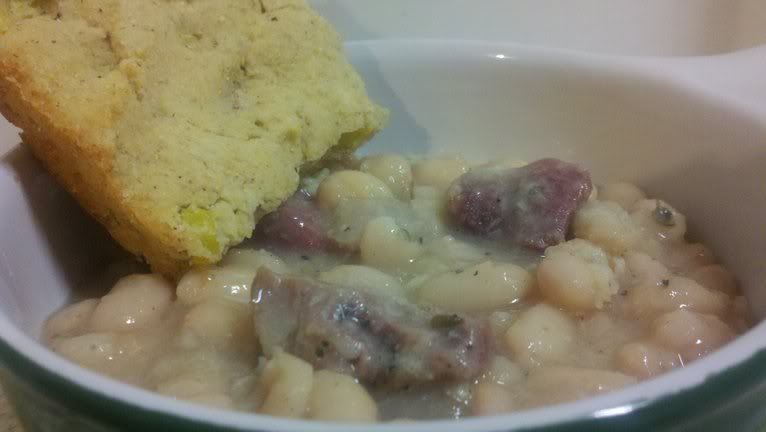 Everyone loves sliders, miniature bite-sized sandwiches.  One of New Orleans' favorite sandwiches is the oyster Po' Boy so we have combined the two.  The addition of a fried pickle adds extra snap.
Fried Oyster Sliders
1 quart fresh Gulf oysters
24 Parker House rolls or similar dinner style rolls
1/2 cup cornmeal
1/4 cup Masa Harina
1/2 cup Sour Cream Rémoulade (recipe below)
Fried Dill Pickles (recipe below)
Cajun seasoning
Combine cornmeal and Masa in a gallon zip top bag, season with Cajun seasoning, seal, and shake to mix or use your favorite store-bought mix.  Rinse oysters and toss into bag to coat with breading.  Shake off excess breading and deep fry at 375 until golden brown.
Coat bottom half of each roll with Sour Cream Rémoulade then an oyster or two.  Drizzle with more Sour Cream Rémoulade and a fried pickle.
Sour Cream Rémoulade
1 cup sour cream
1 tablespoon Zatarain's Creole mustard
1 teaspoon prepared horseradish
1 clove garlic, minced
Mix, chill and serve.
Fried Dill Pickles – Yes, in the South we fry everything.
1 egg
1 cup buttermilk
1 cup corn meal
1/2 cup Masa Harina
1/4 cup seasoned salt
2 cups dill pickle chips drained
Oil for frying
In a shallow bowl, beat together the egg & buttermilk to form an egg wash; stir well then set aside. In an iron skillet over medium-high heat, pour the oil to a depth of 2 inches and heat to 350 degrees. Whisk the cornmeal, masa and seasoned salt together in a medium sized bowl. In small batches, dip the pickle slices first in the egg wash, then in the dredge, shaking off any excess. Drop them into the oil and move the pickles around to brown evenly using a slotted spoon, roughly 1 minute. Drain and repeat until all pickles have been cooked.
I think Danny DeVito put it best in the movie Other People's Money when he said, "Since when do you have to be hungry to have a doughnut?"  I'm not a huge fan of sweets (my favorite dessert is a second cheeseburger) but I do dig a fried doughnut or six.  It is hard for to ever pass a Krispy Kreme when the "Hot Doughnuts" sign is on.  I could eat my weight in French Kruellers from Dunkin' Doughnuts.  And when in N'Awlins it is all about the Beignets.  Though loosely defined as a doughnut, Beignets are brilliant in there simplicity – fried dough and a butt load of powdered sugar.  You can now make them from scratch by following my easy recipe or just buy the mix from Café Du Monde.
Classic French Quarter Beignets – from Third Coast Cuisine: Recipes from the Gulf of Mexico.

1 package active dry yeast

1½ cups warm water (105-110 degrees)
1/2 cup sugar
1 teaspoon salt
2 large eggs
1 cup evaporated milk
7 cups AP flour
1/4 cup canola oil
Oil for deep frying
Confectioner's sugar
In a large bowl sprinkle the yeast into the water and stir to dissolve. Add the sugar, salt, eggs and milk. Blend with a beater. Add 4 cups of the flour and beat until smooth. Add the canola oil then beat in remaining flour. Cover with plastic wrap and chill overnight in a greased bowl. Roll on a floured service to about 1/8th inch thickness. Cut into 3 inch squares. Deep fry at 360° for roughly 3 minutes or until lightly browned on each side. Drain and sprinkle generously with the powdered sugar. For added richness place a whole vanilla bean in with the powdered sugar over night then remove.
With Food Network Star set to begin its seventh season in just a few hours I am home recovering from my trek over to New Orleans to take in the Guy Fieri Road Show at Harrah's Casino.  It was an epic adventure to say the least.  Hold your hats because here we go:
First a little geography.  I live in Mobile, AL which is give or take 185 miles due east of New Orleans on Interstate 10, roughly a two hour drive.  The first hour and forty-five minutes was a torrent of seriously technical food conversation between myself and my comrade (i.e. road dawg) Garrick a chef/instructor at a local culinary school.
Chef Garrick and I first met a few months ago in Dauphin Island, AL at a fund raiser for Gulf Oil Spill recovery with Food Network's Alton Brown as master of ceremonies (HERE).  A month later we were both at another Oil Spill event this time MC'd by one Guy Fieri (HERE).
So anyway, we're about 15 minutes from Canal Street when my right rear tire blows.  With just 35 minutes until the media meet & greet starts we get to change a tire on I-10, downtown New Orleans – 90 degrees, 90% humidity.  A nightmare right?
We are in the emergency lane 2 minutes when a Louisiana Stranded Motorists Truck pulls up behind us.  Garrick and I now know how our moms and girlfriends have felt every time we opened a stubborn jar lid for them.  That's putting those casino dollars to good use.
Road-dude has the tire switched out in nothing flat.  We hop back in the cruiser with just enough time to park and get to the meet and greet.  Except the car won't start.  Apparently when the tire blew it damaged something with the fuel delivery system and the engine can't get enough gas to turnover.  Road-dude
again steps up to the plate but this time even the Mighty Casey strikes out.  She's dead in the water.  So Road-dude kindly drops us off at Canal St. just a few blocks from Harrah's Casino – too late for the party but in plenty of time for Guy's show.
We don't know how we're getting home from New Orleans but we're damned sure going to catch Guy's Food-a-palooza.  About 20 minutes into the show two ladies come in late and take the open chairs next to us.  One lady in particular catches my eye.  She is quite pretty, with quite lovely curly caramel colored hair and also quite familiar.
I start running through the anthology of pretty women I have seen in my 43 years.  School?  Maybe.  She kind of looks like . . .  nah.  Maybe we worked together at a restaurant.  Is she an actress or model?  I'm usually better at this but I am just a bit distracted by music, a steady stream of alcohol and a nagging inner voice screaming "How the F do you plan on getting home?"
Seriously is that?  No way.
After a very entertaining warm-up act by Woody the Australian flare bartender (that dude can chuck a bottle around, fo sho) they take a few minutes to clean the stage up from the booze-slingin' and I'm thinking, I should talk to the cute lady, maybe I can figure out where I know her from.  But I'm too late; the show starts.
AC/DC blares through the house speakers as first "Panini" Pete Blohme takes the stage, then Rich "Gorilla" Bacchi and finally the Guy himself.  Senor Fieri soon notices that there are a few empty seats right in front and offers them to anyone in the back with the nads to claw their way forward.  The two ladies bolt.  Just as they are taking their new seats at the stage's edge Guy announces that Susie Fogelson, Food Network Star judge and the network's Senior Vice President of Marketing has just joined the crowd.
Talk about blowing a golden opportunity.
The show goes on.  They cook, they joke and everyone drinks especially when  another Triple D chef joins them, Stretch from Grinders in Kansas City.  Stretch, donning his Sgt. Pepper best, helps Guy make a 25 gallon cocktail in a giant homemade frozen margarita maker that used two trash compactor motors to crush the ice.  The margarita was tasty, thank you.
Halfway through the show I get a call from my niece who lives just an hour away in Bay St. Louis, MS.  They are on their way and as luck would have it they'll arrive about the same time the show is scheduled to be over.  Things are looking up.
After the show Chef Garrick and I make our way towards the stage.  The chance to visit again with Guy and Panini Pete is welcome but I want to track down Susie and give her the elevator pitch I should have given her when she was sitting right next to me.  But to no avail as she is quickly whisked backstage.  I'm wearing my VIP pass so I'm certain I could go back stage as well but my niece and her husband are somewhere in the casino.
As it turns out they are standing just outside the theater where the autograph seekers are lined-up to get their brand new Guy Fieri Food Cookbooks signed.  I can't help but remark to my nephew-in-law that "all this is for a chef."  My niece and her hubby are a very popular musical act on the Gulf Coast called Heather and the Monkey King.  The Monkey King knows I walked away from a ho-hum music career to be a chef.  He, too, appreciates the irony.
The four of us walked around until we found a place to grub out, the Jimani, before heading to Bay St. Louis for the night.  BTW, I had a roast beef po boy – a New Orleans standard – my first non-alcoholic meal of the day.  Heather and the Monkey King had already planned to go to Mobile the next day so all was well.  Don't worry, City of New Orleans, I'll be back to get the car on Monday.  Until then, thanks for yet another adventure.  I've never been bored in the Big Easy.
I want to thank the National Pork Board for not only sponsoring the Road Show but also for inviting Chef Garrick and myself over to partake. I also want to thank the amazing hospitality of the people of Louisiana for doing everything they could to try and help us out. I also want to thank Stretch and Panini Pete for trying to find us a ride back to Mobile had my niece not showed up. Great guys all.