Just a quick note to congratulate Richard Blais for winning Top Chef All Stars.  Your life is about to change.  Enjoy the ride, chef.
For those who missed the fireworks last night on Bravo here is a nice breakdown from TVfanatic.com: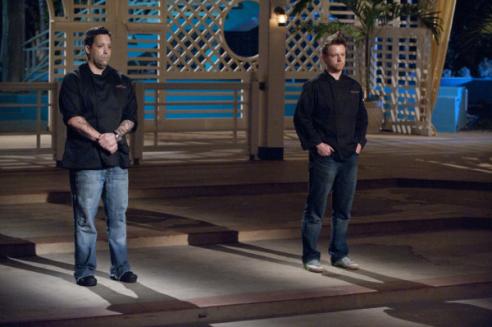 The Final Challenge
No Quickfire, there's just too much to do! The finale seemed a bit rushed to me, but at least Mike and Richard got to open up the restaurant of their dreams, with eliminated foes as their sous chefs. In an interesting twist, the chefs could not directly pick the latter; instead, the sous chefs "auditioned" for Mike and Richard.
While it's a fun twist, I wonder how happy the eliminated chefs must be to cook for the finalists. The fact that chefs who aren't chosen seem rather excited to enjoy their time in the Bahamas probably makes Richard and Mike more nervous.
The chefs are apprehensive, of course, because in addition to gems like Angelo and Antonia, there is also Jamie and Marcel. Richard gets Antonia, Spike, and Angelo, a fairly strong team, while Mike picks Jaime (ouch!), Carla, and Tiffany.
Richard's Restaurant: A surf and turf restaurant named Tongue & Cheek. So Richard!
Menu:
Amuse Bouche: Raw Oyster with Lemon Horseradish Ice Cream and Salsa Verde.
Raw Hamachi with Fried Veal Sweetbreads, Asian Pear, Pickled Radish, and Garlic Mayonnaise
Pork Belly with a Black Cod Cutlet, Bone Marrow, Beets, Brussels Sprouts, and Kumquat
Beef Short Rib with Mushrooms, Red Cabbage Marmalade, and Celery Root Horseradish Puree
Cornbread with Foie Gras Ice Cream and Whipped Mango
The food is generally well-received by the judges, although they seem a bit confused by the foie gras ice cream. I'm awfully curious to know what that tastes like.
Mike's Restaurant: An Italian-themed restaurant named Iz, as his mother called him Izzie while growing up.
Menu:
Spiced beets with Mozzarella, Chocolate, and Truffle Vinaigrette
Halibut with Kumquats Marmalade, Cauliflower Puree, and Pancetta Crumbs
Braised Pork Shoulder with Pepperoni Sauce, Roasted Cabbage, and Turnips
Rosemary Caramel Custard with Pine Nuts, Citrus, Cherry and Apple
Mike's restaurant gets rave reviews, as well, although his dessert isn't as well-received.
[ad] Empty ad slot (#1)!
…
Bravo's Top Chef is one of the most popular food-based television programs in history and devotees to the popular reality show are often left Jonesing for more.
Well I have a solution:  Jeff Houck (Food Writer for the Tampa Tribune) and Katie Machol (Food & Drink Editor for the Daily Loaf) not only lead a lively and sometimes bawdy live Tweet during each new Top Chef episode but they also have the best Top Chef recap in the known universe.
The Top Chef Podcast on CL Radio is like a methadone clinic for Top Chef junkies.  Did you miss an episode and now you're wondering who won, who packed their knives or how much cleavage Gail Simmons was showing?  You can always catch the Top Chef Podcast here:
[ad] Empty ad slot (#1)!
…
This Sunday Iron Chef: America (the greatest show on TV – sorry, Smallville) takes the night off so that former ICA challengers Chris Cosentino and Aarón Sánchez can kick off season 2 of Chefs vs. City.  And just as in the season 1 premiere the guys will be going up against two of their own, Sunny Anderson (Cooking For Real) and Claire Robinson (Five Ingredient Fix and Food Network Challenge).
For those unfamiliar with the show Food Network describes it thusly:
This is the ultimate foodie tour. In each episode of Chefs vs. City, Food Network chefs Aarón Sánchez and Chris Cosentino challenge two local foodies in an action-packed food adventure to locate that city's biggest, boldest, most unexpected food places. From wine stomping in Malibu, to eating the spiciest curry in all of NYC, to braving the coldest room in Las Vegas, Chefs vs. City will test the wits, guts, and skills of both teams as they race to the finish line.
In other words it's an extravagant scavenger hunt.
Aarón Sánchez was one of the early Food Network chefs having hosted the ethnic culinary kaleidoscope  known as The Melting Pot.  Sánchez co-hosted the show with, among others, Rocco DiSpirito, Padma Lakshmi and future Iron Chefs Cat Cora and Michael Symon.  These days Sanchez is often seen as a judge on Chopped and is is the owner and executive chef of Paladar and Centrico in New York City.  Aarón is the son of famed cookbook author and restaurateur Zarela Martinez of Zarela.
Since taking over as executive chef at San Francisco's Incanto quickly earning the Italian eatery a 3-star review from the San Francisco Chronicle, Cosentino's star has been on the rise.  Chef Chris has gained notoriety as a leading proponent of offal cookery (the preparation of organs, entrails and lesser used cuts of meat).  In 2007 his passion for offal gained national attention when he was a contestant on the Next Iron Chef where he competed against Sánchez and eventual winner Symon.  In addition to Chefs vs. City Chris is still at Icanto and is the founder of Boccalone, an artisanal salumeria.
This year's season premiere was shot in Miami during the South Beach Food & Wine Festival which is hosted each year by the Food Network.  The festival is akin to a family reunion of Food Network celebrities and is the setting for several shows each year featuring any mixture of culinary all-stars.
The show is scheduled to air each Sunday at 9pm/8c.  Next Sánchez and Cosentino head to Hotlanta to take on Dinner Impossible's Robert Irvine and George Galati.
7 Questions is a series of interviews with the culinary movers and shakers you want or ought to know better.
When the Food Network first went online back in 1993 the talent was made up mostly of chefs who lived within a cab ride of Chelsea Market.  After a few years the network got it's sea legs and began to recruit talent from around the country.
For a few years the network aired a show called Melting Pot.  It was an interesting idea, a daily show but with a rotation of chef/hosts.  The episodes were themed towards various immigrant cuisines that helped shape the American palate – Caribbean/Gula, Mediterranean, Asian, etc.  There was quite a stable of talented chefs, then no-names like the adorable Cheryl Smith and a fashion model named Padma Lakshmi.
The Mediterranean show was hosted by Rocco DiSpirito who fruitlessly flirted with co-host Cat Cora while the Eastern European show featured a chef Bobby Flay has called one of the great pastry chefs in the country, Wayne Harley Brachman.  His co-host was a shaved headed, soul patch wearing Cleveland chef with a laugh straight out of a mad scientist's laboratory named Michael Symon.  When Melting Pot left the airwaves many of the cheflebrities went back to their restaurants and regained their anonymity.  Symon was, it appeared, destined to follow this path.
Cleveland was hardly considered a culinary hot spot but Simon's Lola changed that the moment he and wife Liz opened the doors back in 1997.  That same year, Symon was named a "Rising Star" chef by Restaurant Hospitality magazine.  A year later Food & Wine listed him as one of the "Ten Best New Chefs in America."  In 2005 he returned to Food Network as a challenger on the hit series Iron Chef: America (ICA).
Though Symon was defeated by Iron Chef Morimoto, the battle was a classic.  Soon Symon's star outgrew Lola's seating capacity and he relocated to a downtown address.  But refusing to abandon the Tremont neighborhood that had so embraced him, he opened the provocatively named Lolita in the old Lola space.  This loyalty makes Symon different from the run of the mill celebrity chef.
When Mario Batali wanted to scale back his presence on ICA the Food Network was in a pickle.  Taking a cue from Bravo's success with Top Chef (with former Melting Pot host Padma Lakshmi), they came up with The Next Iron Chef, a culinary competition where the winner would become a permanent Iron Chef.
The Next Iron Chef would not pit "up and comers" but rather would feature celebrated chefs like Traci Des Jardins, Chris Constantino and former Melting Pot alum Aarón Sanchez.  Symon would also compete.  After boldly proclaiming that he would be around until the end, he almost went home after the first challenge.  The close-call motivated him and as predicted he was in fact there until the end beating out New Orleans' Chef John Besh to become The Next Iron Chef.
The win was big – mushroom cloud big.  Symon went from being a regional culinary hero worthy of national attention to becoming a genuine national celebrity.  Once America got a taste of his creativity they couldn't get enough of it.  Symon even took over the reigns of the popular Dinner: Impossible while embattled host Robert Irvine ironed out a few issues.  In his very first episode at the helm Symon created a dish that has spawned a national craze, chocolate covered bacon.
Not everything has been a victory for Cleveland's finest.  In 2007 Symon forayed into the fickle New York market with Parea which sported only luke warm reviews.  More than one snooty Manhattanite bantered that Symon wasn't ready for New York.  It's now 2010 and it seems every restaurant in the Big Apple features roasted pork belly and chocolate covered bacon.  Apparently it was New York that needed to catch up to Michael Symon.
Today Symon has a five restaurant empire adding Michael Symon's Roast in Detroit, Michael Symon's B-Spot in Woodmere, OH and Bar Symon located in Avon Lake, Ohio.  More TV appearances followed with guest spots on Anthony Bourdain: No Reservations, FoodNation with Bobby Flay and The View to name a few and a book with fellow Cleveland culinary personality Michael Ruhlman (with forward by Bobby Flay).  But it is on ICA that Symon has cemented his reputation as the consummate champion with a staggering winning percentage of nearly 85%, the best among Iron Chefs with more than five battles.
The future looks bright as well.  Michael Symon's "Cook Like An Iron Chef" premieres in July on The Cooking Channel and he is set to open a new restaurant in the Cleveland area at the end of May.
Recently, Michael Symon took time out of his busy schedule to answer 7 Questions:

1. How old were you when you first started to cook?
Michael Symon: Always cooked, cooked with my family while growing up.   I was around seven, cooking with my mom – 15 in a restaurant.
2. When did you decide that you could make food your career?
MS: In high school.  Fell in love with the biz immediately, loved making people happy with food.
3. Which chefs have influenced you the most?
MS: Bobby Flay, Fergus Henderson, Marc Shary, Carl Quagliata and Jonathan Waxman.
4. If you hadn't followed this career path, what other career could you see yourself in?
MS: Architect, farmer or working with kids.
5. What's the highlight of your career so far?
MS: Winning the James Beard Award for Best Chef Great Lakes Region 2009.  Food and Wine Best New Chefs 1998. . . it changed my life forever.
6. What aspect of your professional life do you enjoy the most?
MS: Getting to work with my wife, Liz.  The satisfaction of creating new dishes.
7. What's next for Chef Michael?
MS: One day at a time.  The sky's the limit.