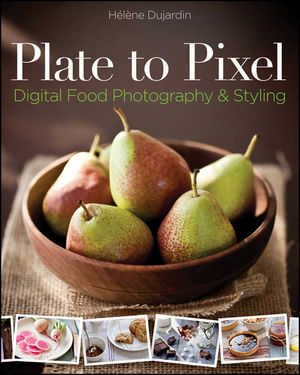 Food photography is a booming genre for professional and hobbyist photographers.  An incredibly challenging art form, sometimes the photographer has only minutes to take a few shots before the food is no longer at its photographic best.  Additionally, the photographer not only has to get the perfect shot, but they are sometimes in charge of the food styling as well. It's demanding but many pros and amateurs are working to expand their offerings beyond basic portrait and family photography to include food photography for local businesses and online use.
Author and food photographer, Helene Dujardin, walks readers through food photography and styling from beginning to end, in her new book, Plate to Pixel: Digital Food Photography & Styling (Wiley; May 2011).  From photography fundamentals such as composition, lighting, and exposure, to food styling tips on making food look as appetizing as possible, this book is the comprehensive resource to turn to when shooting food.
Photographing food is complex and Dujardin aims to help readers develop their food photography skills with the techniques in her new book. Knowing how to make a dessert look so luscious that viewers gain two pounds just gazing at it gives the photographers the power to tease taste buds from miles away. Whether showcasing the creations coming out of a personal kitchen, or aspiring to a career in food photography, readers will devour the information in Plate to Pixel.  Coverage includes:
Discovering how to use natural light to capture stunning images
Learning how to work with your camera modes and settings
Fine-tuning exposure
Composing the most appetizing photo
Telling a story with light
Adding pizzazz with herbs, sauces, and easy styling techniques
Learning trade secrets for photographing items such as ice cream and stews
Developing an after-capture workflow process to improve food photos
Dujardin's book is a revelation to anyone who fancies themselves a food photographer or wants to become one.  Her background as a chef gives her special incite to the way food should look on film; she understands plate presentation.  She discusses in depth lighting, color and all of the tricks of the trade.
If you are a food blogger or food photographer you need a copy of Plate to Pixel on your bookshelf.  It's a tome you'll refer back to time and again.  I know I do.