It was a night of glamor, humor and networking.  It was the TASTYs!
What happens when you get Jolene Sugarbaker (the Trailer Park Queen), Average Betty, the Private Chefs of Beverly Hills, Chef John of Foodwishes and the Bikini Chef together?  I wish I could tell you.
It's not a secret – one of those "what happens at the TASTYs stays at the TASTYs" scenarios.   Nor is it the result of alcohol-amnesia albeit not for a lack of trying.  The entire evening was such a blur that my feeble mind struggles to put things together.  My memories seem like one of those flash back episodes that sitcom's do when everyone wants a week off.
Here's a short rundown on the celebs I hung with:
Manouschka Guerrier and Sasha Perl-Raver of The Private Chefs of Beverly Hills are far more beautiful in real life than on the tube.  They are both extremely sweet as well while oozing sex appeal.  Chef Stuart O'Keeffe was also there and the few femmes not hooked on his James Bond looks were undone by his Irish brogue.
Jolene Sugarbaker was a huge hit in LA!  Her humor is so natural and genuine that everyone wanted their picture taken with her.  A true original who refuses to let corporate bigwigs force her into the cookie cutter molds they so love.
Chef Nathan Lyon of PBS' Growing a Greener World and Discovery Health's A Lyon in the Kitchen appears to be the next big chef sex symbol.  His easy style and and charming mannerisms were even noticeable in a town filled with those traits.  He's also a great guy with an inspiring message about knowing the person who grows your lettuce.  This cat is also hysterically funny.
Sara O'Donnell, known to the world as Average Betty, was like the hippest chick in high school – funny and unpretentious.  She is the female friend that guys love to hang out with which is shocking since her long shapely legs and seductive red locks drew more second glances than the runway models on hand for the fashion side of the awards.  She was stunning!  Let that be a lesson to you model-types – eat a F'ing sandwich!
What can one say about Chef John?  The most humble guy ever.  He's so good at teaching people how to cook that they never notice they are learning something.  If there is a word that sums up John it has to be "wholesome."  Just a real guy with a charm that sneaks up on you.  And I'm not just saying that because he promised me a bottle of his wife's new San Francisco style BBQ sauce.
Bobby Bognar of the History Channel's Food Tech posses all the cool I have come to expect from musicians.  He's as funny as a stand-up comedian, a good one, too, not like Pauly Shore.  He has that every-guy appeal that makes you want to be his friend.  He also seems like a good guy to have at your back in a bar room brawl.
Susan Irby was sporting her trademark Bikini Chef jacket with strategically placed see-through polka-dots that reveal just a hint of her hard body.  The brilliance of her jacket is that it doesn't really offer a glimpse of the scandalous lady-parts but bewitches you with promise of more.  One photog remarked to me that she beams like the sun; an understatement.  Susan made sure I got to meet Wolfgang Puck and introduced me to the people that mattered at the pre-awards reception.  She took me into the Hollywood Hills so I could see everything LA has to offer in one awe-inspiring view.  Thanks for keeping me from looking like a rube.
This is but a capsule of the great people and sites of the evening.  There's more to come.  I mean, I still have two more days to kill and I don't plan on spending them tapping on a laptop from my hotel room when Los Angeles is just outside my window.  I'm off to find a taco!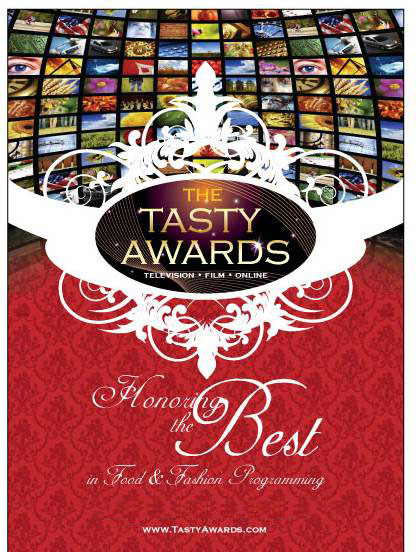 The TASTY AWARDS is the premier broadcast awards show to celebrate and recognize the year's best achievements in food, fashion, and home lifestyle programs on Television, in Film, and Online.
I will be blogging and live Tweeting my experience at the TASTYs.  I'll do my level best to capture the glamor and the glitz without prejudice for one over the other.  I have plans to meet up with a few Chefleberities like Susan Irby (the Bikini Chef) and Average Betty herself, Sara O'Donnel.  We are planning to eat at some cool LA hot spots.  I promise pictures and anecdotes although I make no guarantees to the quality of either.  I have VIP access so we'll see what that yields.
The TASTYs are Thursday January 13th at the Egyptian Theater in Hollywood and can be viewed live at Hulu.com.
Food and sex have been kindred spirits ever since that first cro magnon man landed a mate because of his ability to hunt.  It was around 300 BC that Epicurus first equated the two in philosophical terms.  The belief that a person's life ambition should be centered on the pursuit of modest pleasures in order to attain a state of tranquility now bares his name.  Epicureanism is the PG-13 cousin of Hedonism and has at its core the belief that one should never pass up the chance for an extravagant meal or generous lover.
Nothing has changed in the thousands of years since.  Take blogger extraordinaire Jennifer Iannolo for instance.  In addition to her work with the Gilded Fork, Jennifer has also caused quite a stir with her Sex on a Plate attitude which she exhibits on her blog Food Philosophy that is dedicated to food, sexuality and sass.  Food based television programming  is no stranger to the concept either.
Oddly enough it was the Style Network that introduced American audiences to the concept of "food porn" with the British import, Nigella Bites starring the effervescent Nigella Lawson.  The saucy Brit with the plunging neckline soon had many imitators like Food Network's Sandra Lee, Giada De Laurentiis and Ingrid Hoffman all of whom have tastefully celebrated their ample curves.  And who can forget Cat Cora AND Rachael Ray tripping saucy in the pages of men's magazine FHM.
That was the first wave and it was soon followed by Bravo's Padma Lakshmi and Kelly Choi from the network's two Top Chef franchises and two more Food Network hosts, Gina Neely and Anne Burrell.  And there has been some eye candy for the ladies like Jamie Oliver and Tyler Florence on Food Network and TLC's Curtis Stone.  But now there is a new wave of haute cuisine hotties looking to lure more male viewers to networks whose regular viewership is predominately female.
Earlier this year Food Network kicked it off with the Private chefs of Beverley Hills which chronicles six chefs (three male, three female including Sasha Perl-Raver who has been named one of LA's hottest chefs) that are all considerably easy on the eyes as they cater, literally, to the BOTOX® crowd.  And of course many of their clients also look as if they just stepped out of the Sports Illustrated swimsuit issue.
Now get ready for the full court press.
Travel Channel fired first with Food Wars host Camille Ford.  Each week she takes viewers to cities across America to decide which local eatery makes the best example of their town's signature dish.  In 2008 Camille founded Sassy Pole Girls a fitness group that uses striptease and pole dancing for exercise.  But Ford is much more than a pretty face and rock hard abs, she is the award-winning producer of the Off Broadway production Jitter.  She is also an avid adventurer often spending her free time rock climbing, kayaking, water skying, snow skying and hiking.  Camille Ford is the consummate modern woman who proves that feminism is wrong, you do not have to choose between intellectual and beautiful.  For more of Camille Ford in action watch full episodes of Food Wars online HERE.
Food Network, not wanting to be outdone, came back with season six of The Next Food Network Star which featured a cougar (Dzintra Dzenis), a pocket hottie (Doreen Fang), a Giada clone (Serena Palumbo) and a self-proclaimed diva (Brianna Jenkins) plus three hunks – Herb Mesa, Darrell "DAS" Smith and Brad Sorenson.  Sorenson especially seemed to resonate with female viewers who gushed over his dimpled smile via Twitter and the blogsophere throughout the contest.  The young chef even made an impression on guest star Eva Longoria who openly flirted with him during one segment.
They followed that up with their newest reality show, The Great Food Truck Race which pits seven lunch wagons against each other in a cross country race, ala the Cannonball Run.  Two of the teams feature ladies who are already beginning to rack up Google searches.  They are Nom Nom Truck co-owners Misa Chien (who has also been named one of LA's hottest chefs) and Jennifer Green and Rajun Cajun's very own Creole princess Jazmina Banionis.  While Banionis is an aspiring actress and model, Chien and Green all about the food.
Even Fox's MasterChef has gotten into the mix.  How lucky are they that two of the fifty finalists to make the final four were the breathtakingly beautiful Sheetal Bhagat and the adorable Southern belle Whitney Miller?  Miller is a student from Poplarville, MS while Bhagat is a cooking instructor from Chicago who apparently has designs on being a star.  On her web site there are MP3's of her original music, a gallery of photos that look straight from a Cosmo spread, her MasterChef diary and links to her cooking videos.
And "the Online" has its share of haute cuisine hotties as well.  There's the Bikini Chef Susan Irby who's known for her figure flattering flavors and the Kitchen Vixen Elizabeth Brown is single-handedly responsible for making "quinoa" a popular
safe word.  And one would be remiss to not mention the super fly red head who has a voice as so hot it could melt an iceberg, Average Betty.
Is this a trend that will continue?  Frankly, I hope so.  I know there will be critics who say that these women are just being exploited for their looks but that is just code wording for all pretty people are stupid.  I say as long as the pretty faces and muscle bound chefs can actually cook no sane person could have a problem with it.
[ad] Empty ad slot (#1)!
…