First published in Current Magazine in 2007.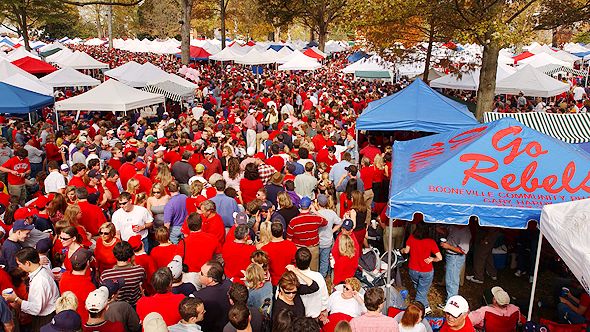 When one refers to the pomp and circumstance of college football nowhere else is that phrase better personified than in Oxford, MS. The University of Mississippi is the alma mater of Archie and Ely Manning. It is also home of the most unique tailgating experience of all, the Grove.
Unlike any other football tradition, the Grove is an experience in unto itself. One wonders if it is the actual hero of Saturdays with football fulfilling the faithful role of Kato. Could it be that the game serves as nothing more than a three-hour intermission whose violence facilitates the release of pent-up emotions and stokes the fire of new ones?
Cultures clash in the 12 acre wooded park at the center of the Ole Miss campus. Southern aristocracy mixes with co-ed debauchery in the linen and duct tape confines of the Grove. Sprinkle in a few "fur-uhn-erz" from other schools and the stage is set for a pigskin carnival of epic proportions that combines the best of Mardi Gras, Oktoberfest, and a traveling freak show.
Generations of "Rebs" put on their Sunday best on Saturdays in the fall. Hundreds equip their families' encampment with antebellum china and heirloom silverware while shamelessly floating keg after keg. Ever eat a grilled hot dog on fine porcelain while wearing a tuxedo and hunting boots? Ole Miss fans have. The gentlemen sip bourbon and gobble boiled peanuts while watching pre-game shows on flat panel TV's with satellite hook up. At the same time the ladies try to arrange lavish flower arrangements or glitzy candelabras so that they are directly underneath the chandelier. That's right, a tent with a chandelier.
Most tailgaters show up at 4AM to start pitching their tents and canopies. Why 4AM? Because that is as early as they are allowed. Grove partiers have their own lingo as well. "Hotty Toddy," is similar to Aloha in Hawai'i. It means hello, goodbye, your fly is open, and half a dozen other things. A portable lavatory is called a "hotty toddy potty." A few hours before the game Rebel players and coaches make the "walk of champions" through the heart of the Grove dressed in suit and tie on their way to Vaught-Hemingway Stadium.
The "walk" serves as a last minute diversion for the players as there is enough cleavage on display to warrant a VH-1 reality show. After all, for all of the accolades that the Grove receives for its spectacle the real draw is the talent – there are more stunningly gorgeous women in Oxford than any other spot on terra firma. And they are all very friendly.
On a personal note, having my unique middle name has proven handy when trying to court Ole Miss Co-eds. On steamy Delta evenings these belles cool themselves with paper fans that read, "I Love Rebs." A quick glance at my driver's license is usually sufficient to generate giggles and often land a post-game rendezvous.
Oxford has many nicknames and clichés attached to it. It is called the Little Easy because of its N'awlins-like combination of Southern charm and celebratory atmosphere. Folks take their partying seriously. One common phrase used to describe Oxford is, "We may not win every game, but we ain't never lost a party." Because of their literary history and famous law school another popular aphorism is that everyone in Oxford is a lawyer, writer, or both. Just ask John Grisham.
The heart of Oxford culture is the Square, an old fashioned Southern town square complete with restaurants, shops, bars, and scenery. The scenery in question refers to the aforementioned extraordinary number of beautiful women. Hugh Hefner (Playboy Magazine) says the ladies found in Oxford are the finest in the world.
Downtown Grill Restaurant and Bar (Courthouse Square) is located in a former drugstore first built in 1888. Now modernized, it features wonderfully inventive concoctions like Beggar's Purses – fried wontons filled with shrimp and cream cheese, Catfish Lafitte – a lightly fried fillet topped with sautéed shrimp, julienne ham, and Creole cream sauce, and of course Godiva Chocolate Bread Pudding. Don't forget to buy that newly met Kappa girl a Coke Float Martini.
What is perhaps the city's most elegant restaurant has a name that betrays the luxury to be found in its dining hall. City Grocery (Courthouse Square) is known world wide for their shrimp and grits, but wild game like rabbit and quail have been known to find their way to the menu as well. The visual appeal of the restaurant aides in the experience with candlelit tables and rustic brick walls adorned with the works of local artists. Make a trip up stairs for a drink or ten and a little people watching from the balcony. Also make reservations, even Ely Manning has to and he is the most famous Rebel since, well his dad (who also has to make reservations). It is the perfect place to stash the old-timers while you go beaver hunting.
For those looking for something more casual there is Abner's (S Lamar Blvd.) which has two menu items: fried chicken tenders or grilled chicken tenders available in plates, sandwiches, and wraps. Muddy Water Grill (Heritage Dr.) has a great menu but their bar is picture perfect for catching games on the tube. Phillips Grocery (S Lamar Blvd.) is the place to go for burgers with a side order of fried okra or fried pickle spears. For those who can't live without Que there are a handful that prepare it Delta style like the Rebel Barn Bar-B-Que (W Jackson Ave.), the Rib Cage (S Lamar Blvd.), Dixieland BarBQ (University Ave.), and the town's favorite B.'s Hickory Smoke BBQ (S Lamar Blvd.). Pizza lovers should head to Dino's Pizza & Steakhouse (Jackson Avenue W) or the Old Venice Pizza Company (Van Buren Ave.) for fresh hot pies and ice cold suds.
First published in Current Magazine in 2007. Since then Sly Croom has been shown the door making way for former Florida offensive coordinator, Dan Mullen to start things anew at MSU.
Starkville, Mississippi has long held a reputation as a town that time forgot, a real life Brigadoon. Mississippi State University has often been referred to as a cow college, after all Davis Wade Stadium (the second oldest stadium in the nation) is literally built in a pasture. However, hyperbole is rarely accurate. The reality is that Starkville is an old fashioned Southern town while at the same it is a diverse community of multiple cultures, a burgeoning technology hub, and best of all, few witnesses.
The city is cashing in on its classic Southern charm by attracting retirees from up north. Sure Yankees talk funny but they know a nice place to live when they see one (see Fairhope, AL). The heart of the boon in Oktibbeha County comes from the ever increasing role of the university established there in 1878. MSU is rumored to have a five acre marijuana farm they maintain for government testing which may be why it is the largest university in the state.
State's accolades on the field of play encompass three major sports: basketball, baseball, and football. There is metered enthusiasm in Starkville this year about the football team which is coached by Alabama native Sylvester Croom. Old Sly is a veteran of the SEC having played and coached for the great Bear Bryant at Alabama. Ticket sales have already eclipsed the 2006 total and expectations are high in the area known as the Golden Triangle. Even a 45 – 0 pasting to start the season would do little to dampen spirits since football is merely an excuse to get loaded.
The heart of the MSU tailgating experience is "the Junction." In the early days of State there was a train depot at the site; the railway is how students got to campus in the 19th century. After spending many years as a parking lot the area was redesigned by the landscaping firm Nimrod Long and Associates of Birmingham (no kidding, that is really their name) into what they call the "premier tailgate experience."
NLA developed the Junction to capitalize on both it history and to accentuate the game day atmosphere. Cullis Wade Depot acts as a visitor's center and houses a bookstore operated by Barnes and Noble (home of the only escalator in Starkville). The addition of lighted walkways through what is a giant open space helps to accentuate the most striking aspect of the park, co-eds.
Saturdays in Starkville see the Junction transformed from open green area to a sea of maroon as the Bulldog faithful prepare for another SEC showdown. It is here that the Famous Maroon Band starts their march to the stadium to the delight of inebriated fans. Regardless of the week's opponent, the Maroon Nation focuses its collective hatred on one school, Ole Miss. As they say, "You can't spell dumb without UM." Pop-up tents and the perfume of booze create a carnival atmosphere as young and old break out their best recipes to please the masses. Chief among the fixin's is Mississippi Blues Barbecue. An MSU tradition, it employs a sauce made with fresh blueberries and pairs well with anything containing alcohol, like sorority girls.
The most famous tradition associated with MSU sports hearkens back to the rural image of the school; it is the ubiquitous cowbell. Legal according to the NCAA but not so in the SEC, the cowbell is the badge of courage for every Bulldog and a bone of contention between MSU alum and the powers-that-be. The fact that they are the only school to have its tradition outlawed makes it that much more important to smuggle one into Scott Field. Bulldog faithful suggest wearing your cowbell like a codpiece, the cowbell Gestapo are not likely to check there. State fans vow they will sneak them in until the ban is lifted. It is a moral imperative and one of the few morals they actually employ.
After Jack Cristil has uttered his immortal words, "You can wrap it in maroon and white," some fans stagger back to their tailgate sites. Others head to "the District" to get their party on. Chief among the haunts frequented by MSU faithful is The Little Dooey (100 Fellowship St.) home to some of the finest Delta style barbecue to be found. ESPN's Kirk Herbstreit once pronounced Dooey's the best place to grub in all of college football. What's not to love with lip smacking barbecue, smoked chicken salad, and the most infamous drink in Starvegas, the Pickled Pig (made in the Boar's Head, Dooey's bar).
Mugshots Grill and Bar (101 N. Douglas Conner St.) is the local favorite for both giant burgers and for watching the other games (especially rooting for whomever is playing Ole Miss). Mugshots' bar will keep the brewskies coming which is handy for those wanting to work up the 'nads to try one of their famous "peanut butter burgers."
Dave's Dark Horse Tavern (Hwy. 182 East) is a pantheon of pub grub with all (and we mean all) of your favorites like New York style pizza, Chicago style pizza, wings, and cold suds. Rick's Cafe (Hwy. 182 East) has little in common with Humphrey Bogart, but rather resembles the world's greatest rock and roll club, Bogart's in Cincinnati. Rick's is for those who like to party "Old School Nasty" and has $1 drinks on Saturdays. It is definitely the place to get your hair band fix. I believe it was Nietzsche who said, "Where there are hair bands there you will also find trashy bleached blondes with ample cleavage."
Regardless of your tastes Starkville has something for you. Looking for great pizza and beer? Look no further than the Old Venice Pizza Company (110 E Main Street) they actually have an all pork pizza (andouille, pulled pork, & sausage). If you are craving wings and beer then visit Ravin' (1011 Louisville Street) whose menu features the spicy little nibbles as well as catfish, burgers, and appetizers of all sorts. For seafood and beer lovers try Remington's Hunt Club (400 Hwy. 12 W) which features seafood baskets and some of the sauciest waitresses in the South. For early morning eats drag your hung-over butt to Shipley Do-nuts (418 Highway 12 E) for kolaches (a Central European pastry) and do-nuts. They do not serve beer at Shipley's which creates a conundrum; what are you supposed to dunk the do-nuts in? I suggest dark rum.
| | | |
| --- | --- | --- |
| Mississippi Blue Barbecue Sauce | | |
Author:
Ingredients
2 teaspoons vegetable oil
1/4 cup minced onion
1 tablespoon minced jalapeno chili
1/4 cup catsup
1/4 cup rice vinegar
3 tablespoons light brown sugar
3 tablespoons Dijon mustard
1 teaspoon Tabasco sauce
2 cups fresh or frozen blueberries
Instructions
Heat oil in a non-reactive saucepan. Add onions and chili and cook over moderate heat stirring until wilted, about 3 minutes. Add catsup, vinegar, sugar, mustard and Tabasco sauce and bring to a simmer. Add blueberries and simmer over low heat, stirring until thickened, about 10 minutes. Purée the sauce in a blender or processor until smooth. Pass through a strainer and season with salt and pepper. Use this sauce the same day it is made.
First published in Current Magazine in 2007. Since this article was first printed UF has added both another SEC title and National Championship to the trophy case and QB Tim Tebow was been awarded the Heisman Trophy as college football's best player.
Birthplace of Gatorade, Gainesville is also the home of the defending national champion Florida Gators. Of which sport you ask? Well, all of them. It seems that way anyhow. The Gators have won back-to-back NCAA basketball titles and took the same honor in football this past year. Though the round ball titles are snazzy it is on the gridiron that the Gator Nation butters its collective bread.
As an added bonus, the city of Gainesville was recently named the top city in America by Foddor's in the 2007 "Cities – Ranked and Rated, Second Edition." Yes, things are pretty rosy in Gator Town these days, and Florida Athletic Director Jeremy Foley has built a potent and prominent program right in the heart of it. Alma mater of 1966 Heisman Trophy winner Steve Spurrier, Lito Shepard, Emmitt Smith (NFL's all-time leading rusher), Danny Wuerffel (1996 Heisman Trophy winner), and Chris Leak, the Gators have given fans a lot of happy memories, like say a pair of national titles and seven SEC crowns.
Tailgators surround Ben Hill Griffin Stadium (a.k.a. The Swamp) feasting on grilled gator sausage, burgers, and chicken and getting their "drunk" on. They have to feed their bravado as one of the great sports of UF tailgating is taunting fans from visiting schools with the familiar Gator Chomp arm gesture and screaming profanities. All that verbal abuse takes a lot of energy.
Among the 88,548 in attendance at the Swamp is Mr. "Two-Bits" George Edmondson. Two-Bits is a Gator fan from Tampa who stumbles from section to section leading the fans in the old cheer that goes, "Two bits, four bits, six bits, a dollar! All for the Gators stand up and holler!" Between the third and fourth quarters the Fightin' Gator Marching Band plays "We Are the Boys from Old Florida," as fans sing along while standing arm-in-arm, staggering left and right.
At first, grubbing in Gainesville might seem a little discouraging when a glance at the "Best of" poll from the Gainesville Today Magazine lists Domino's Pizza as the winner for "best wings" and Sonny's as the winner for "best BBQ." So they don't have good cue or wings, they do have some unbelievable local styles like pan-Latin and New Florida cuisine and virtually all of it is right by the Swamp.
Grog (University Ave.) is famous for two things – quarter pitchers of beer and being the favorite hangout of UF's representatives in the "Girls of the SEC" issue of Playboy. Also on the ladies' hit list is Club XS which is popular for its 80's night. Leonardo's 706 (W. University Ave.) is the place for Sunday brunch. Located just a short walk from the stadium, brunch is nothing short of phenomenal with over 25 handcrafted culinary creations to chose from. Plus it is a great place to ditch the older members of your party while you hunt for those Playboy Bunnies.
Emiliano's Café (SE 1st Ave) puts Florida's rich Latin community on display with zesty empanadas, ceviches, fried plantains, and luscious paellas. They also serve the most popular food craze in the country right now – the Cuban sandwich. Emiliano's also offers traditional black beans, grilled filets, and terrific soups, but the can't-miss recipe is the sizzling chipotle brownie cake.
Hogan's "Great Sandwiches" (13th St.) opened in 1983 with the goal of providing the biggest sandwiches and the coldest beer. Hogan's serves traditional subs like turkey, Pastrami, and ham but they also have higher end cold cuts like Proscuittini and Cappicola plus six cheeses to choose from. They make a pretty mean Cuban, too. Their menu consists of sandwiches, heroes, subs, and most importantly beer from 21 countries. Saturdays are Gator Day; wear a Gator T-Shirt & get .50¢ off all pitchers of beer.
Italian Gator Pizza (W University Ave.) is consistently Gainesville's best slice. Don't let the name fool you, there is no gator pizza on the menu. Their pizzas are tributes to the old New York tradition of little flash and quality ingredients. They use Grande mozzarella, the industry's top brand, and their pies are fired in stone ovens, available by the slice or in 14" and 18" pies.
Kirk Herbstreit recently named Mark's Prime Steakhouse (201 SE 2nd Ave. Suite 102) one of the ten best college eateries in the nation. Mark's has a dedication to serving only the finest beef, freshest seafood, premium wines, and organic vegetables, blah, blah, blah – this place is best for impressing hot young redheads by buying them a dessert martini.
For those looking to get liquored up, Gainesville has a great bar scene with juke joints like 8 Seconds (W University Ave), a country themed bar that features $20 all-you-can-drink on Saturday nights. For posh surroundings there is 2Bits Lounge (SW 34th Street) which features a big screen TV and a pool table. Alley Gatorz (NE Waldo Rd) is a bowling alley, full service bar, and Gator shrine all in one with a daily Happy Hour from 3-7 that includes $1.00 drafts, $1.75 bottles $2.00 wells $5.00 pitchers $8.00 buckets (5 bottles).
Dugout Billiards (SW 2nd Ave) is a classic hangout with 13 pool tables, 3 TV's, video games, 2 65″ TV's, plus other arcade faves like foosball, darts, and air hockey. . . oh, yeah, and beer. Jewell's Billiard Lounge (S Main Street) has been voted the "Hottest Staff in Gainesville" and understandably so – bar tenders and servers wear halter tops and Daisy Dukes so short they should be considered belts and none of the staff is bashfull about doing a little pole dance. With hundreds of gorgeous women and $3 Long Island Ice Teas on Saturdays, Jewell's is also your best bet to see two (or more) chicks making out.
First published in Current Magazine in 2007.
The history of college football would be decidedly different had there never been a land grant college erected in the tiny Alabama hamlet of Tuscaloosa way back in 1831. Few programs in the entire country can boast a history as rich as that of the University of Alabama. From Don Hutson to Bart Starr to Kenny Stabler the list of men who earned their stripes at the Capstone reads like a roll call of football's superstars. And none stands taller than Coach Paul "Bear" Bryant, regarded by many as the greatest football coach of all time.
Bryant's formidable shadow still falls across the campus located an hour southwest of Birmingham. The stadium bares his name as does the street where the stadium resides, a museum, and the athletic department's academic center. Some 25 years after his passing, Bryant's iconic hound's-tooth hat remains a perpetual image of Crimson Tide football.
The real irony of all of this tradition is that campus festivities are actually quite new to Tuscaloosa. For nearly a century Alabama played most of their games, especially the important ones, at Legion Field in Birmingham. But, as we will soon see not all of the game day merriment is recent.
Like a beacon calling the Crimson Nation to its safety, Denny Chimes stands watch over the campus. From the families playing games on the Quad to the cry of "Fumble!" whenever a dish crashes to the floor at Pepito's (on the Strip) to the solemn Plaza of Champions, Tuscaloosa is a world class destination for any serious tailgater. The likenesses of Wade Wallace, Frank Thomas, and Gene Stallings join Bryant's as a reminder of what once was. An empty space clearly intended for a future statue is the promise of what is to come.
From all four corners of the state, Tide fans set out with drinks, snacks, and CD's of historic games to lay siege on this small town on the Black Warrior River. For most a visit to the Bryant Museum is part of the ritual. Some spy the sidewalks for the handprints of their favorite player. And for others a visit to Butler Field to watch the Million Dollar Band rehears is a must. Coach Bryant was a regular at The Waysider (Greensboro Ave.) and it is a popular breakfast spot with old favorites like steak and eggs or country ham and red-eye gravy.
Strategically located in the literal and metaphorical center of campus is the imposing edifice of Bryant-Denny Stadium which looms over the entire scene like a sentinel. One of the largest and most impressive looking stadiums in the country, Bryant-Denny is like Mecca to many Crimson faithful, 92,138 of them each week.
There is some trepidation over the pre-game ceremony this year as new coach Nick Saben has announced that much of the traditional pageantry, most of which had been centered around recordings of Coach Bryant, will be toned down. Some believe that it is a chance for the Alabama fan base to move forward, but most view it as an assault on their tradition. Surely the administration will strike a fair balance which will appease everyone.
After the game it is time to celebrate another Bama victory. Thousands head back to their RV's while many others flood the Strip – a segment of University Blvd. near the stadium that is saturated with bars, clubs, and bistros. The Strip has no shortage of places to enjoy a post game celebratory libation like Rama Jama's and Legacy. Gallette's is home to the prettiest girls in town and the official Tuscaloosa game day cocktail, the Yellowhamer. But if you are bar hopping you would be remiss without going to The Houndstooth.
There seems to be some debate as to what is the best restaurant in Tuscaloosa with two contenders standing above the rest. Kozy's (3510 Loop Road) has continental cuisine like Duck al 'Orange, Stuffed Lamb Chops, and Grilled Summer Lobster all prepared under the watchful eye of Executive Chef Steve Brenner. Evangeline's (1653 McFarland Blvd. N) offers coastal cuisine and seasonal dishes using only the freshest ingredients. Both placed either first or second in almost every category in TuscaloosaRestaurant.com's reader's poll so it stands to reason you will enjoy yourself whichever you chose.
For those looking for the best burger in town walk over to Mug Shots (Greensboro Avenue). For barbecue fans there is legendary Dreamland (15th Avenue E) and Bottomfeeder's (5th Street) which has both ribs and chicken plus great fried catfish. For many tailgaters Sunday brunch is a big part of the weekend and Cafe Venice provides T-town's best. The menu features specialties like red pepper soup, spaghetti with feta cheese topping, and a brunch standard, waffles. A gentle string ensemble soothes those dealing with a hangover.
Barbecue and fried catfish not withstanding, the most prevalent victual on game days are wings. Many specialize like EJ's Wings & Things (4th St.), Zaxby's (Courtney Dr.), Wing Zone (McFarland Blvd. E), Wingfinger's (University Blvd.) Buffalo Phil's (On Campus in Mary Burke Hall) and Wing's Sports Grill (Harper Lee Dr.) owned by former Tide All-American Bob Baumhower. Even Bottomfeeder's gets into the act with smoked wings.
If football is the South's chief spiritual experience then Alabama is its holy land. As Clay Travis of CBS Sportsline once said, ". . . people in the state of Alabama are college football fans, period. They care about their own teams, but they also know a ton about your team. Probably more than you do."
| | | |
| --- | --- | --- |
| Grilled Wings with Alabama White BBQ Sauce | | |
Author:
Ingredients
GRILLED WINGS WITH ALABAMA WHITE BBQ SAUCE:
2 dozen chicken wings
Salt and pepper to taste
ALABAMA WHITE BBQ SAUCE:
1 cup mayonnaise
1 cup cider vinegar
1 tablespoon lemon juice
1 1/2 tablespoons black pepper
1/2 teaspoon salt
1/4 teaspoon cayenne
Instructions
For the sauce, mix ingredients together and refrigerate for at least 8 hours before using.
Season wings with salt and pepper.
On a gas or charcoal grill, cook wings until done (an internal temperature of 160°).
Brush sauce lightly over chicken the last few minutes of cooking and/or use as a dipping sauce.