Last week the Iron Chefs visited the set of Chopped.  This week the inverse happens.  Iron Chef Jose Garces faces off against challenger Madison Cowan. Chef Cowan is the first ever Grand Champion on the hit series Chopped. Judges are Karine Bakhoum, Laurent Tourondel and Farmer Lee Jones.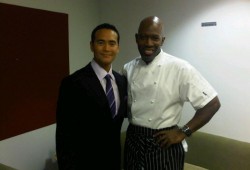 Chef Madison Cowan is a hands-on dad, author, restaurateur and former street resident with roots in London, Detroit and Jamaica. He also runs Madison Cowan LLC, a global culinary production company that oversees operations in licensing and consulting, cookery demonstration, television appearances and mobile clandestine dining that has reached throughout Africa, Europe, Japan and South America.
In 2010 Food Network selected him as a contestant for their hit Primetime series, Chopped where he competed and won three consecutive episodes to become the first ever Chopped Grand Champion. He will next be seen on BBC America's exciting new series No Kitchen Required, set to premiere April 2012. Madison has also written his first cookbook Soul Voyage about cooking from your soul, no matter the ingredients, location or who you are, as well as chronicling a few of his journeys. Madison currently resides in New York.
The Chopped kitchen is a tough venue to be sure but there is no place like Kitchen Stadium for there waits Iron Chef Jose Garces for Battle: Kale.
Check below for the outcome.
[ad] Empty ad slot (#1)!
Garces                       Cowan
Taste: 23                          Taste: 26
Plating: 13                        Plating: 13
Originality: 12                  Originality: 14
Total: 48                           Total: 53
West coast chef, Jason Knibb challenges Bobby Flay to a special seafood showdown. Whose cuisine will reign supreme?
Jason Knibb is the executive chef at NINE-TEN in La Jolla, CA and has been since 2003.  Prior to that the Jamaican born chef was the executive chef at Robert Redford's Sundance Village where he oversaw all food & beverage operations located on the resort property, including the Foundry Grill and the renowned Tree Room restaurant. Knibb started his career working with Wolfgang Puck at L.A.'s Eureka restaurant.
Chef Knibb has also logged time in the kitchens of Yamaguchi, Tournant and Rockenwagner.  His career has seen him work in Hawaii, Poland, Southern California and he was even profiled on Bobby Flay's "Food Nation – Best of Utah" episode.  In 2009 Knibb was inducted into the San Diego Chef Hall of Fame – he was one of the first three chefs to be inducted.
Waiting for Knibb in Kitchen Stadium is Iron Chef Bobby Flay and his team of haute hotties Rene Forsberg and Christine Sanchez.  In 2007 I interviewed Bobby for 'Zalea Magazine.  You probably can'find a copy of that issue anymore but you can enjoy the interview in my Kindle single Dinner Conversations: 39 Interviews with America's Favorite Culinary Movers and Shakers.
The judges for Battle: Caviar were Cady Huffman, Simon Majumdar and Laura Calder.
Check below for the outcome.
[ad] Empty ad slot (#1)!
Flay                   Knibb
Taste: 19                Taste: 14
Plating: 12              Plating: 12
Originality: 13        Originality: 11
Total: 44                 Total: 38
This is the latest installment in a continuing series that documents my personal quest to become the host of my own cooking show. Since this is a relatively new "career," there are no vocational programs or community college courses to prepare me for it. From what I have seen, the two most important elements in securing such a position are passion for food and plain old dumb luck. Born with a passion for food, I set out to make my own luck.
Greener Pastures
Wintzell's Oyster House has been in operation in Mobile since 1938. What began as an oyster bar with six stools is now a multi-unit restaurant powerhouse that is unique in character and the standard bearer for what a true Gulf Coast oyster house should be. I escape from the Fern Bar to become a part of this remarkable piece of Mobile history as an associate manager.
Wintzell's managerial formula is that there are no FOH (Front Of House) managers and no BOH (Back Of House) managers. Rather, all managers work both aspects several times a week. My stint there allows me to work at three of the four stores as well as the commissary which makes a good deal of the gumbo, jerk chicken chili, and other signature Wintzell's dishes. I also get my first taste of catering.
My employment there also has me working notable events like the Fairhope Arts and Crafts Festival, which transforms the small artist colony of Fairhope, AL into a 200,000 visitor carnival of well-to-do art lovers from across the country. I also spend a week at the original downtown location helping during Mardi Gras. For those who do not know, Mobile, not New Orleans, is the home of American Mardi Gras, having celebrated it for nearly half a century before some engineer decided to erect a city at that peculiar crescent shaped bend in the Mississippi River.
Though the money is great and the experience is good, I have little time left to work towards the ultimate goal of becoming a TV chef. I have not written an article since going into management, over a year in fact. In the summer of 2006, I leave the time-consuming field of restaurant management to become a sous chef for a national chain Italian restaurant.
The chain has a wonderful dedication to quality ingredients and making things from scratch. All in all it is a pleasant experience with one exception, I am dirt poor. On the bright side I do have time to work on my web site and to start writing again. Towards the holidays of 2006, I see an ad that will have a profoundly effect on my quest to become a TV chef.