Red beans are not the only beans in Louisiana.  Try these white beans as a repose from cliche'.  This little gem is from my Gourmand World Cookbook Award nominated cookbook Third Coast Cuisine: Recipes of the Gulf of Mexico.  Does it sound like I'm blowing my horn?  Damn right!  I'm proud of that.  You have something you created get international notoriety and you'll be warming up the old trombone too.
Cajun White Beans
1 pound dry Cannelloni Beans, soaked overnight
1 medium onion, chopped
1 stalk celery, chopped
1 bell pepper, chopped
1/4 lb. pork tasso, sliced
5 cups water
2 tablespoons Cajun Seasoning
Soak beans overnight. The next day, place beans, onion, bell pepper, seasoning, and pork Tasso in a slow cooker.  Pour in enough water to cover beans, roughly 5 cups. Cook on low heat for 6-8 hours or until beans are soft.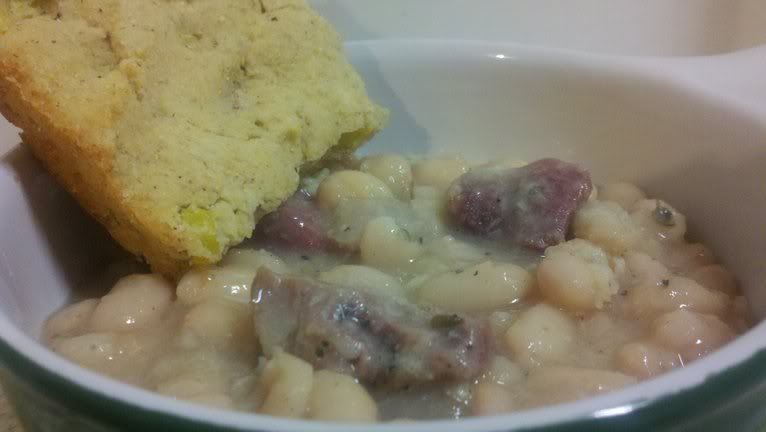 Everyone loves sliders, miniature bite-sized sandwiches.  One of New Orleans' favorite sandwiches is the oyster Po' Boy so we have combined the two.  The addition of a fried pickle adds extra snap.
Fried Oyster Sliders
1 quart fresh Gulf oysters
24 Parker House rolls or similar dinner style rolls
1/2 cup cornmeal
1/4 cup Masa Harina
1/2 cup Sour Cream Rémoulade (recipe below)
Fried Dill Pickles (recipe below)
Cajun seasoning
Combine cornmeal and Masa in a gallon zip top bag, season with Cajun seasoning, seal, and shake to mix or use your favorite store-bought mix.  Rinse oysters and toss into bag to coat with breading.  Shake off excess breading and deep fry at 375 until golden brown.
Coat bottom half of each roll with Sour Cream Rémoulade then an oyster or two.  Drizzle with more Sour Cream Rémoulade and a fried pickle.
Sour Cream Rémoulade
1 cup sour cream
1 tablespoon Zatarain's Creole mustard
1 teaspoon prepared horseradish
1 clove garlic, minced
Mix, chill and serve.
Fried Dill Pickles – Yes, in the South we fry everything.
1 egg
1 cup buttermilk
1 cup corn meal
1/2 cup Masa Harina
1/4 cup seasoned salt
2 cups dill pickle chips drained
Oil for frying
In a shallow bowl, beat together the egg & buttermilk to form an egg wash; stir well then set aside. In an iron skillet over medium-high heat, pour the oil to a depth of 2 inches and heat to 350 degrees. Whisk the cornmeal, masa and seasoned salt together in a medium sized bowl. In small batches, dip the pickle slices first in the egg wash, then in the dredge, shaking off any excess. Drop them into the oil and move the pickles around to brown evenly using a slotted spoon, roughly 1 minute. Drain and repeat until all pickles have been cooked.
A caldron of red beans and rice is always welcome for any football game but when Super Bowl time you need to break out my "Reb" Beans & Rice with three (3!) kinds of sausage:
Triple Sausage "Reb" Beans and Rice
1 pound Red kidney beans (soaked overnight)
3 cups cooked rice
1 pound breakfast sausage
2 cloves garlic, crushed
1 bell pepper, chopped
1 chopped onion, diced
1 stalk celery, chopped
3 bay leaves
1/2 pound
Andouille
sausage
1/2 pound smoked pork sausage
1/4 teaspoon Cayenne pepper
Creole seasoning
In a Dutch oven render the breakfast sausage until brown and remove to drain.  Sauté the bell pepper, chopped onion, celery in the fat from the sausage (adding cooking oil if necessary). After about five minutes add the garlic and cook another 3 – 5 minutes then add the pork sausage, beans, and water to roughly one-half inch above beans.  Drop the bay leaves into the water.  Slice both Andouille and smoked sausage and add to pot then season to taste with Cayenne and Creole seasoning. Cook slowly two to three hours, until gravy is thick and beans are tender.  Add additional Creole seasoning to taste and serve over rice.  Remember to remove the bay leaves.