The glamor of a Hollywood red carpet event is nice but it's fleeting.  Before long it's reduced to a handful of youtube clips, out of focus photographs and vodka-blurred memories.  But not everything at these galas has such a short shelf life.  There's always the swag.
Not familiar with the term swag?  Here's one definition from the Urban Dictionary, "Relating to the trade show convention industry, where exhibitors hand out 'free stuff' to visitors. Most of the time these items are purely promotional materials, and are fairly worthless. ie. pencils, mugs, and mouse pads."  The swag at the TASTYs was pretty fly.
One of the freebies included amazing toffee from The Toffee Box.  These luxurious candies
are sure to be the crack of the culinary world.  Their toffee is made with only the finest, all natural ingredients with no added preservatives and is hand crafted in small batches with fresh sweet cream butter, premium chocolates, California almonds and walnuts. This gourmet toffee can be enjoyed in four delectable flavors using rich, dark chocolate and creamy, white chocolate.  I tried the white chocolate toffee and was subjected to an instant taste-gasm.
At the table adjacent to The Toffee Box was a group of mixologists from Vya – a vermouth aperitif.  They were generous with samples of their self-named cocktail the Vya which helped get the juices flowing for the party atmosphere.  Here's the recipe to try your own Vya:
Ingredients
2 oz. Dry Vya
1 oz. Sweet Vya
Ice
Orange peel
Instructions
Shake the dry and sweet Vya with ice and served garnished with the orange peel.
On the non-adult beverage side was new bottled water geared at the growing popularity of the pH miracle diet.  It was a mineral water called Qure 9.5+ and it bills itself as a "natural alkaline water."  How did it taste?  Well, it's water it didn't really have a taste but there was a definite minerally (New
Word!) tinge at the end.  It sufficiently quenched my thirst.
But who goes to a party for the water?  We go for the hooch and thankfully Punk Dog Wines were Johnny on the spot with some tasty new vino.  I enjoyed a glass of the Fog Hill, Red Blend, North Coast.  A pleasant blended red rooted in Merlot.  It was a good fruity wine with just enough tannins to take it seriously.  Punk Dog prides themselves in bucking the trend by making unconventional blends, creating fabulous wines.
Another sweet treat was the assortment of chocolate by Pure Dark.  Pure
Dark is an insanely intense chocolate experience.  This amazing chocolate was offered in 60%, 70% and 80% cocoa concentrations (milk chocolate is for sissies) and are presented in slabs that exhibit their notation that chocolate should come from the earth and not be overly processed.  They are studded with fruits, nuts and toasted chocolate nibs.  I gave a sample to my neighbor and a few minutes later I got a text message that read, "This chocolate is the bomb!"
But there was also a little savory going on as Ngugyen and Thi Tran where there with a sampling of their unique and spicy Asian fusion cuisine.  They began their LA eatery Starry Kitchen as an illegal restaurant in the city's exciting food underground.  That original Starry Kitchen was in the back of their North Hollywood apartment but today they do legitimate business from 350 S. Grand Ave.  Their stir-fry was terrific with hints of Malaysia and Thailand coalescing in a slightly sweet, very spicy dish.  I could have eaten my weight it in.  They rotate the menu weekly and once something comes off it's like to be a few months before it comes back.
Wines and aperitifs are nice but sometimes you just have to have the hard stuff.  Thankfully VÄD, an ultra-premium vodka, was on hand with plenty of bottles of the their sensational elixir.  I took mine with tonic and a twist of lime so that I could truly grasp the essence of VÄD.  What I tasted was a vodka easily on the same level with Gray Goose or Ketal One and probably better.  Towards the end of the night they began giving away whole bottles and I was on my way to nab one when I got sidetracked by a beautiful lady.  Life is a series of trade offs.  I did get to quiz VÄD's VP of Business
Development Brad Willis about the grain they distilled to make their spirit and he said they use winter wheat exclusively.  Ah you gotta love that attention to detail.
That's not all of the swag – there were gift cards for cooking.com, WineTime, the first gourmet nutrition bar with Resveratrol (it was delicious), a complimentary issue of Imbibe Magazine (expect a pitch soon) and lots of other nifty freebies.  In LA they just give stuff away.
It was a night of glamor, humor and networking.  It was the TASTYs!
What happens when you get Jolene Sugarbaker (the Trailer Park Queen), Average Betty, the Private Chefs of Beverly Hills, Chef John of Foodwishes and the Bikini Chef together?  I wish I could tell you.
It's not a secret – one of those "what happens at the TASTYs stays at the TASTYs" scenarios.   Nor is it the result of alcohol-amnesia albeit not for a lack of trying.  The entire evening was such a blur that my feeble mind struggles to put things together.  My memories seem like one of those flash back episodes that sitcom's do when everyone wants a week off.
Here's a short rundown on the celebs I hung with:
Manouschka Guerrier and Sasha Perl-Raver of The Private Chefs of Beverly Hills are far more beautiful in real life than on the tube.  They are both extremely sweet as well while oozing sex appeal.  Chef Stuart O'Keeffe was also there and the few femmes not hooked on his James Bond looks were undone by his Irish brogue.
Jolene Sugarbaker was a huge hit in LA!  Her humor is so natural and genuine that everyone wanted their picture taken with her.  A true original who refuses to let corporate bigwigs force her into the cookie cutter molds they so love.
Chef Nathan Lyon of PBS' Growing a Greener World and Discovery Health's A Lyon in the Kitchen appears to be the next big chef sex symbol.  His easy style and and charming mannerisms were even noticeable in a town filled with those traits.  He's also a great guy with an inspiring message about knowing the person who grows your lettuce.  This cat is also hysterically funny.
Sara O'Donnell, known to the world as Average Betty, was like the hippest chick in high school – funny and unpretentious.  She is the female friend that guys love to hang out with which is shocking since her long shapely legs and seductive red locks drew more second glances than the runway models on hand for the fashion side of the awards.  She was stunning!  Let that be a lesson to you model-types – eat a F'ing sandwich!
What can one say about Chef John?  The most humble guy ever.  He's so good at teaching people how to cook that they never notice they are learning something.  If there is a word that sums up John it has to be "wholesome."  Just a real guy with a charm that sneaks up on you.  And I'm not just saying that because he promised me a bottle of his wife's new San Francisco style BBQ sauce.
Bobby Bognar of the History Channel's Food Tech posses all the cool I have come to expect from musicians.  He's as funny as a stand-up comedian, a good one, too, not like Pauly Shore.  He has that every-guy appeal that makes you want to be his friend.  He also seems like a good guy to have at your back in a bar room brawl.
Susan Irby was sporting her trademark Bikini Chef jacket with strategically placed see-through polka-dots that reveal just a hint of her hard body.  The brilliance of her jacket is that it doesn't really offer a glimpse of the scandalous lady-parts but bewitches you with promise of more.  One photog remarked to me that she beams like the sun; an understatement.  Susan made sure I got to meet Wolfgang Puck and introduced me to the people that mattered at the pre-awards reception.  She took me into the Hollywood Hills so I could see everything LA has to offer in one awe-inspiring view.  Thanks for keeping me from looking like a rube.
This is but a capsule of the great people and sites of the evening.  There's more to come.  I mean, I still have two more days to kill and I don't plan on spending them tapping on a laptop from my hotel room when Los Angeles is just outside my window.  I'm off to find a taco!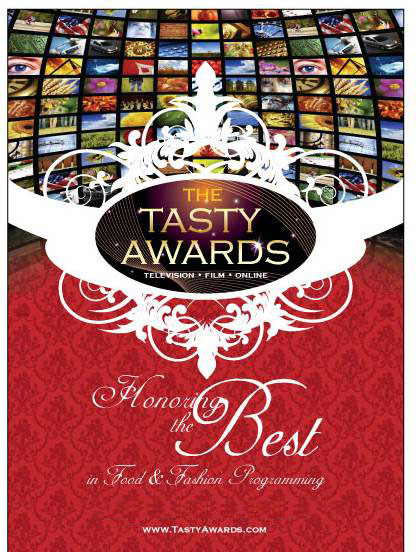 The TASTY AWARDS is the premier broadcast awards show to celebrate and recognize the year's best achievements in food, fashion, and home lifestyle programs on Television, in Film, and Online.
I will be blogging and live Tweeting my experience at the TASTYs.  I'll do my level best to capture the glamor and the glitz without prejudice for one over the other.  I have plans to meet up with a few Chefleberities like Susan Irby (the Bikini Chef) and Average Betty herself, Sara O'Donnel.  We are planning to eat at some cool LA hot spots.  I promise pictures and anecdotes although I make no guarantees to the quality of either.  I have VIP access so we'll see what that yields.
The TASTYs are Thursday January 13th at the Egyptian Theater in Hollywood and can be viewed live at Hulu.com.
Six or seven years ago I decided that all of my life's experiences had been preparing me for one thing – to be a TV chef.  The problem was I wasn't a professional chef and I didn't live in a large media market.  So I started changing my stars.  I began to write about food, I got out of my cubical and back into commercial kitchens, I started a web site and I bought a video camera.
Since then I have written two cookbooks (one has been nominated for a Gourmand World Cookbook Award), worked as a chef for a multitude of restaurants, appeared on several different TV shows, been the subject of a handful of interviews, I've talked shop with Bobby Flay, Ted Allen, Michael Symon, the list goes on and this site is currently ranked by Chef2Chef as one of the top 10 food sites on "the Online."
My journey isn't yet complete but at least I can see my destination on the horizon.  Next week I take another step, possibly the most important one so far.  A few months ago I was chosen to be a judge for the TASTY Awards which celebrate the best in food, fashion and lifestyle programming.  Next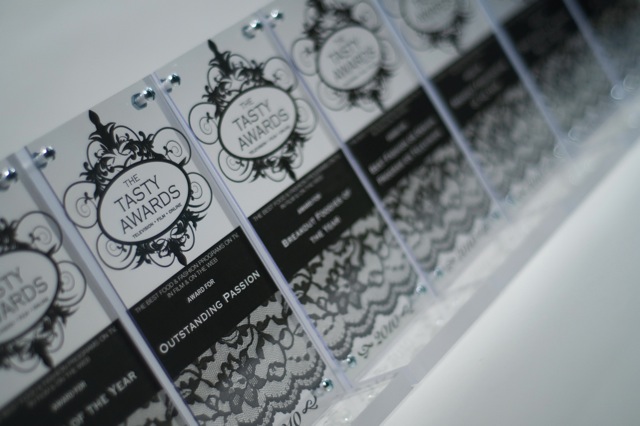 week I leave the casual pace of the Deep South and dive head first into the big leagues, Hollywood.
I am attending the TASTYs in person.  I get to meet up with some of my foodie pals IRL like Sara O'Donnel (Average Betty), Manouschka Guerrier (Private Chefs of Beverly Hills) and Susan Irby (The Bikini Chef).  Susan has been chosen as the TASTY Awards Red Carpet Ambassador.  She is giving me the bumpkin-friendly tour of LA.  Irby is originally from Georgia and will keep me from looking like a stereotype – I hope.  It won't be easy though as I have quite the "todo" list:
1. Ask a Mariachi band to play Freebird.
2. Make snarky comment about Malibu being the poor man's Biloxi.
3. Go to a Vegan restaurant and yell, "Salad is murder, too!"
4. Check flirtatious girls for Adam's Apples.
5. Visit a medical marijuana dispensary to see if bunions qualify.
6. Spray paint "SEC Football Rules" on the Hollywood sign.
7. Go to Beverly Hills and ask directions to Walmart.
The TASTYs will be presented January 13th at a Red Carpet Awards Show at Hollywood's legendary Egyptian Theater with live streaming at Hulu.com.  A few of the scheduled nominees and presenters include Gordon Ramsay (BBC, Fox), Candice Kumai (Lifetime Television, TLC), Luciene Salomone (WE tv), Ryan Seacrest (E!, Fox), Jeannie Mai (Style Network), Aida Mollenkamp (Food Network, The Cooking Channel), Manouschka Guerrier (Food Network), Guy Fieri (Food Network, NBC), Mario Batali (Food Network), Melissa and Joan Rivers (E!), Alton Brown (Food Network), Martha Stewart and the event will be hosted by Travel Channel's resident funny man Zane Lamphrey.