Not too long ago I was writing for a site called Paper Palate doing cookbook reviews.  One month I was assigned two cookbooks from Adams Media's $7 Meals series.  Both were written by Susan Irby.  While doing my research I learned that Susan billed herself as "the Bikini Chef."  I'm a guy so of course I was intrigued.
After doing some more research (Susan calls it stalking) I stumbled onto her site and we began communicating via e-mail about the books.  That led to Friending each other on Facebook and following each other on Twitter.  From time to time we even spoke on the phone.  In January of 2010 I was a judge for the Taste Awards and Susan was one of the Red Carpet Ambassadors for the Award Show.   Finally we got to meet IRL as the kids call it.  She remains to this day one of the best friends I have in this whole celebrity chef world.  I don't even mind that she's an Alabama fan.
Three years ago Susan began a radio show called Bikini Lifestyles that expanded on her persona as the Bikini Chef.  It was a show unlike anything the listeners of LA had ever heard.  Three co-hosts and celebrity guests from every field all talking about healthy eating, exercise and fashion.  The show would occasionally venture off its set formula to include dalliances into culture like wine, the Oscars or when a certain Wannabe TV Chef was asked on to discuss the history of Mardi Gras in America.
The show was a hit so it should come as no surprise that TV should come knocking.  Bikini Lifestyles is now a TV series on PBSTM .  BL:TV is like nothing national public television has ever done.  The majority of their food related programming has followed the stand-and-stir format pioneered by Julia Child.  Perhaps it is time to stir things up a bit.  Bikini Lifestyles is more of a lifestyles show, like The Chew, than it is a cooking show.
So just what is Bikini Lifestyles about?  Let's find out.
First tell me about your Quinoa book.
I'm very excited about my Quinoa book.  Ever since I started writing it I see Quinoa everywhere.  I have over 200 recipes and I invited some of my chef friends to contribute a few recipes like Chef Brendan Collins.  I'm excited.  You can pretty much use Quinoa anywhere you use rice.  It's going to be a great book that will appeal to a lot of people, I belive.
When does it come out?
July 3rd.
And it's called the Alabama Fan's Guide to Quinoa right?
[LAUGHS] Nooo… It's called the The Complete Idiot's Guide Quinoa Cookbook.  It's got pretty much everything you need to know about Quinoa.
How did Bikini Lifestyles come to be?
As long as I have been the Bikini Chef people have been saying, "You should be on TV."  You know how that goes, Stuart.  Well just out of the blue last year I got a phone call from this production company out of New York and they said they wanted to do a pilot.  And I was like, "Oh yeah right."  Delete.  Delete.  Delete the message.  They kept calling back so finally I decided to take the call.
And so, we went to New York and shot the pilot.  They sent the pilot out and they got a lot of interest.  And now Bikini Lifestyles is the only food and fitness show on the air, at least that I know of.
What can viewers expect to see on Bikini Lifestyles?
It's wine, dining and work out.  We have a little bit of wine, we have food, we have a little bit of fitness.  In one episode we're doing Pilates, one we're playing tennis and in one we're boxing but we wind up each show with fashion to prove we can clean up well.  You just get the whole flavor.  We're living an everything in moderation lifestyle.
Tell me a little about your co-hosts.
We've been doing the radio show for almost three years and we just really work well together.  Let's start with Denice (Fladeboe) she's the voice of reason.  She's very elegant, she's a world traveler and she runs her family automotive business and they've had that business for over 50 years.
Then we have Steve.  Steve (Valentine) is the complete opposite.  Steve's a scene-stealer.  He brings a lot of um… um… I don't know what the right word would be.  I don't want to say chaos but sometimes it feels like that.
When was the official premiere of the show?
The show's premiere was April 15.  So far we have had more than 50% of the PBSTM affiliates express interest.
Did you do anything special like throw a viewing party?
Actually we threw a launch party on the last day of shooting and while we had our film crew there we wanted to film our launch party.  So they filmed it and we did a live broadcast of the radio show from it with Chef Brendan Collins who's one of the chefs on the show.  We had a pink carpet so everybody got to walk the pink carpet.
So what's next for the Bikini Chef?
Season 2.  You can rest assured that wine, dining and working out will be on the agenda.
Check local listings for schedule in your area.  Also available on independent cable networks.

Welcome to the very first Wannabe TV Chef (WTVC) Food Blog Awards.  These awards are my way of recognizing some of the best foodie sites on the Online.
Some of the people awarded I have had the pleasure to meet in person and others probably don't know me from Adam.  Now sit back and meet the winners of the 2011 WTVC Food Blog Awards:
Best Site by a Professional Chef: Big Jones Blog by Chef Paul Fehribach
Best Site by a Home Chef: Average Betty by Sara O'Donnell
Best Lifestyle Site: Jolene's Trailer Park by Jolene Sugarbaker
Best Health & Fitness Site: The Bikini Chef by Susan Irby
Best Instructional Site: Food Wishes by Chef John Mitzewich
Best Outdoor Cooking Site: Deep South Cooking Outfitters by Gene Fox
Best Food Writing Site: Ruhlman.com by Michael Ruhlman
Best Celebrity Chef Site: Alton Brown (just a lowly cook) by Alton Brown
Best Niche Site: Happy Little Bento by Sheri Chen
Best Dessert Site: Bake and Destroy by Natalie Slater
Best Site With a Cause: Bloggers Without Borders – A Fund for Jennie
Best Branded Site: Bitchin' Kitchen by Nadia G
Cooking the Unthinkable is a series that examines some of the more eccentric ingredients. Whether you are a fan of the bizarre or are preparing for the eminent collapse of Western society this series will help you better stomach weird food.
If you believe that cooking has to include some application of heat then you may not agree that sea urchin is something you "cook" with as it is almost always eaten raw.  Well, loosen up, dude.  Gosh!
Wikipedia describes a sea urchin as, "small, spiny, globular animals which, with their close kin, such as sand dollars, constitute the class Echinoidea of the echinoderm phylum. They inhabit all oceans. Their shell, or "test", is round and spiny, typically from 3 to 10 centimetres (1.2 to 3.9 in) across. Common colors include black and dull shades of green, olive, brown, purple, and red. They move slowly, feeding mostly on algae. Sea otters, wolf eels, triggerfish, and other predators feed on them. Humans harvest them and serve their roe as a delicacy."
Uni or sea urchin roe (technically their gonads) is growing in popularity in American sushi bars.  It's a Red Badge of Courage ingredient among those who seek to put a little adventure into their lives.  Count me into that group.  Recently I was on the West Coast and decided I would take the Uni plunge.
I saddled up to the sushi bar at Kabuki on Vine St. in Hollywood armed with a gift card courtesy of Susan Irby (aka the Bikini Chef).  I boldly ordered two Hamachi Toro (Yellow Fin tuna belly) rolls and two Uni rolls along with a sake cocktail.  A bit sparse I know but it was after all breakfast.  The Hamachi Toro was amazing, simply amazing.
The Uni was an experience in texture.  The taste was mildly seafoodie while not overpowering with the distinct after taste of gray matter.  Anyone who has tried animal brains knows what I am talking about.  The bitterness is brief and can easily be covered up with a proper use of wasabi.  I liked it.  But the texture was very strange.  It was incredibly smooth almost like a soft custard pudding or pudding only fish flavored.  That's it!  Uni is fish pudding.
Would I eat it again?  Sure but I prefer Toro or salmon skin rolls.  Salmon skin rolls will change your life.
Six or seven years ago I decided that all of my life's experiences had been preparing me for one thing – to be a TV chef.  The problem was I wasn't a professional chef and I didn't live in a large media market.  So I started changing my stars.  I began to write about food, I got out of my cubical and back into commercial kitchens, I started a web site and I bought a video camera.
Since then I have written two cookbooks (one has been nominated for a Gourmand World Cookbook Award), worked as a chef for a multitude of restaurants, appeared on several different TV shows, been the subject of a handful of interviews, I've talked shop with Bobby Flay, Ted Allen, Michael Symon, the list goes on and this site is currently ranked by Chef2Chef as one of the top 10 food sites on "the Online."
My journey isn't yet complete but at least I can see my destination on the horizon.  Next week I take another step, possibly the most important one so far.  A few months ago I was chosen to be a judge for the TASTY Awards which celebrate the best in food, fashion and lifestyle programming.  Next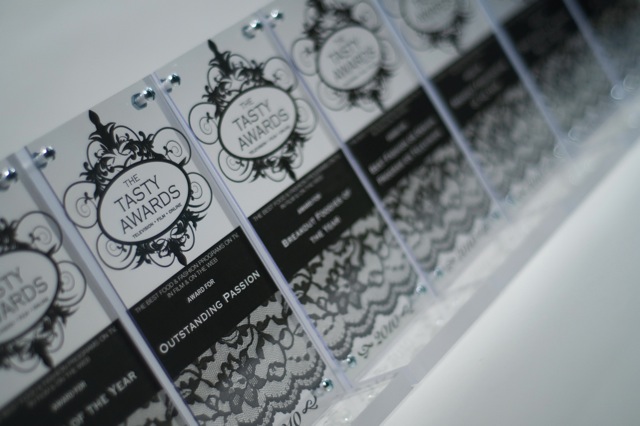 week I leave the casual pace of the Deep South and dive head first into the big leagues, Hollywood.
I am attending the TASTYs in person.  I get to meet up with some of my foodie pals IRL like Sara O'Donnel (Average Betty), Manouschka Guerrier (Private Chefs of Beverly Hills) and Susan Irby (The Bikini Chef).  Susan has been chosen as the TASTY Awards Red Carpet Ambassador.  She is giving me the bumpkin-friendly tour of LA.  Irby is originally from Georgia and will keep me from looking like a stereotype – I hope.  It won't be easy though as I have quite the "todo" list:
1. Ask a Mariachi band to play Freebird.
2. Make snarky comment about Malibu being the poor man's Biloxi.
3. Go to a Vegan restaurant and yell, "Salad is murder, too!"
4. Check flirtatious girls for Adam's Apples.
5. Visit a medical marijuana dispensary to see if bunions qualify.
6. Spray paint "SEC Football Rules" on the Hollywood sign.
7. Go to Beverly Hills and ask directions to Walmart.
The TASTYs will be presented January 13th at a Red Carpet Awards Show at Hollywood's legendary Egyptian Theater with live streaming at Hulu.com.  A few of the scheduled nominees and presenters include Gordon Ramsay (BBC, Fox), Candice Kumai (Lifetime Television, TLC), Luciene Salomone (WE tv), Ryan Seacrest (E!, Fox), Jeannie Mai (Style Network), Aida Mollenkamp (Food Network, The Cooking Channel), Manouschka Guerrier (Food Network), Guy Fieri (Food Network, NBC), Mario Batali (Food Network), Melissa and Joan Rivers (E!), Alton Brown (Food Network), Martha Stewart and the event will be hosted by Travel Channel's resident funny man Zane Lamphrey.