First published in Current Magazine in 2007.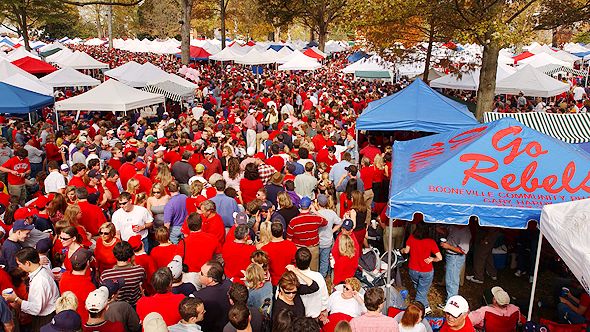 When one refers to the pomp and circumstance of college football nowhere else is that phrase better personified than in Oxford, MS. The University of Mississippi is the alma mater of Archie and Ely Manning. It is also home of the most unique tailgating experience of all, the Grove.
Unlike any other football tradition, the Grove is an experience in unto itself. One wonders if it is the actual hero of Saturdays with football fulfilling the faithful role of Kato. Could it be that the game serves as nothing more than a three-hour intermission whose violence facilitates the release of pent-up emotions and stokes the fire of new ones?
Cultures clash in the 12 acre wooded park at the center of the Ole Miss campus. Southern aristocracy mixes with co-ed debauchery in the linen and duct tape confines of the Grove. Sprinkle in a few "fur-uhn-erz" from other schools and the stage is set for a pigskin carnival of epic proportions that combines the best of Mardi Gras, Oktoberfest, and a traveling freak show.
Generations of "Rebs" put on their Sunday best on Saturdays in the fall. Hundreds equip their families' encampment with antebellum china and heirloom silverware while shamelessly floating keg after keg. Ever eat a grilled hot dog on fine porcelain while wearing a tuxedo and hunting boots? Ole Miss fans have. The gentlemen sip bourbon and gobble boiled peanuts while watching pre-game shows on flat panel TV's with satellite hook up. At the same time the ladies try to arrange lavish flower arrangements or glitzy candelabras so that they are directly underneath the chandelier. That's right, a tent with a chandelier.
Most tailgaters show up at 4AM to start pitching their tents and canopies. Why 4AM? Because that is as early as they are allowed. Grove partiers have their own lingo as well. "Hotty Toddy," is similar to Aloha in Hawai'i. It means hello, goodbye, your fly is open, and half a dozen other things. A portable lavatory is called a "hotty toddy potty." A few hours before the game Rebel players and coaches make the "walk of champions" through the heart of the Grove dressed in suit and tie on their way to Vaught-Hemingway Stadium.
The "walk" serves as a last minute diversion for the players as there is enough cleavage on display to warrant a VH-1 reality show. After all, for all of the accolades that the Grove receives for its spectacle the real draw is the talent – there are more stunningly gorgeous women in Oxford than any other spot on terra firma. And they are all very friendly.
On a personal note, having my unique middle name has proven handy when trying to court Ole Miss Co-eds. On steamy Delta evenings these belles cool themselves with paper fans that read, "I Love Rebs." A quick glance at my driver's license is usually sufficient to generate giggles and often land a post-game rendezvous.
Oxford has many nicknames and clichés attached to it. It is called the Little Easy because of its N'awlins-like combination of Southern charm and celebratory atmosphere. Folks take their partying seriously. One common phrase used to describe Oxford is, "We may not win every game, but we ain't never lost a party." Because of their literary history and famous law school another popular aphorism is that everyone in Oxford is a lawyer, writer, or both. Just ask John Grisham.
The heart of Oxford culture is the Square, an old fashioned Southern town square complete with restaurants, shops, bars, and scenery. The scenery in question refers to the aforementioned extraordinary number of beautiful women. Hugh Hefner (Playboy Magazine) says the ladies found in Oxford are the finest in the world.
Downtown Grill Restaurant and Bar (Courthouse Square) is located in a former drugstore first built in 1888. Now modernized, it features wonderfully inventive concoctions like Beggar's Purses – fried wontons filled with shrimp and cream cheese, Catfish Lafitte – a lightly fried fillet topped with sautéed shrimp, julienne ham, and Creole cream sauce, and of course Godiva Chocolate Bread Pudding. Don't forget to buy that newly met Kappa girl a Coke Float Martini.
What is perhaps the city's most elegant restaurant has a name that betrays the luxury to be found in its dining hall. City Grocery (Courthouse Square) is known world wide for their shrimp and grits, but wild game like rabbit and quail have been known to find their way to the menu as well. The visual appeal of the restaurant aides in the experience with candlelit tables and rustic brick walls adorned with the works of local artists. Make a trip up stairs for a drink or ten and a little people watching from the balcony. Also make reservations, even Ely Manning has to and he is the most famous Rebel since, well his dad (who also has to make reservations). It is the perfect place to stash the old-timers while you go beaver hunting.
For those looking for something more casual there is Abner's (S Lamar Blvd.) which has two menu items: fried chicken tenders or grilled chicken tenders available in plates, sandwiches, and wraps. Muddy Water Grill (Heritage Dr.) has a great menu but their bar is picture perfect for catching games on the tube. Phillips Grocery (S Lamar Blvd.) is the place to go for burgers with a side order of fried okra or fried pickle spears. For those who can't live without Que there are a handful that prepare it Delta style like the Rebel Barn Bar-B-Que (W Jackson Ave.), the Rib Cage (S Lamar Blvd.), Dixieland BarBQ (University Ave.), and the town's favorite B.'s Hickory Smoke BBQ (S Lamar Blvd.). Pizza lovers should head to Dino's Pizza & Steakhouse (Jackson Avenue W) or the Old Venice Pizza Company (Van Buren Ave.) for fresh hot pies and ice cold suds.