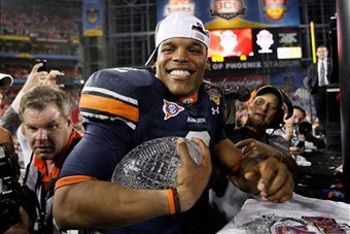 Well football fans the post season is on us.  The first week of bowls has given us a few fireworks and the intensity keeps building all the way up to the most important game of the college football season – the Peach Bowl between Virginia and my Auburn Tigers.  The LSU/Alabama rematch is pretty important too.  The NFL playoffs for their part are almost decided.  Whether you prefer your bowl games of the Peach or the Super variety it's time to whip up some special recipes.
This was submitted to me by Chef Kelley Self Whatley, an Auburn fan, for a series on tailgating I did for Current Magazine.  With the defending national champions set to play on New Years Eve I thought this a good time to break this one out.
| | | |
| --- | --- | --- |
| "War Eagle" Buffalo Chicken CheeseDip | | |
Author:
Ingredients
5 or 6 large cans of white chicken breast (not dark and white mixed)
1 to 2 Tablespoons vegetable oil
2 medium Vidalia onions, chopped
1 cup Frank's Hot Sauce (do not use any other kind)
2 large packages of cream cheese
1/2 cup Ranch Dressing (not low fat)
2 cups shredded Sharp Cheddar Cheese
Instructions
Heat oil in a nonstick skillet over medium-high heat.
Add chopped onions and cook until tender
Lower heat and add cream cheese, chicken (drained and break apart the large chunks), hot sauce, ranch dressing and 1 cup cheddar cheese. Stir until well blended over medium heat.
Put mixture in greased casserole dish and top with 1 cup cheddar cheese (more if desired).
Bake 350 for 20-25 minutes.
Serve with bagel chips, tortilla chips or butter crackers.
By now everyone knows that President Obama loves hims some Ray's Hell Burger.  Recently POTUS even took Russian President Dmitry Medvedev over to Arlington for a sampling of his favorite comfort food.  Medvedev simply said it wasn't healthy.
Despite the President's endorsement (or perhaps because of it), DC doesn't share Barrack's affinity for Ray's.  Sure every time USA 1 rolls up outside business booms but in a recent fan poll by Washington's WTOP FM, Ray's came in fifth out of ten contestants with 4% of the vote; first place went to burger chain Cheeburger, Cheeburger with a whopping 44% of the vote.  Incidentally Ray's 4% is the same percentage of Americans who genuinely believe the President is doing a good job.
Back in 2007, before any Presidential accolades, the staff at DC Foodies did a group review of Ray's Hell Burger.  Here's a taste:
For our inaugural group review, we decided there was no better place to start than with a first impressions review of Ray's Hell Burgers. I'd be lying if Michael Landrum's other restaurants (Ray's the Classics and Ray's the Steaks) don't hold a special place in all of our hearts, so we've made a good attempt, I think, to keep this objective.
Ray's Hell Burger is a natural addition to the Michael Landrum's D.C. beef empire. Burgers are the only thing on the menu (which means no fries), but you'd be surprised at how large the menu can be. Between the large selection of cheeses (including some artisinal selections which no doubt Mike will like) and the list of others high quality ingredients, much like those that you can get on your steaks a few doors down, the combinations are endless.
Instead of fries, the burgers currently come with sides of juicy watermelon and corn, but I imagine that's only for the summer. Look for the sides to be seasonal and fresh. I wonder if the lack of French fries is because the kitchen couldn't get the fries just right, or if it is Michael's attempt to make up socially for the portion size of the burgers which are a massive 10 ounces of the same aged prime beef used at the other Ray's establishments (ground fresh throughout the day according to Mr. Landrum). Cooking methods are similar as well and you can get your burger blackened, cajun, or just plain grilled.
[ad] Empty ad slot (#1)!
…