The Mayan culture was one of the most important in the history of the New World.  They were the only pre-Colombian civilization to have a full written language.  They built sophisticated urban areas including pyramids that rival those of the Giza plateau.
But it is the Mayan calendar that has most people's attention these days.  If you believe some apocalyptic theorists the stunningly accurate Mayan calendar predicts the end of the world later this year.  However, that isn't wholly true.  What it actually predicts is a galactic alignment where the earth, sun and center of the Milky Way Galaxy line-up perfectly.
What does that mean?  No one really knows for sure which is of course the problem.  The last time it happened was 26,000 years ago so it stands to reason that no one living back then is still around to ask about it.  We do know this, however, the earth was engulfed in it's last major ice age then.
The Mayans had a great abundance of natural food sources to choose from including chilies, sweet potatoes and chocolate.  It was that menu that inspired this stew.  Despite the sweet potatoes and chocolate this isn't a terribly sweet dish.  Enjoy.
Author:
Ingredients
1 large sweet potato, diced
1 baking potato, diced
1 small onion, diced
1 dried chili
1 fresh chili like a jalapeno, finely diced and membrane removed
1 cup chicken, turkey or vegetable stock
Water as needed
1 can black beans
1 can hominy, drained
1 TBL dark chocolate or bitter sweet cocoa powder
Salt to taste
Instructions
In a pot bring the stock and enough water to a simmer to cover the potatoes.
Add to the potatoes salt, onion, both chilies and cook until potato is fork tender, about 15 minutes.
Add the black beans (with liquid), hominy and cocoa powder. Simmer another 10 minutes. Season to taste, serve and enjoy.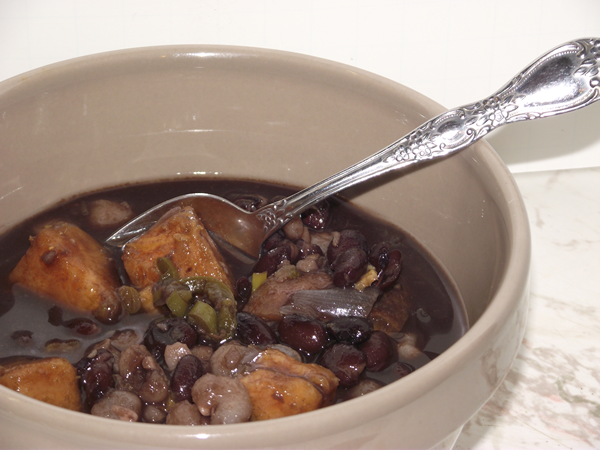 Notes
Adjust chilies to adjust heat.
The Mayans would not have had access to black pepper but if you want to use it I won't judge ya.
Ah Black Friday, one of the most feared and anticipated days of the year.  Of course I am referring to the Friday after Thanksgiving – the annual quest to figure out what to do with all of those Turkey Day leftovers.  I've never understood why people get so worked up about it.  Seriously, all that media coverage just because of a few leftovers?  Madness!
I watched some of the innovative ideas that the TV chefs offered this past week during the barrage of Thanksgiving food shows that permeated cable.  Some were pretty good.  I especially liked Sunny Anderson's idea for taking leftover dressing and deep frying it.  Perhaps it is because I am from the
South where we fry everything and I mean everything – alligators, dill pickles, chicken gizzards.
The problem with most left-over recipes is that they still taste like Thanksgiving dinner.  However, soups can offer an escape from that trap.  Do you have a leftover can of pumpkin pie filling?  Make pumpkin soup.  Do you have leftover potatoes?  Make loaded potato soup.  Leftover turkey?  I have got a soup for that as well.  It was an improvised soup of the day I did at a restaurant once that people liked so much it went on the permanent menu.  It's called Turkey Queso Soup and it's easy.
Author:
This soup toes the line between chowder and the cheese dip you get at Tex-Mex restaurant. You can bumb up the heat by adding diced chilies or tone it down by using regular chili powder instead of the hotter chipotle powder. You can add as much or as little turkey as you want. Be careful not to let this soup come to a full bowl as it can break.
Ingredients
1 can cream of chicken soup
1 can evaporated milk
8 ounces pepper Jack cheese, shredded or diced
1 TBL Cumin
1 tsp smoked parika
1 tsp Chipotle chili powder
1 cup leftover turkey meat, pulled or diced
Instructions
In a large sauce pan over medium heat, combine the cream of chicken soup, evaporated milk and cheese. Bring slowly to a simmer.
Once the cheese has melted into the soup stir in the cumin, then smoked paprika and finally the chili powder. Let simmer for a few minutes then stir in the turkey.
Allow to simmer a few minutes more and then serve with tortilla chips on the side.
Or you could do what I do with leftover Thanksgiving dinner, reheat and eat. Come on we wait 365 days for Thanksgiving dinner because we love the meal. Why not enjoy it another time or two before moth-balling it for another year? Now that I have helped you to put your leftover fears to rest you can spend Black Friday doing something fun like going shopping. I bet you'll have the stores to yourself.
I was excited to find that my local market has started stocking Full Circle all natural, wild caught, US fish in its freezer section.  I live on the Gulf Coast and can get fresh Gulf seafood but these are not indigenous fishcicles.  So I have decided to share this culinary voyage with you.  I won't be providing recipes per se but instructions on how I fixed each Fish Dish.
Fish Dish: Udon Salmon Soup
So, for whatever reason, I was craving an Asian soup, something fishy, something with udon (Japanese noodles made of buckwheat).  I grabbed a small pot and a few cubes of homemade crab stock from the freezer.  I added some water and a teaspoon of lobster base then brought it to a boil.  I then hit it with a shot or two of fish sauce, some soy sauce, fresh grated ginger, Sriracha, garlic powder and five spice.
With my broth sufficiently flavored I then added a 4 ounce salmon filet.  Cooking the filet in the broth would not only season the salmon but also add a fourth seafood element to the broth's flavor profile.  That should take care of the fishy craving.  Once the filet was done I broke it up then added a portion of udon.  Grabbing my mandolin I sliced celery very thinly. and dropped it in the soup.  As soon as the noodles were done the soup was finished, about five minutes.  I garnished it with a few more celery shavings, some celery leaves and black sesame seeds.
I have some white fish in the freezer as well so I may give this a try again in a day or so.  I think it will completely change the complexion of the dish.  If you are not a fish fan you could easily substitute boneless skinless chicken breast.  I have to wonder, however, if you do not like fish why are you reading a fish recipe?
This weekend I was working with my pals at Deep South Cooking Outfitters down at the Dauphin Island Wings & Waves Cook-off.  As one of the sponsors of the event we weren't able to compete so the big boss asks me if I would throw together a white chicken chili to show off one of their amazing outdoor cookers.
After making the one hour drive to Dauphin Island I realized I had left my knife bag at home.  I ended up doing all my prep and cooking 20 gallons of chili with a crappy dollar store bread knife, my Kershaw pocket knife and a cheap K-Mart BBQ spatula.  True story.
Speaking of the chili, being as it was a hot wing cook-off I thought why not do a Buffalo Chicken White Chili.  I started off with a classic mirapoix making sure to cut the celery and carrots into large bite size pieces to conjure the veggie sticks that usually come with a basket of wings.  Other than that it was a pretty standard white chili except for the addition of some Hidden Vally Ranch Dressing mix to invoke the essence of the popular dipping sauce.  Once the chili was served I then added bleu cheese crumbles and Buffalo wing sauce both as garnish.  The result might be described as a slurpable Buffalo Wing.
Dig it:
| | | |
| --- | --- | --- |
| Buffalo Chicken White Chili | | |
Author:
Total time:
1 hour 10 mins
This would make a great recipe for a crisp autumn tailgate or Super Bowl party.
Ingredients
2 boneless, skinless chicken breasts
2 boneless chicken thighs
2 onions, fine diced
1 bunch celery, rough chopped
1 bunch carrots, rough chopped
2 cloves garlic, minced
1 TBL flour
2 15.5 ounce cans white beans with liquid
2 quarts chicken stock
1 pkg. Hidden Vally Ranch Dressing mix
2 TBL cumin, plus a little for seasoning
1 TBL Chili powder, plus a little for seasoning
Salt and pepper to taste
Cooking oil
8 ounces shredded Monterrey or Pepper Jack
8 ounces Bleu cheese crumbles
Frank's Red Hot Sauce to taste
Instructions
Season the chicken to taste with cumin, chili powder, salt and pepper then grill until just done (slightly under is fine). Set aside.
In a large stock pot over medium-high heat add oil. Once heated add the onions, carrots, celery and garlic and saute for four or five minutes. Add the flour and cook for another 5 minutes, stirring frequently.
Dice the chicken and add to the roux. Add the beans as well and stir to blend.
Add the chicken stock, Ranch mix, cumin and chili powder. Stir then bring to a simmer. Cook for about 10 minutes, stirring occasionally..
Taste to check for seasoning, add salt and pepper if necessary. Reduce the heat to low, add the Jack cheese and stir until blended. Serve.
Garnish with Bleu cheese and hot sauce to taste.
Notes
If chili is too thick you can add more chicken stock, white wine, beer or plain water. If it is too thin add more cheese.