Here's another great recipe that is perfect for watching the big game.  This is a full-fat variation of my far healthier Italian Nachos.
Author:
Ingredients
1 pound bowtie pasta
1 pound ground beef
12 ounces marinara or tomato sauce
8 ounces shredded Mozzarella cheese
Cooking oil
1 TBL sliced green olives
Salt, pepper and Red chili flakes to taste.
Instructions
Cook pasta according to package directions. Thoroughly dry the pasta with paper towels. Make sure all moisture is removed.
Preheat oven to 450.
In a large skillet season the ground beef and brown. Add the marinara and simmer for roughly 20 minutes to make Bolognese.
In a small pot or deep fryer heat the oil. In small batches, deep fry the pasta until crunchy, roughly seven minutes stirring as needed.
On an oven safe plate layer the fried pasta, Bolognese and cheese to resemble nachos then place in the oven. When sauce bubbles and cheese is melted it is ready to serve.
Garnish with red chili flakes and/or olives.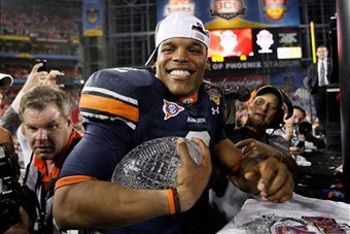 Well football fans the post season is on us.  The first week of bowls has given us a few fireworks and the intensity keeps building all the way up to the most important game of the college football season – the Peach Bowl between Virginia and my Auburn Tigers.  The LSU/Alabama rematch is pretty important too.  The NFL playoffs for their part are almost decided.  Whether you prefer your bowl games of the Peach or the Super variety it's time to whip up some special recipes.
This was submitted to me by Chef Kelley Self Whatley, an Auburn fan, for a series on tailgating I did for Current Magazine.  With the defending national champions set to play on New Years Eve I thought this a good time to break this one out.
| | | |
| --- | --- | --- |
| "War Eagle" Buffalo Chicken CheeseDip | | |
Author:
Ingredients
5 or 6 large cans of white chicken breast (not dark and white mixed)
1 to 2 Tablespoons vegetable oil
2 medium Vidalia onions, chopped
1 cup Frank's Hot Sauce (do not use any other kind)
2 large packages of cream cheese
1/2 cup Ranch Dressing (not low fat)
2 cups shredded Sharp Cheddar Cheese
Instructions
Heat oil in a nonstick skillet over medium-high heat.
Add chopped onions and cook until tender
Lower heat and add cream cheese, chicken (drained and break apart the large chunks), hot sauce, ranch dressing and 1 cup cheddar cheese. Stir until well blended over medium heat.
Put mixture in greased casserole dish and top with 1 cup cheddar cheese (more if desired).
Bake 350 for 20-25 minutes.
Serve with bagel chips, tortilla chips or butter crackers.
In 1908, Anna M. Jarvis campaigned for the creation of an official Mother's Day to honor her mother and for peace. Anna petitioned the superintendent of her mother's church.  She got her wish as the first Mother's Day celebration took place May 10 of that year.  Anna then spent the rest of her life protesting people for celebrating Mother's Day.  She ridiculed florists for selling flowers and even petitioned the US  Postal Service to remove the words "Mother's Day" from a stamp that also feature her own mother on it.  Apparently she was just a tad bit crazy.
Mother's Day is just around the corner.  Rather than prodding mom into the cattle car that is the Olive Garden lobby how about actually cooking her something?  After learning about the originator of Mother's Day the idea of you cooking for your mother shouldn't seem quite as crazy.
The Moms of the Food Network have put together a few recipes to help you show your mom a little love.  Marcela Valladolid (pictured above with son Fausto), Sandra Lee, Paula Deen, Gina Neeley and Giada De Laurentiis help you to make a it a Mother's Day to remember:
Each week as part of my duties with TheKitchenHotline.com I plan a full menu of meals that feed a family of four for an entire week. Each day's menu feeds the family three meals plus a snack for the kiddies. These recipes need to be relatively easy to allow more quality time for the family to spend together. Another part of my charge is to come up with healthy recipes. Each week I will share one of these recipes with you. Here's this week's:
Mexican Jumping Wings
Great for watching the big game!

3 dozen chicken drumettes
1/2 cup Cholula or other Mexican hot sauce
1/2 cup smart margarine
1 cup Low Fat Ranch dressing (recipe follows)
Crudites of carrots and celery
Preheat oven to 400 degrees.
Place the drumettes into a lightly oiled baking sheet pan and bake for 45 to 60 minutes. In a small sauce pan over low heat combine the hot sauce and margarine and keep warm until drumettes are done. Toss the drumettes in the wing sauce and serve with Ranch dressing. Can be made dairy-free by omitting the Ranch dressing. Makes two servings with each consisting of 300 calories, 14 grams fat, 5 grams of carbohydrates and 38 of protein.
Low Fat Ranch Dressing
1 cup organic low fat Greek or regular plain yogurt
Juice and zest of one Key lime or half regular lime
1 teaspoon dried chili powder (ancho for mild, chipotle for spicy)
1 tablespoon cumin
1/2 teaspoon granulated garlic
1/2 teaspoon onion powder
1 tablespoon fresh jalapeno, finely diced
Combine all dressing ingredients in a blender or food processor and pulse just until blended then refrigerate at least one hour.