The holidays are cookie season.  After all, calories in the shape of the Savior don't count.  So why not fully stock your arsenal with the latest from the Betty Crocker Big Book series?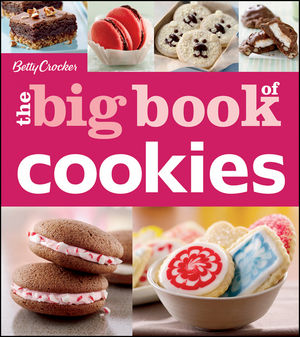 Betty Crocker's The Big Book of Cookies is a massive collection of the best cookies and bars ever with more than 180 sensational recipes that are as easy to make as they are fun to eat. Whether made from scratch or with a Betty Crocker mix, these delectable cookies give you as many options as any cookie lover could want.
Whether you crave traditional favorites or fancy new ideas, you'll fall in love with these lusciously diverse cookies—from classic peanut butter cookies to unexpected flavors like Pecan-Praline Bacon Bars. Plus, with a special section of gluten-free recipes, every member of the family can get in on the fun.
Features more than 180 easy-to-make cookie recipes offering a wide variety of flavors and variations, from fun cookies for kids to sophisticated dinner-party delights
Illustrated with more than 100 full-color photos and step-by-step how-to photos for baking, decorating, and more
Includes tips and advice on cookie-making basics, from rolling and cutting to baking and frosting
You'll find almost any cookie you can imagine in the Betty Crocker Big Book of Cookies. With these recipes and variations, you'll find the perfect sweet treat for any occasion . . . or no occasion at all.
So you have some newly weds to buy for this Christmas.  Well, I think I've got just the thing for you.  Better Homes & Gardens, long known for their many volumes of excellent cookbooks, has released the Better Homes and Gardens New Cook Book Bridal Edition.
The Better Homes and Gardens New Cook Book has been an American favorite since 1930, selling 40 million copies through fourteen editions. The new 15th Edition is the best yet, with hundreds of new recipes, tips, and photos. This new bridal edition includes a 62-page bonus section of kitchen advice for new couples.
The perfect shower or wedding gift, this new bridal edition includes all the delicious recipes you've come to expect. More than that, it features plenty of tips for new couples on setting up a kitchen, cooking for two, entertaining friends and family, planning parties, and much more.
A special gift edition just for brides, with plenty of tips and advice on homemaking for the twenty-first century
NEW FEATURES for the 15th Edition: Make It Mine—new flavors to keep meals exciting; Cook Once, Eat Twice—create two great meals out of one
NEW CHAPTERS ON Breakfasts and Brunches; Casseroles; Convenience Cooking and Sandwiches and Pizzas
Presents more than 1400 recipes, including 1000 brand-new to this edition
More than 1000 photos
Better Homes and Gardens New Cook Book, Bridal Edition is packed with delicious recipes and cooking advice—it's the perfect gift for the newlyweds in your life!  Of course you don't have to be a young bride to enjoy BHG's latest tome.
I would love to give you an unbiased review of Susan Irby's "The Complete Idiot's Guide to Quinoa" but conventional wisdom dictates that
I can't since Susan is a friend of mine.  Additionally Chef Jon Gibson who contributed one of the recipes in Susan's book is a co-worker at Little House Midtown.  So, I won't try to do a review per se.  I have read and reviewed several of Susan's previous books, we've hung together at one of those swanky Hollywood after-parties.  She facilitated my meeting Wolfgang Puck and I've been a guest on her popular LA radio program Bikini Lifestyles.  I love the gal – perhaps conventional wisdom has a point.
I will, however, share with you what others are saying about The Complete Idiot's Guide to Quinoa.  Like this quote from another good friend of mine Serena Polumbo (Food Network Star) who states:
Celebrity Chef Susan Irby is in great shape and has been spreading the word about eating healthy and delicious meals through TV and Radio shows. The fact that she wrote a book on quinoa, the super seed loaded with vegetable protein, is perfect as she is the spokesperson for preparing meals that are easy on the waistline as they are filling and tasty.
And this from popular designor-turned-blogger Jennie Yuen:
This book first gives you the inside scoop on exactly what quinoa is, where it comes from, and where you can find it. Then you'll find all the delicious and healthy recipes that you can make at home for the family.
Check out this endorsement from lifestyle expert Margie Brill of My Springfield Mommy:
The Complete Idiot's Guide: Quinoa Cookbook would make a wonderful gift for the cooks on your list, especially for those who are health conscious and enjoy quinoa or are just curious about starting to using it in their cooking!
So now you see that I am not alone in my praise for Susan's latest cookbook, easily her best yet.  I really love it.  Quinoa has fascinated me for years now but it is fairly unheard of in my neck of the woods.  Now I can explore its many uses thanks through the 180+ recipes she has created or compiled from over a dozen celebrity chefs.  This noble seed is one of the healthiest foods on the planet which makes this tome the perfect Christmas gift for those looking to shed those holiday pounds.  Try the Chicken Quinoa Lettuce Cups, Savory Quinoa Breakfast Crepes with Rosemary, Beef Quinoa Tamales or my colleague Chef Jon's Quinoa Polermo Salad.
When Rachael Ray's $40 Dollars a Day went off the air it wasn't because they had exhausted the vehicle.  It was because RaRay had launched her day time talk show and magazine.  She simply didn't have the time to do the show anymore.  I, like many, have lamented the loss of what was one of the most educational food/travel shows ever done.
Well, Captain Hoagie himself Jeff Mauro has brought the concept back only this time the budget has been trimmed to just $24.  Clearly a reflection of the horrible economic conditions of the past three years.  But still the premise is largely the same.  On $24 in 24 the Sandwich King has to find three squares in one day with only $24 to spend.
Here's the Network's official description:
Jeff Mauro is taking his passion for food to the streets, searching for the best budget-friendly eats across America. With just $24 he'll hunt down breakfast, lunch and dinner dishes in only 24 hours.
The show lacked Rachael's eternal cuteness but otherwise was pretty much the same.  In place of Ray's perkiness was Jeff's unique charm and comedic flare.  The pilot episode was shot in his hometown of Chicago which meant Jeff's research was actually done by him.
I'm sure there will be people who naysay the show simply because it is a reboot of $40 but they are likely just looking for something to whine about.  The reality is that the original show was far from played out, the host just ran out of time.  I for one am glad this format has returned and that my buddy Jeff is at the helm of it.
Here's a taste: