So a few months ago the makers of Tabanero Hot Sauce sent me a tweet wanting me to try their product.  I said, sure, send some on over.  They mailed me two bottles.
So what's the deal with Tabanero?  Well, it's a different hot sauce.  First off, it is 100% all natural.  That means there is no water or vinegar making the quality and consistency one of a kind.  In place of the vinegar they use Key lime juice as their acid.  So that's the recipe chilies and lime juice?  Hardly.
The chilies are habanero and tabasco (no relation).  Additionally they add fresh carrots, onions and garlic plus salt (duh), grapeseed seed extract and agave nectar.  I know that raises several questions.  Luckily they've addressed them in the about section of their site.  Here's a snipit:
Agave Nectar in hot sauce?
That's right! Agave is one of our key flavor ingredients that gives Tabanero a subtle sweetness and the distinct flavor we have become known for. The sweetness of the agave also helps accentuate other flavors.
That's a funny name.
Tabanero was named after the state of Tabasco, Mexico and the habanero pepper. Combining the two words: Tabasco + Habanero = Tabanero.
But I thought Tabasco, was "Tabasco".
Tabanero hot sauce is from the state of Tabasco, Mexico and has no affiliation with the hot sauce made in Louisiana named Tabasco Hot Sauce.
So the only question that remains is how does it taste?
Good.  Really, really good.  I didn't know what to think at first.  Without having vinegar I was worried that it wouldn't have the depth of flavor I love so much from other sauces.  It has a different mouth feel, it's crisper than standard sauces.  There is plenty of heat but the habaneros do not overpower it.  I assume the agave and carrots help with that.  Sugar diffuses the painful aspects of capsaicin – it makes it fade faster.
I used it to make a terrific wing sauce.  I sprinkled it on various things and found it is great with seafood especially grilled shrimp.  It really is a great sauce so if you think you'd like to try here's the link to find a dealer near you or click on the bottle above to order direct from Tabanero.
So I opened up my P. O. box the other day to reveal this piece of junk mail for Pizza Hut's new P'Zolo.  So what's a P'Zolo?  Good question.  Pizza + Stromboli + Solo = P'Zolo; who knows?
Going by the picture it looks like a flat bread sandwich approximately 8″ long and 2 to 2.5″ in diameter.  It comes in three flavors – $3 each or two for $5.  Each one comes with your choice of marinara or ranch dressing.
Again, that's based on the pictures in the flier.
What arrived was, well, a pathetic excuse for a Hot Pocket.  And Hot Pockets aren't exactly culinary gold.  The actual P'Zolo was maybe 5 inches long and about an inch in diameter and looked nothing like the picture in the ad.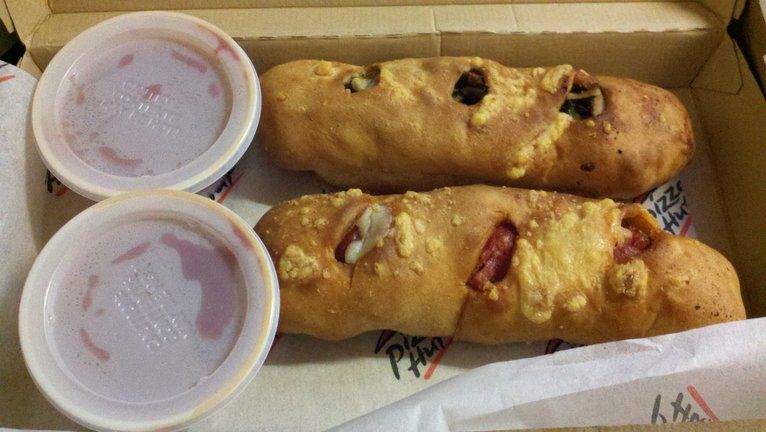 These little things are mostly bread.  The Buffalo Chicken had almost no chicken or Buffalo sauce in them, perhaps two bites right in the middle.  The Meat Trio wasn't too terrible when dipped in the marinara.  The Italian Steak was a freakin' joke.  It was mostly filled with bell pepper.  There was nothing in them that resembled steak and the mushrooms were scarce.
The dipping sauces are way off.  I don't eat ranch dressing on anything, furthermore the only dressing for Buffalo Chicken anything is Bleu Cheese.  It wasn't an option and marinara certainly doesn't work with it.  Luckily I had some bleu cheese in the frig.  The marinara (as I mentioned above) does work with the Meat Trio, however neither ranch nor marinara go with the Italian Steak.  You know what does go with it?  A horseradish cream which, luckily, I had some of too.  You know what else would have helped, some actual steak.
Now take a gander at a photo of the actual P'Zolo with the ad next to it for comparison and scale.  The flier features a picture of a hand holding a P'Zolo.  The hand in the picture is to scale with my own hand and as you can see there is at least 6 inches of sandwich thingy extending from it.
Even at $2.50 each these things were a tremendous disappointment.  After all a real Hot Pocket only costs .99¢ and they are much better tasting.  I would have to categorize them a complete and utter failure.  Whoever OK'd these things should be out of a job.  In a word, they P'suck.
So recently I won something from iFood.tv.  I don't remember what it was for but the reward was a gift box from Fairytale Brownies.   You know, the confectioner made famous by their two appearances on Food Network's long running hit show Unwrapped.
Co-founders & childhood friends Eileen Spitalny and David Kravetz have been baking the right way since 1992.  Their mission with Fairytale Brownies is to make treats with premium, all-natural ingredients that give a luscious blend of refined flavors.  Mission accomplished.
I received a 9-Piece Fairytale Truffle box – one full pound of moist, dark chocolate indulgence.  Included in my purple treasure box was a Caramel Truffle, Chocolate Chip Truffle, Original Truffle, Pecan Truffle, Raspberry Swirl Truffle, Toffee Crunch Truffle, Walnut Truffle, White Chocolate Truffle and Espresso Nib Truffle.  Each were simply amazing.  My favorites were the Chocolate Chip Truffle (a great crunch) and the Espresso Nib Truffle (because chocolate is what coffee is supposed to taste like).
This is a great gift for the true chocolate lover in your life.  Sure milk chocolate tastes good but you don't get a true chocolate experience from milk chocolate.  You get a milk fat and sugar experience.  No, for a true chocolate experience it has to be dark chocolate – that's where the phenylethylamine is full throttle.  Phenylethylamine is the chemical in chocolate that makes women feel like they are in love (and kills dogs too but that's a different story).
Now check out those Unwrapped appearances:
So recently I got an e-mail that I had been selected to receive a free sample of KC Masterpiece's newest BBQ sauce, Southern-Style.  I don't know what the selection process was but I am satisfied with the result, free stuff.
So I know what you may be asking, "Isn't all barbecue sauce Southern?"  The answer, of course, is yes.  All barbecue is, at its heart, Southern but other areas have put their unique regional spin on it led of course by the folks in Kansas City.  In fact, the Kansas City style of sauce – tomato-based, sweet, smokey with a touch of spice – is what most people think of when they think of BBQ sauce.
There are literally hundreds of brands of BBQ sauce in the US however more than half of what is sold in stores carries the KC Masterpiece label.  The newest addition to the KC Masterpiece line is the Southern-Style which is essentially an homage to Memphis BBQ.
This sauce is still, at its roots, a Kansas City sauce but in Memphis the sauce is a little thinner, contains less sugar and more cider vinegar than its Midwestern cousin.  From a personal standpoint I have grown to prefer the Memphis version over the years.  I like a more acidic, less sweet sauce.
I have to admit that the KC Masterpiece Southern-Style is pretty darned good.  It has the tangy notes and bit of fire that I appreciate from the Memphis sauce when eating it on pork ribs or chicken.  For beef I still go for the standard KC style as I like the smokey sweetness better with beef.
I do have one complaint with KC Masterpiece Southern-Style BBQ Sauce but it's the same complaint I have with most commercial sauces – High Fructose Corn Syrup.  I know it's cheaper than sugar but it's also much worse for you, too.  It's the main reason I tend to make my sauce from scratch.  I would gladly pay a little extra for sauce made with cane sugar but I'm sure it is not a big deal to most people.  If HFCS isn't an issue for you then you should have no reservations about trying this tasty new sauce.  In fact, even if it is an issue you should try a bottle; sometimes you have to dance with the devil.