Chef Unleashed with Chris Cosentino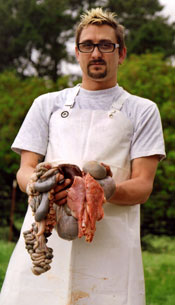 The following video is a proposed pilot for a very raw cooking show starring Incanto executive chef Chris Cosentino.  "Chef Unleashed invites the viewer on a global eating exploration.  It's a new kind of reality show, about where good food really comes from—when it's done right."
Cosentino is well know for his nose-to-tail approach to cooking.  As a chef he has a tremendous respect for the animals that feeds us and that is why he uses all them in his cooking, so nothing goes to waste.  That is a far more nature-friendly approach than treating animals as a minority group surrounded by a bunch of half-baked activists.
This is the kind of cooking show I would love to see and I think Americans could benefit from.  Let me warn you that if you are the type that can't bare to see Bambi drilled with a .306 through the jugular then this will be hard for you to watch, but you need to watch it.  Once you see Chris' actions and emotions you'll understand where he's coming from.  Plus we're only ever three days without power away from having to live like this again.  Anyway, this is what Extreme Chef should have been like.
Chef Unleashed from Chris Cosentino on Vimeo.
2 Responses to Chef Unleashed with Chris Cosentino