Not too long ago I was writing for a site called Paper Palate doing cookbook reviews.  One month I was assigned two cookbooks from Adams Media's $7 Meals series.  Both were written by Susan Irby.  While doing my research I learned that Susan billed herself as "the Bikini Chef."  I'm a guy so of course I was intrigued.
After doing some more research (Susan calls it stalking) I stumbled onto her site and we began communicating via e-mail about the books.  That led to Friending each other on Facebook and following each other on Twitter.  From time to time we even spoke on the phone.  In January of 2010 I was a judge for the Taste Awards and Susan was one of the Red Carpet Ambassadors for the Award Show.   Finally we got to meet IRL as the kids call it.  She remains to this day one of the best friends I have in this whole celebrity chef world.  I don't even mind that she's an Alabama fan.
Three years ago Susan began a radio show called Bikini Lifestyles that expanded on her persona as the Bikini Chef.  It was a show unlike anything the listeners of LA had ever heard.  Three co-hosts and celebrity guests from every field all talking about healthy eating, exercise and fashion.  The show would occasionally venture off its set formula to include dalliances into culture like wine, the Oscars or when a certain Wannabe TV Chef was asked on to discuss the history of Mardi Gras in America.
The show was a hit so it should come as no surprise that TV should come knocking.  Bikini Lifestyles is now a TV series on PBSTM .  BL:TV is like nothing national public television has ever done.  The majority of their food related programming has followed the stand-and-stir format pioneered by Julia Child.  Perhaps it is time to stir things up a bit.  Bikini Lifestyles is more of a lifestyles show, like The Chew, than it is a cooking show.
So just what is Bikini Lifestyles about?  Let's find out.
First tell me about your Quinoa book.
I'm very excited about my Quinoa book.  Ever since I started writing it I see Quinoa everywhere.  I have over 200 recipes and I invited some of my chef friends to contribute a few recipes like Chef Brendan Collins.  I'm excited.  You can pretty much use Quinoa anywhere you use rice.  It's going to be a great book that will appeal to a lot of people, I belive.
When does it come out?
July 3rd.
And it's called the Alabama Fan's Guide to Quinoa right?
[LAUGHS] Nooo… It's called the The Complete Idiot's Guide Quinoa Cookbook.  It's got pretty much everything you need to know about Quinoa.
How did Bikini Lifestyles come to be?
As long as I have been the Bikini Chef people have been saying, "You should be on TV."  You know how that goes, Stuart.  Well just out of the blue last year I got a phone call from this production company out of New York and they said they wanted to do a pilot.  And I was like, "Oh yeah right."  Delete.  Delete.  Delete the message.  They kept calling back so finally I decided to take the call.
And so, we went to New York and shot the pilot.  They sent the pilot out and they got a lot of interest.  And now Bikini Lifestyles is the only food and fitness show on the air, at least that I know of.
What can viewers expect to see on Bikini Lifestyles?
It's wine, dining and work out.  We have a little bit of wine, we have food, we have a little bit of fitness.  In one episode we're doing Pilates, one we're playing tennis and in one we're boxing but we wind up each show with fashion to prove we can clean up well.  You just get the whole flavor.  We're living an everything in moderation lifestyle.
Tell me a little about your co-hosts.
We've been doing the radio show for almost three years and we just really work well together.  Let's start with Denice (Fladeboe) she's the voice of reason.  She's very elegant, she's a world traveler and she runs her family automotive business and they've had that business for over 50 years.
Then we have Steve.  Steve (Valentine) is the complete opposite.  Steve's a scene-stealer.  He brings a lot of um… um… I don't know what the right word would be.  I don't want to say chaos but sometimes it feels like that.
When was the official premiere of the show?
The show's premiere was April 15.  So far we have had more than 50% of the PBSTM affiliates express interest.
Did you do anything special like throw a viewing party?
Actually we threw a launch party on the last day of shooting and while we had our film crew there we wanted to film our launch party.  So they filmed it and we did a live broadcast of the radio show from it with Chef Brendan Collins who's one of the chefs on the show.  We had a pink carpet so everybody got to walk the pink carpet.
So what's next for the Bikini Chef?
Season 2.  You can rest assured that wine, dining and working out will be on the agenda.
Check local listings for schedule in your area.  Also available on independent cable networks.
It was a night of glamor, humor and networking.  It was the TASTYs!
What happens when you get Jolene Sugarbaker (the Trailer Park Queen), Average Betty, the Private Chefs of Beverly Hills, Chef John of Foodwishes and the Bikini Chef together?  I wish I could tell you.
It's not a secret – one of those "what happens at the TASTYs stays at the TASTYs" scenarios.   Nor is it the result of alcohol-amnesia albeit not for a lack of trying.  The entire evening was such a blur that my feeble mind struggles to put things together.  My memories seem like one of those flash back episodes that sitcom's do when everyone wants a week off.
Here's a short rundown on the celebs I hung with:
Manouschka Guerrier and Sasha Perl-Raver of The Private Chefs of Beverly Hills are far more beautiful in real life than on the tube.  They are both extremely sweet as well while oozing sex appeal.  Chef Stuart O'Keeffe was also there and the few femmes not hooked on his James Bond looks were undone by his Irish brogue.
Jolene Sugarbaker was a huge hit in LA!  Her humor is so natural and genuine that everyone wanted their picture taken with her.  A true original who refuses to let corporate bigwigs force her into the cookie cutter molds they so love.
Chef Nathan Lyon of PBS' Growing a Greener World and Discovery Health's A Lyon in the Kitchen appears to be the next big chef sex symbol.  His easy style and and charming mannerisms were even noticeable in a town filled with those traits.  He's also a great guy with an inspiring message about knowing the person who grows your lettuce.  This cat is also hysterically funny.
Sara O'Donnell, known to the world as Average Betty, was like the hippest chick in high school – funny and unpretentious.  She is the female friend that guys love to hang out with which is shocking since her long shapely legs and seductive red locks drew more second glances than the runway models on hand for the fashion side of the awards.  She was stunning!  Let that be a lesson to you model-types – eat a F'ing sandwich!
What can one say about Chef John?  The most humble guy ever.  He's so good at teaching people how to cook that they never notice they are learning something.  If there is a word that sums up John it has to be "wholesome."  Just a real guy with a charm that sneaks up on you.  And I'm not just saying that because he promised me a bottle of his wife's new San Francisco style BBQ sauce.
Bobby Bognar of the History Channel's Food Tech posses all the cool I have come to expect from musicians.  He's as funny as a stand-up comedian, a good one, too, not like Pauly Shore.  He has that every-guy appeal that makes you want to be his friend.  He also seems like a good guy to have at your back in a bar room brawl.
Susan Irby was sporting her trademark Bikini Chef jacket with strategically placed see-through polka-dots that reveal just a hint of her hard body.  The brilliance of her jacket is that it doesn't really offer a glimpse of the scandalous lady-parts but bewitches you with promise of more.  One photog remarked to me that she beams like the sun; an understatement.  Susan made sure I got to meet Wolfgang Puck and introduced me to the people that mattered at the pre-awards reception.  She took me into the Hollywood Hills so I could see everything LA has to offer in one awe-inspiring view.  Thanks for keeping me from looking like a rube.
This is but a capsule of the great people and sites of the evening.  There's more to come.  I mean, I still have two more days to kill and I don't plan on spending them tapping on a laptop from my hotel room when Los Angeles is just outside my window.  I'm off to find a taco!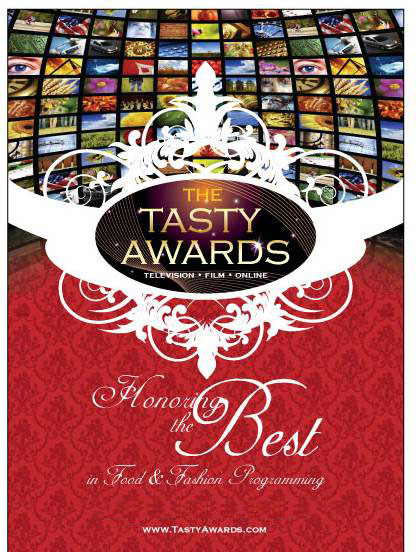 The TASTY AWARDS is the premier broadcast awards show to celebrate and recognize the year's best achievements in food, fashion, and home lifestyle programs on Television, in Film, and Online.
I will be blogging and live Tweeting my experience at the TASTYs.  I'll do my level best to capture the glamor and the glitz without prejudice for one over the other.  I have plans to meet up with a few Chefleberities like Susan Irby (the Bikini Chef) and Average Betty herself, Sara O'Donnel.  We are planning to eat at some cool LA hot spots.  I promise pictures and anecdotes although I make no guarantees to the quality of either.  I have VIP access so we'll see what that yields.
The TASTYs are Thursday January 13th at the Egyptian Theater in Hollywood and can be viewed live at Hulu.com.
Despite what the media and politician's (let's face it; they are the same thing) keep saying, the economy is only getting worse. Americans love their sequels but I don't think the Great Depression II is one they have been looking forward to. Never the less it is here. The big wigs in DC may not be feeling the pinch but the rest of us are and like our predecessors we are pulling ourselves up by our bootstraps.
Take Chef Susan Irby (the Bikini Chef) for instance who has just published her new The $7 a Meal Quick & Easy Cookbook (Adams Media, 2009). Irby is a cheflebrity who has cooked with the likes of Todd English and Ming Tsai and for the likes of Patrick Swayze, David Spade and Kate Segal. But in this 332 page guide she teaches you how to cook like a celebrity chef without blowing your fiscal or time budget.
The 301 recipes found within sound expensive but are not like the Grilled, Herb-Custed Pork Chops with White Wine Sauce ($6.96), Baked Tortillas with Crab and Basil ($6.60) and London Broil with Merlot Marinade ($7 flat). But what really sets Irby's work apart from others is the way she gives you a basic recipe then teaches you how to elaborate on it. Take for instance the humble omelet; first the Bikini Chef gives her basic omelet recipe then she expands on it with the Roasted Red Pepper Omelet, Vegetarian Omelet and the Golden Apple Omelet made with both Parmesan and Bleu cheeses.
Each recipe is broken down with a chart that details prep time, cook time, total cost, calories, fat, protein, cholesterol and sodium content. The book consists of fifteen chapters thirteen of which are recipes. The first two are purely instructional with chapter one providing information for those new to the home cooking game include a list for a properly stocked pantry and freezer while chapter two is full of tips for shopping on a budget.
The $7 a Meal Quick & Easy Cookbook is perfect for the 20-something just starting out or the family that is having to reinvent itself because of trying economic times.