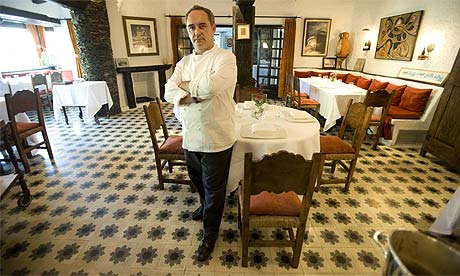 I can't wait to see how the media blames George W. Bush for this. El Bulli, arguably the best restaurant in the entire world is closing its doors. Is it another victim of the second Great Depression? Has the global economy even reached the Costa Brava?
No. In fact, the reason is quite the opposite – too much business.  Cheflebrity and owner Ferran Adrià is tired.  He cites 15 hour days and a desire to spend some time with his family for the recently announced closing of the famed Spanish eatery.  "No meals will be served in El Bulli in 2012 and 2013," he stated, adding, "But listen, these are not going to be years of sabbatical."  Chef Adrià made the announcement at the international culinary conference Madrid Fusion.  El Bulli celebrates its 50th anniversary in 2012.
Famed food writer Ruth Reichl spoke with Adrià tonight but only had this to say via her Twitter page, "Why do I never understand Ferran? Long talk tonight about why he's decided to take a break, but I understood about 1 word in 10. Sorry."
So why so much fuss about a restaurant in a hard-to-get to location in Spain?  Because El Bulli introduced the world to a whole new approach to cooking.  It is the Mecca of molecular gastronomy – the happy emulsion of food and science.  Adrià's concoctions are mind-bending – suds as a garnish, frozen passion fruit whiskey sour, brochette of banana with bacon, etc.
The news of El Bulli's closing is like Brett Farve retiring . . . and staying that way.  I'm sure the reservations book for 2014 is already filling up.  For an idea of what dinner at El Bulli is like check out this blog entry from Lia, Food Network employee and blogger of This Little Piglet.  It is a mind-boggling chronicle of the amazing expanse of Adrià's genius.   Or check out Anthony Bourdain's visit on No Reservations:
This week is another new Iron Chef: America as the senior Iron Chef, Morimoto, pits his cutting-edge Japanese style against Chef Sameh Wadi's Mediterranean and Middle Eastern flavors.
When one thinks of Minneapolis the thoughts that spring to mind are of Prince, Brett Farve and the Mall of America.  It is a classic mid-western city with a strong football pedigree and a no-nonsense attitude.  Seldom does anyone think, "I am seriously Jonesing for some Moroccan food. I've got to get to Minneapolis!"
Chef Sameh Wadi is changing that at his Warehouse District eatery Saffron Restaurant & Lounge.  Owned by Chef Wadi and his brother Saed, Saffron has been rocking the Twin Cities since 2007.  The accolades have been many like being named one of Zagat's top American restaurants for 2009 and 2010 and James Beard nominations for "Rising Star Chef" in 2008 and 2009.  Chef Wadi has even started his own line of exotic spices, Spice Trail.  All this he has accomplished before age 25.
Some of Chef Wadi's celebrated dishes include the Lamb BLT (named one of Serious Eats' Serious Sandwiches), fig-kissed quail and Salmon & Clam Tagine.  The buzz about Saffron and the Wadi Brothers has spread from coast-to-coast as they have taken the essence of the Middle East and fused it with Minnesota specialties like duck and salmon.
Now with a chance to spotlight his talents on a national stage, Wadi is poised to join the elite of American chefs.  Wadi spoke about the opportunity telling the Star Tribune, "I couldn't believe it. I mean, I've been watching Iron Chef since I was 14."   Below is a video feature on Saffron complete with an interview of the Wadi Brothers.  The episode airs Jan. 24 at 9:00 PM ET/PT.