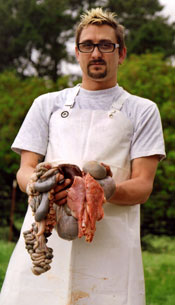 The following video is a proposed pilot for a very raw cooking show starring Incanto executive chef Chris Cosentino.  "Chef Unleashed invites the viewer on a global eating exploration.  It's a new kind of reality show, about where good food really comes from—when it's done right."
Cosentino is well know for his nose-to-tail approach to cooking.  As a chef he has a tremendous respect for the animals that feeds us and that is why he uses all them in his cooking, so nothing goes to waste.  That is a far more nature-friendly approach than treating animals as a minority group surrounded by a bunch of half-baked activists.
This is the kind of cooking show I would love to see and I think Americans could benefit from.  Let me warn you that if you are the type that can't bare to see Bambi drilled with a .306 through the jugular then this will be hard for you to watch, but you need to watch it.  Once you see Chris' actions and emotions you'll understand where he's coming from.  Plus we're only ever three days without power away from having to live like this again.  Anyway, this is what Extreme Chef should have been like.
Chef Unleashed from Chris Cosentino on Vimeo.
I am curious to see what unfolds on the Next Iron Chef 3.
The original was amazing television that was made up of past Food Network stars like Aaron Sanchez and eventual winner Michael Symon and introduced us to some new ones like Chris Cosentino (who now co-hosts Chefs vs. City with Sanchez) and TLC's John Besh (Inedible to Incredible).
The drama of that first season lay in the fact that every contestant was an established star chef who realized that winning NIC could mean the difference between a six figure salary and a seven figure salary. Also adding to the chemistry was the fact that most of the competitors were old friends. Though there was a little friendly trash talking there was a strong sense of camaraderie among that first group.
Season 2 was not very good. With few exceptions (Amanda Freitag, Eric Greenspan, Nate Appleman and Jose Garces) there were few truly well-known chefs in the contest. What there seemed to be was an over-abundance of was contrived drama and a gaggle of idiotic challenges that did nothing to prove who was best qualified to be an Iron Chef.
There was also Jehangir Mehta, a pastry chef of all things vying to be the Next Iron Chef. Mehta, though talented, seemed to get moved along each week despite a number of tragically failed challenges, cheating and other undesirable behavior. It was clear by season's end that Mehta was not there because he was a plausible Iron Chef but because the Food Network knew viewers would hate him and tune in just hoping he'd get eliminated.  Adding to the failure of Next Iron Chef 2 was the fact that the eventual winner, Jose Garces shot three battles as an Iron Chef in 2009 and has since been invisible.
Speculation has been rampant: Has Batali finally completed his long, drawn-out exit?  Is Cat Cora stepping away to spend more time with her growing family?  She was on MasterChef you know?  Maybe Flay, Symon or Morimoto is leaving?  The most popular assumption is that there has been some kind of falling out between the Food Network brass and Chef Garces.
Season 1 produced Michael Symon who is the winning-est Iron Chef in the history of the show having taken home victory over 80% of the time he's gone out. Season 2 produced, well, nothing really. So just what does the third season hold? Will it elevate someone new to a title that signifies the best of the best or will it be another one hit wonder?  I guess we'll all have to wait until October.
Meet this season's contestants HERE.
If you haven't already, be sure to check out my exclusive interviews with Iron Chefs Bobby Flay and Michael Symon as well as the newest Iron Chef, Marc Forgione HERE.
This is going to be a very short review.  Because the show isn't any good?  No, not really.  It's because the newest show from Food Network, Kid in a Candy Store, isn't new.  Adam Gertler is just as charming as he was when he (and three other people) should have beaten out Aaron McCargo Jr. on NFNS 4.  It's the format of the show.  There is nothing really new about it.
If you liked Food Finds, Will Work For Food, Unwrapped, Food Tech, Road Tasted (with either the Neely's or the Deen's), Man vs. Food, FoodCrafters, Unique Eats, Follow That Food or How'd That Get on My Plate? then you'll like Kid in a Candy Store.  It is pretty much those shows.  Only it's just about desserts.  I'm sure for those of you with strong sweet teeth it will be a fun variation of a tried and true formula with an amusing and talented host.  As for me, I'm not a big dessert guy.  My idea of the perfect dessert is a second cheeseburger.
It is certainly better than Cupcake Wars.
Be sure to check out this recent interview with Adam Gertler.
[ad] Empty ad slot (#1)!