Last year I made a pair of Burger Crawls, one in Los Angeles and the other in Mobile.  I waxed poetic about the Stout Burger at Stout, a gastro pub in the heart of Hollywood.  Likewise I gushed about the Wagyu Burger at Shamrock, Rose & Thistle Tea Room in Mobile's Spring Hill neighborhood.  I declared Shamrock's burger the best in the Mobile area and the Stout burger was the best I had ever eaten.  All that has changed.
My good friend, Pete Blohme has operated his celebrated sandwich shop over in Fairhope for years now.  Panini Pete's has been featured on the Food Network and the friendship that sprang from that first taping with Guy Fieri has evolved into something straight out of a cop/buddy film.  The Diners, Drive-ins and Dives host hit is off swimmingly with the South Alabama chef and since then Pete has been seen on multiple episodes of Guy's TV shows not to mention being a primary component in the Guy Fieri Road Show.
Well a few months ago, Pete opened up a satellite of his famous eatery in downtown Mobile.  Showing off the Tinsel Town flair that he picked up from his buddy Guy, Pete did a soft opening of his new digs last November and was nice enough to invite me in to take a gander.  The evening featured bite-sized versions of his popular menu items including his infamous turkey panino and some of his outstanding burgers.
One nibble in particular has haunted me since that night, Pete's Eastern Shore Burger.  A simple but eloquent offering of 100% Fresh Ground Certified Angus Beef on a perfectly toasted bun with onion confit and herbed goat cheese.  That's it, folks – a bun, a patty and two condiments.  Best.  Burger.  Ever.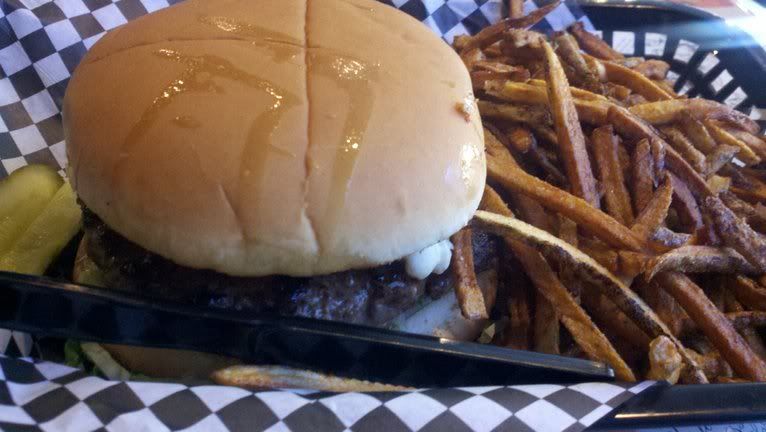 The other day I slipped back by the new location to chat with my buddy and to try the full half-pound version of the Eastern Shore Burger.  Bigger is better.  It's hard to put into words how perfectly the juicy burger, savory-sweet onions and the pungent goat cheese come together.  It's poetry on a bun.  It is officially my new favorite burger.
I also sampled Pete's one-of-a-kind shoestring fries.  Shoestring is putting it mildly.  These fries would make fat jokes about your typical shoestring fries and on bite number one it was obvious these were fresh cut.  They were fried crispy on the outside and tender in the middle then seasoned with an inventive blend that was a bit spicy (not unlike a Cajun Seasoning) and with the distinct air of cinnamon.  It was different yet comfortable.
There are a lot of cheflebrities out there who are heavy on the celebrity but light on the chef.  One stop at Panini Pete's proves that Blohme is not one of them.  His creativity and attention to detail is evident in every morsel you shovel down your gullet.
Last spring Pete, Guy and I had dinner with Alabama Governor Robert Bentley and a few hundred of our neighbors in Gulf Shores.  Check out the festivities.

Most of us who have been walking this planet for more than a few decades have had one of "those" phone calls.  You know the ones – an old school mate calls you up to tell about the loss of a dear friend.  For most people those seconds before during and after one of those calls will be with them forever; psychologists call it a flash bulb memory.  They are formed when someone witnesses something so astonishing that the brain records everything about the moment.
One shared example is the 9/11 attacks – if you remember watching the news that day then chances are you can recall the minutest details like where you were, who was in the room with you and maybe even what you were wearing.
A little over two years ago I got one of "those" calls.  A guy I had known since I was 11 years old called me and said, "Did you hear the news?"
Fearful that yet another friend had failed to reach the age of 50 I braced myself, perhaps it was just someone getting a divorce.  There was even the off chance that the news was good like Uncle Roy hit the Power Ball for $18 mil, "What news?"

"The Burger Master caught fire yesterday and burned slap up.  Gutted it."
Anyone who has ever eaten at the classic American diner on Hwy. 45 understands how devastated I was.  Though I didn't try Burger Master until I was in my thirties most of my family and friends had been eating there since they first opened the doors back in 1965.  And it seems everyone has their favorite menu item.  My sister loved the Nanner Puddin' while my brother and father were burger men.  My neighbor, a former Chickasaw police officer, vehemently proclaims that the fried seafood there was, "as good if not better than any of the big restaurants on the Causeway."  His wife was a sucker for the onion rings.
I was heartbroken but no longer.  Burger Master has reopened and is putting out the great American food that made it a legend.  I have made a few visits since the reopening and things are a little different now.  Gone is the stark interior with the quaint handmade signs plugging fruit pies and reminding customers that profanity would not be tolerated.  The new digs are esthetically superior to the old with a multi-color tile floor, dark wood paneling and nifty black leather and walnut tables.
It really is a very attractive décor that brushes right up against fancy without crossing over into it.  Just as the old building was a classic example of the American diner of the 60's the new one is an example of what a modern American diner should look like.  But all of that isn't worth much if the food isn't good.
Sure there are some people who'll grumble that it isn't as good now but they are usually those people who balk at even the slightest alteration in their regimen.  In my visits to the New Burger Master I have experienced food that is as good as ever.  The fried shrimp, the onion rings, the French fries with gravy and of course the namesake burgers remain to this day, "as good if not better than any of the big restaurants on the Causeway."
The Burger Master is located at 4616 Saint Stephens Rd. in Eight Mile.  (251) 457-1472
Page Productions which produces Diners, Drive-Ins and Dives, Outrageous Food and a handful of other popular food shows is suing the Food Network.  They are accusing the network of pulling a chew-and-screw.  The term refers to people who order dinner at a restaurant then skip out on the bill.
According to a law suit in Minnesota Federal Court, Page alleges that Food Network agreed to purchase three more seasons of Diners totaling 39 episodes.  But one year into the agreement Food Network wants to pull out.
Apparently it isn't a ratings issue as Food Network wants to keep running Triple D they just don't want Page involved in it anymore.  So it isn't really canceled per se it just isn't currently in production.  Food Network, who owns the contract with star Guy Fieri, claims to be unable to "provide the services of the host."
Though things should work themselves out in court for now the uncertainty is sure to leave Food Network fans feeling shell shocked.  Especially considering Alton Brown's announcement this past spring to shut down production of his hit series Good Eats.  If things do not work out that means that two of the network's most popular shows would no longer be a part of their line-up.
Page Productions also alleges that Food Network has not paid them for work already completed.  The suit was filed by Minneapolis-based law firm Fredrikson & Byron on behalf of Page on May 13th of this year.  The suit does not interfere with Page's other Food Network property Outrageous Food staring Tom Pizzica.
UPDATE: The Triple D law suit has been settled.  Learn the outcome HERE.
One doesn't have to be an economic whiz to realize these are volatile financial times we live in.  Everyone, save the government, understands this.  In the past year the Tri-City area has lost the Lunch Box in Satsuma and Checker's Drive-in, Colonel Dixie and Strickland's Butcher Shop all in Saraland.  With that in mind you really have to respect the folks at the Covered Dish.
They opened last December just off Shelton Beach Road and they just keep plugging along despite an ever declining economy.  The interior is quaint if not cozy with seating for maybe 30.  The décor is a contemporary take on the classic diner with a tribute on one wall to Alabama's recent National Championship.  Be forewarned Auburn and LSU fans, the Covered Dish doesn't do equal time but don't let that stop you from a homemade meal.
The menu is sparse but they supplement that with a healthy special's board which is always preferable.  It harkens back to an age when restaurants designed their menus around what was in season at the moment – before the Franken-foods so prevalent today.  The day I visited they offered, among other things, chicken noodle soup and homemade lasagna.  I opted for something off of the menu, a pulled pork sandwich with baked beans.
The baked beans, they admitted, were a commercial product, but one that had received a little TLC. They had been augmented with a subtle spice blend while some finely diced bell peppers added an air of freshnessand a touch of crunch.  I am a baked bean aficionado and I thought these were a fine example of the recipe.
The pulled pork was a classic slow roasted Boston Butt.  It was tender and moist with plenty of flavor.  Though it was oven roasted and not smoked, a side of KC Masterpiece added the perfect amount of smoky sweetness for those who prefer their pulled pork to be of the BBQ variety.  However, it would have been just as good with the addition of a few of the dill pickle chips that come with the plate and a generous squeeze of mustard.  I left satiated and ready for a pork-induced nap.
Among the sandwiches on the menu you will also find a BLT, grilled chicken on whole wheat, a bacon burger, a Buffalo chicken sandwich and a chicken salad on croissant.  From the special's board you can also assemble yourself a meat & 2 or meat & three plate, both served with either cornbread or biscuit.  Other menu sides include chips, side salad and coleslaw plus an ever changing array from the special's board.  They also offer homemade desserts and fresh salads.
The Covered Dish is located at 202-B Norton Ave where it crosses Shelton Beach.  It can be a little tough to spot but not impossible to find.  They are open for lunch Monday through Friday and also provide dinner service on Thursday and Friday until 8 PM.  Give them a call at 251-675-7704 for carry out or delivery orders or to pre-order a whole pie or cake for a special event.