Last year I made a pair of Burger Crawls, one in Los Angeles and the other in Mobile.  I waxed poetic about the Stout Burger at Stout, a gastro pub in the heart of Hollywood.  Likewise I gushed about the Wagyu Burger at Shamrock, Rose & Thistle Tea Room in Mobile's Spring Hill neighborhood.  I declared Shamrock's burger the best in the Mobile area and the Stout burger was the best I had ever eaten.  All that has changed.
My good friend, Pete Blohme has operated his celebrated sandwich shop over in Fairhope for years now.  Panini Pete's has been featured on the Food Network and the friendship that sprang from that first taping with Guy Fieri has evolved into something straight out of a cop/buddy film.  The Diners, Drive-ins and Dives host hit is off swimmingly with the South Alabama chef and since then Pete has been seen on multiple episodes of Guy's TV shows not to mention being a primary component in the Guy Fieri Road Show.
Well a few months ago, Pete opened up a satellite of his famous eatery in downtown Mobile.  Showing off the Tinsel Town flair that he picked up from his buddy Guy, Pete did a soft opening of his new digs last November and was nice enough to invite me in to take a gander.  The evening featured bite-sized versions of his popular menu items including his infamous turkey panino and some of his outstanding burgers.
One nibble in particular has haunted me since that night, Pete's Eastern Shore Burger.  A simple but eloquent offering of 100% Fresh Ground Certified Angus Beef on a perfectly toasted bun with onion confit and herbed goat cheese.  That's it, folks – a bun, a patty and two condiments.  Best.  Burger.  Ever.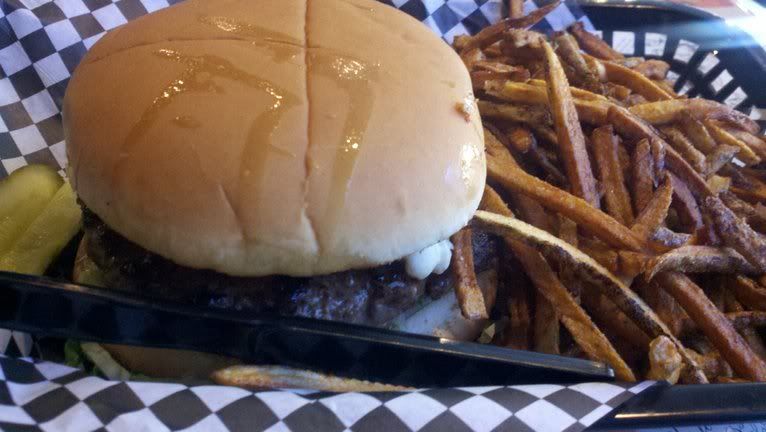 The other day I slipped back by the new location to chat with my buddy and to try the full half-pound version of the Eastern Shore Burger.  Bigger is better.  It's hard to put into words how perfectly the juicy burger, savory-sweet onions and the pungent goat cheese come together.  It's poetry on a bun.  It is officially my new favorite burger.
I also sampled Pete's one-of-a-kind shoestring fries.  Shoestring is putting it mildly.  These fries would make fat jokes about your typical shoestring fries and on bite number one it was obvious these were fresh cut.  They were fried crispy on the outside and tender in the middle then seasoned with an inventive blend that was a bit spicy (not unlike a Cajun Seasoning) and with the distinct air of cinnamon.  It was different yet comfortable.
There are a lot of cheflebrities out there who are heavy on the celebrity but light on the chef.  One stop at Panini Pete's proves that Blohme is not one of them.  His creativity and attention to detail is evident in every morsel you shovel down your gullet.
Last spring Pete, Guy and I had dinner with Alabama Governor Robert Bentley and a few hundred of our neighbors in Gulf Shores.  Check out the festivities.

Being a chef and an avid football fan (War Eagle!) you gotta know I love tailgating.  I have had more than a dozen articles published on the subject in numerous publications including Tailgater Monthly where I am currently a contributor.  That's why I'm pumped that Food Network is running a Tailgate Warriors marathon this weekend.
You aren't familiar with the show?  Well to quote the host, here's the 411:
Guy Fieri (Diners, Drive-ins and Dives, Guy's Big Bite) searches for the top "tailgate warriors" as eight tailgating teams compete at NFL stadiums across the country in a four-week series. Each week, two teams must create two appetizers, one entrée, two sides and one dessert in an hour. They will be judged by a three-person panel and scored based on taste, creativity, difficulty and presentation. The two highest-scoring teams will move onto the championship round.
One of the judges for this series was Dr. BBQ Ray Lampe who I was lucky enough to interview just after the show wrapped.  Check it out HERE.  This past spring I joined Guy (and 500 others) for a special dinner in Gulf Shores, AL.  It was the fanciest "tailgate party" I've ever been to.  I, of course, was adorned in my official Auburn Tigers BCS National Championship collector's cap.  Guy was nice enough to give me a few minutes of his time for this interview:
The Tailgate Warriors marathon starts Saturday at 7PM ET and repeating again at midnight Sunday morning on the Food Network.
[ad] Empty ad slot (#1)!
Page Productions which produces Diners, Drive-Ins and Dives, Outrageous Food and a handful of other popular food shows is suing the Food Network.  They are accusing the network of pulling a chew-and-screw.  The term refers to people who order dinner at a restaurant then skip out on the bill.
According to a law suit in Minnesota Federal Court, Page alleges that Food Network agreed to purchase three more seasons of Diners totaling 39 episodes.  But one year into the agreement Food Network wants to pull out.
Apparently it isn't a ratings issue as Food Network wants to keep running Triple D they just don't want Page involved in it anymore.  So it isn't really canceled per se it just isn't currently in production.  Food Network, who owns the contract with star Guy Fieri, claims to be unable to "provide the services of the host."
Though things should work themselves out in court for now the uncertainty is sure to leave Food Network fans feeling shell shocked.  Especially considering Alton Brown's announcement this past spring to shut down production of his hit series Good Eats.  If things do not work out that means that two of the network's most popular shows would no longer be a part of their line-up.
Page Productions also alleges that Food Network has not paid them for work already completed.  The suit was filed by Minneapolis-based law firm Fredrikson & Byron on behalf of Page on May 13th of this year.  The suit does not interfere with Page's other Food Network property Outrageous Food staring Tom Pizzica.
UPDATE: The Triple D law suit has been settled.  Learn the outcome HERE.
Originally posted on Edible TV on October 30, 2008.
After winning the second Next Food Network Star, Guy Fieri has done something no other NFNS winner has done… actually become a star. First there was his grand prize, his own show (Guy's Big Bite), then there was Diners, Drive-ins, & Dives, Ultimate Recipe Showdown, guest spots on Dinner: Impossible, NFNS, and finally Off the Hook. Guy also wrangled an endorsement for fern bar chain TGIFriday's. He now has five restaurants in his home state of California. So what's next for the guy named Guy?
His first cookbook. Diners, Drive-ins and Dives: An All-American Road Trip . . . with Recipes!, has a title as big as his bite. For years now, Guy has been running the roads in his '67 Camaro tasting (and apparently writing down the recipes to) the best grub in the country. Fieri's offering is co-written by Ann Volkwein who has written or co-written several books about regional food including The Arthur Avenue Cookbook. The Triple "D" book features some of the best recipes that Fieri has sampled on his romp through the back roads of America.
Wednesday morning Guy was a guest on ABC's Good Morning America talking about the book and preparing his "Mac Daddy" Mac & Cheese:
Yield: 8 servings Prep time: 20 minutes Cook time: 45 to 50 minutes

Inactive prep time: 1 hour Ease of preparation: Easy

Ingredients:

2 shallots, peeled
3 cloves garlic
1 teaspoon olive oil
3 pieces bacon, diced, cooked, reserving 1 tablespoon bacon fat
2 tablespoons flour
4 cups heavy cream
1 teaspoon chopped fresh thyme
1 cup shredded pepper jack cheese
2 cups shredded cheddar cheese
Salt and freshly ground black pepper
1 pound penne pasta, cooked
1/2 cup Panko bread crumbs
2 tbsp. melted butter
2 tablespoons chopped fresh parsley

1. Preheat oven to 350 degrees F.

2. Place shallots and garlic in a small aluminum foil pouch and drizzle with olive oil. Roast 20 to 30 minutes or until tender. Remove from foil and chop. In a large sauté pan, reheat reserved bacon fat over medium heat. Add roasted shallot and garlic and sauté for 1 minute. Add flour and stir for 1 minute. Whisk in heavy cream and thyme. Reduce by a third.