7 Questions is a series of interviews with the culinary movers and shakers you want or ought to know better.
Cooking for the Clueless is a web site for all of those folks who realized that they hit the big 3-0 without ever learning how to cook.  It was started by the bi-coastal couple of Zuzy Martin Lynch and Rick Lynch.  Rick is a California guy who grew up living the hipster West Coast lifestyle which included eating out a lot.  The same was true for Zuzy who grew up in the glamor of the East Coast where dining out is as common to New Yorkers as breathing.  But somewhere along the way neither learned their way around the kitchen.
According to the web site, "Cooking for the Clueless was born in our living room after realizing that we had a storage full of kitchen gadgets, appliances, and registry must-haves that we didn't know how to use."  The site features cooking tips and videos, recipes, a team of chefs and food writers that provide expert advice on everything from special diets to supermarket shopping strategies.
The web site soon produced a DVD also entitled Cooking for the Clueless that has been described as a must-have for anyone looking to tackle the kitchen.  The DVD is available on their site and at amazon.com (HERE).  It has received a lot of accolades including winning a coveted Tasty Award for best DVD in 2010.  High praise indeed.
Recently Zuzy Martin Lynch was kind enough to answer 7 Questions:
1. How old were you when you first started to cook?
Hmmm. This is an embarrassing one, but then again, I am the founder of "Cooking for the Clueless" so the real answer is: late, too late. I learned how to entertain at a very early age. I learned how to eat out very young too. Learning how to cook came late, in my thirties!
2. What was the inspiration for "Cooking for the Clueless?"
My husband and I grew tired of eating out every night because we didn't know how to cook. One day after realizing that eating out everyday was exhausting and expensive, we decided to get help and help others in our boat (about half of America)!
3. Who would you say has influenced you the most?
My grandmothers, have by far, been the biggest influence on who I am. This includes good and bad habits. LOL. So, I have good old-fashioned values and I'm super nurturing, but I never knew how to cook because they spoiled me instead of teaching me how to cook. Ok, so now that I'm an adult, I won't blame poor grandmas (God bless them), but they did take part in making me "clueless."
4. If you hadn't followed this career path, what other career could you see yourself in?
Journalism. Most definitely. I love asking questions and understanding the world through the stories and experiences of others.
5. What's the highlight of your career so far?
The highlight of my Cooking for the Clueless career has been appearing on some fun morning shows, winning a Tasty Award and meeting my favorite TV chefs in person including Fabio Viviani of Top Chef!
6. What has winning a Tasty Award meant to you?
I love my Tasty Award! It has been great being recognized for admitting that I was clueless in the kitchen and trying to help the millions of America who are most definitely in the same boat. I also love how the Tastys bring all the foodie peeps together in one place – they are so much fun!
7. What's next for Zuzy Martin Lynch?
This spring (TODAY), we're launching Fridays with Fabio where I interview chef Fabio Viviani of Top Chef during a weekly series – asking him anything we want to know. My dream is to bring Cooking for the Clueless to more people  – exposing them not only to the kitchen, but to cultures, customs and foods from around the world.
Fridays with Fabio:

Just a quick note to congratulate Richard Blais for winning Top Chef All Stars.  Your life is about to change.  Enjoy the ride, chef.
For those who missed the fireworks last night on Bravo here is a nice breakdown from TVfanatic.com: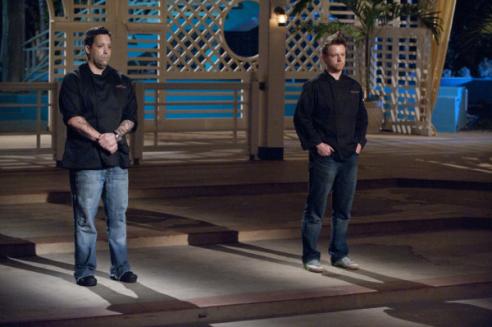 The Final Challenge
No Quickfire, there's just too much to do! The finale seemed a bit rushed to me, but at least Mike and Richard got to open up the restaurant of their dreams, with eliminated foes as their sous chefs. In an interesting twist, the chefs could not directly pick the latter; instead, the sous chefs "auditioned" for Mike and Richard.
While it's a fun twist, I wonder how happy the eliminated chefs must be to cook for the finalists. The fact that chefs who aren't chosen seem rather excited to enjoy their time in the Bahamas probably makes Richard and Mike more nervous.
The chefs are apprehensive, of course, because in addition to gems like Angelo and Antonia, there is also Jamie and Marcel. Richard gets Antonia, Spike, and Angelo, a fairly strong team, while Mike picks Jaime (ouch!), Carla, and Tiffany.
Richard's Restaurant: A surf and turf restaurant named Tongue & Cheek. So Richard!
Menu:
Amuse Bouche: Raw Oyster with Lemon Horseradish Ice Cream and Salsa Verde.
Raw Hamachi with Fried Veal Sweetbreads, Asian Pear, Pickled Radish, and Garlic Mayonnaise
Pork Belly with a Black Cod Cutlet, Bone Marrow, Beets, Brussels Sprouts, and Kumquat
Beef Short Rib with Mushrooms, Red Cabbage Marmalade, and Celery Root Horseradish Puree
Cornbread with Foie Gras Ice Cream and Whipped Mango
The food is generally well-received by the judges, although they seem a bit confused by the foie gras ice cream. I'm awfully curious to know what that tastes like.
Mike's Restaurant: An Italian-themed restaurant named Iz, as his mother called him Izzie while growing up.
Menu:
Spiced beets with Mozzarella, Chocolate, and Truffle Vinaigrette
Halibut with Kumquats Marmalade, Cauliflower Puree, and Pancetta Crumbs
Braised Pork Shoulder with Pepperoni Sauce, Roasted Cabbage, and Turnips
Rosemary Caramel Custard with Pine Nuts, Citrus, Cherry and Apple
Mike's restaurant gets rave reviews, as well, although his dessert isn't as well-received.
[ad] Empty ad slot (#1)!
…
Bravo's Top Chef is one of the most popular food-based television programs in history and devotees to the popular reality show are often left Jonesing for more.
Well I have a solution:  Jeff Houck (Food Writer for the Tampa Tribune) and Katie Machol (Food & Drink Editor for the Daily Loaf) not only lead a lively and sometimes bawdy live Tweet during each new Top Chef episode but they also have the best Top Chef recap in the known universe.
The Top Chef Podcast on CL Radio is like a methadone clinic for Top Chef junkies.  Did you miss an episode and now you're wondering who won, who packed their knives or how much cleavage Gail Simmons was showing?  You can always catch the Top Chef Podcast here:
[ad] Empty ad slot (#1)!
…