Unless he's on the road taping Diners, Drive-Ins and Dives, Guy has no problem making it to his mom's on Mother's Day: She lives right next door.
The two have celebrated with countless pecan pies over the years, using a recipe handed down from Guy's grandfather, a Georgia native. This pie is special, Penny says, because it's not too sweet and has an extra layer of pecans on the bottom.
Author:
Total time:
1 hour 10 mins
Ingredients
1 sheet refrigerated piecrust (half a 15-ounce package)
1 cup light corn syrup
1 cup packed light brown sugar
1/2 teaspoon salt
5 1/3 tablespoons unsalted butter, melted
1 teaspoon vanilla extract
3 large eggs
2 cups toasted pecan halves
Freshly whipped cream, for serving (optional)
Instructions
Preheat the oven to 375 degrees F. Unroll the piecrust and place in a 9-inch pie plate. Fold the overhang under and crimp the edge with a fork or your fingers. Bake the crust until light golden brown, about 10 minutes. Cool completely on a rack. (Leave the oven on.)
Whisk the corn syrup, brown sugar, salt, butter and vanilla in a medium bowl. Lightly beat the eggs in a small bowl, then whisk into the corn syrup mixture.
Finely chop 1/2 cup pecans and spread evenly over the piecrust. Roughly chop another
/2 cup pecans and mix into the corn syrup mixture, then pour the filling into the crust. Arrange the remaining 1 cup pecans on top in a decorative pattern.
Bake the pie until a knife inserted into the center comes out clean, 40 to 50 minutes. Cool completely on a rack. Serve with whipped cream, if desired.
7 Questions is a series of interviews with the culinary movers and shakers you want or ought to know better.
A little over a year ago few people outside of Sin City had ever heard of Vic Moea.  The big, bald, inked chef went from being the scary dude to a genuine momma's boy in just a few weeks.  Though he narrowly missed being the newest Food Network Star, that title went to good friend Jeff Mauro, that doesn't mean Vic's moment in the spotlight is over.
Vic, along with fellow FNS 7 alums Penny Borsuk Davidi, Chris Nirschel and Justin Balmes will be going head-to-head once again only this time it's for charity.  All four will be competing on the star-studded Chopped All Stars which starts this Sunday in a round that pits four Iron Chefs against each other.  The Starsters will be competing in round three where Vic will be representing St. Jude Children's Ranch.
These days Vic has been splitting his time between Las Vegas and in Hollywood shooting a handful of pilots.  All this he does while raising three kids and satisfying the public's requests for his time.  As you can see Vic is a busy man but he was not too busy to answer 7 Questions
1. When did you decide that you could make food your career?
I decided that I could make food my career when I was 19 years old and I found out I was going to have a son and I had to get a job as a dish washer so that's what I pretty much started out as.  As time went on and I got into it more and I started learning my way around it my memory came back of me cooking with the family and growing up into it.  I knew there was something special about all of this.
2. Which chefs have influenced you the most?
Back then we really only had, like, Emeril. That's really the one that stood out the most.  The chefs that really influenced me the most really weren't chefs.  It was my mother and grandmother.  If you notice my style ain't a reflection of anybody else's but my mother and my grandmother.  It evolved into the Vic-thing from the Betty and Antoinette-thing.
3. How was your experience on Food Network Star?
You know, I got called for Hell's Kitchen and Food Network Star at the same time but I had wanted Food Network Star.  It took me five years to get on that show, bro, five years.  Every time I didn't make it I thought it was the end of the world.  But it wasn't supposed to happen then because it wouldn't happen the way it's happened now.
Dude, being on that show was the scariest thing ever and it was crazy.  Crazy, crazy, crazy, bro.  You think you're ready to go.  You think you're great so you go on and it brings you to your knees.  It really brings the best out in you because now it's so comfortable, so cozy and the confidence is there.  But you do it, you experience it and you get your head handed to you.  You get twelve weeks of schooling and training with the best.
Just a true blessing that whole experience.  It changes your whole life.  I didn't realize how many people watch that show.  Oh boy.  And now I've got Chopped All Stars coming up.  You have to be a Wannabe TV Chef to do what we do.
4. How did the Food Network celebrities you met on the show stand up to your preconceived notions?
I got to meet my idols.  Susie (Fogelson) is a lovely woman.  She's an amazing, amazing woman and such a darling.  Dude, Alton is the mad scientist.  He's hilarious, bro, he's twisted.  He's twisted in a good way.  That's the real deal right there.  Alton is phenomenal and I hear Alton is going to be playing a major role in this upcoming season of Food Network Star.
And I got to know Guy.  He invited me to his Road Show when he was in Arizona.  He called me and said "Come on down."  So I drove down with a buddy.  That's another great guy, another cool dude.  Ted Allen – good man!  And Scott Conant, I love that guy.  He's such a perfect judge.
Flay.  Flay was great.  People ask me, "Is Bobby a jerk?  He seems like a jerk."  How could he be a jerk?  How many people want to know that guy?  So he's got to be a little choosy so I guess you gotta earn his respect.  He's not a jerk, he's tough, dude.  If you can win him over by being yourself that's when you and Flay are gonna be tight forever.  Me and Mr. Flay are very close.
Emeril, you gotta understand, a lot of TV people don't really cook but that guy, man.  I'm going to have to say, not taking anything away from anyone else, but by far one of the most talented cooks I've ever met in my life. I'm a chili pro now because of him.
5. Which of your fellow cast members do you still keep up with?
Ah, Jyll, the most underrated person on Food Network Star.  She's awesome, dude.  She needs to keep going.  I got to know her so well, teaming up with her so much.  That by far was my best female friend on the show.  Jyll is awesome, dude.  Orchid, she's such a doll, dude.  Oh my God I love her.  And Whitney is amazing.  Whitney Chen is fabulous.  I love Whitney Chen.
Howie, by far, one of the most amazing dudes I ever met.  He's become like a brother to me.  Me and Howie, we talk all the time.  I've flown down to Denver and hung out with him.  We went to the first Monday Night Football game together.  I freakin' love Howie.  He was the first one off the show and he's going to be one of the biggest stars out there.  Isn't that killer, dude?
Yeah, and Crazy Chris is going balistic right now.  He's on VH1 Celebrity Couples Rehab with Angelina from the Jersey Shore.  That's perfect you know what I mean?  I was making jokes like the second week we were in the house.  I looked at Chris and said, "So, when this is over who are you going to be dating from the Jersey Shore?"  I said that two weeks into filming Food Network Star.  I gotta stop wishing for things, man, a little Vic-tradamus going on here.  He can be my little brother for life.
And Susie (Jimenez).  She's completely sweet.  She's a little firecracker.  I've got nothing bad to say about nobody.  I liked everyone and everybody was awesome to me.  People have said to me, "Vic, you look so distressed every time someone got eliminated" and I'm like, "Dude, I made friends with everybody."  We bonded so well, half the time we forgot it was a competition show.
6. How was competing on FNS different from competing on Chopped: All Stars?
For one the time frame (twelve weeks versus one day).  On FNS we were isolated from the whole outside world.  Everything was stripped of us, couldn't talk to our family often.  I'd say we were in jail but in jail you get to use the phone.  But Food Network Star prepared us to go on Chopped and have a blast.  When you see us on Chopped no one is trippin' we're just like, "Yeah!"  And (Chopped) is the crazy show that scares the crap out of everyone.
Food Network Star is a combination of personality and skills.  Chopped is about skills.  Chopped is not a personality show.  Did we bring any personalities to the show?  Hmm, I don't know. [laughs]  But Justin Balmes may have gotten ixnay'd from Food Network Star early but now this is about cooking ability and that guy is Iron Chef status.  And I'm like, "Oh my God I'm facing Justin B?  Holy crap!"
When I found out the line-up I was like alright, Chris.  Anything is possible because Chris has been a chef now in Little Italy for quite a few months and Penny didn't go home because she didn't cook good.  She didn't have one bad meal.  And you have Justin Balmes who's pretty much like an encyclopedia and very talented.  He could be trapped on an island with wild life and he's going to survive cuz he knows how to utilize the whole animal.  Let's show everybody out there who knows how to cook.
It was awesome hanging out with Penny and Justin and Chris again.  Cuz Penny she's good people, man.  She really is a good person.  She just played the heel.  That's OK because at the end of the day when she goes home with her family she's a loving mother, she's a caring friend.
7. What's next for Vic Moea?
I am making it happen.  Some much stuff.  More than you even know is going to be jumping off in the next year.  I go non-stop, man.  I used Food Network Star as a lesson.  I used it as the tune-up for where I really want to be. I got it all out of my system and it was like ba-bing.  Now, let's do this.  I teamed up with US Foods; I'm now their corporate executive chef for Las Vegas.  They're totally cool with me going down to Los Angeles to shoot the pilots and the presentations for the three or four show ideas that have been brewed up for me.
For a couple of months after the show (Food Network Star) we weren't allowed to talk to anybody.  But almost every production company wanted to meet me. So I was talking to Mark Burnett Productions to Big Dog Productions to 123 Productions, everybody.  And a lot of people were scripting up shows about me just in case my future didn't continue with Food Network as well as the Momma's Boy show being scripted.  There's other people – Travel, A&E, Spike TV, Bravo.  Just wait.  It's amazing, dude, what's going to be taking place.  But no more competing, now it's host time.
As a kid I literally wanted to be a WWE wrestler.  At heart I am a WWE wrestler.  I don't want to be a full time wrestler; I just want to be in Wrestlemania one day.  And actually, Stu, it's being worked on.  You never know.  I could be wrestling Guy Fieri on Wrestlemania.
The events at SoBe are mammoth.  For those not in the know that is the nickname of the Food Network South Beach Wine & Food Festival and it has turned into one of the premiere events, gastronomical or otherwise, in the world.  It is the Sundance of food.
Hang out with all the top Food Network, Cooking Channel stars all weekend long. All your favorite hosts and chefs were here: Guy Fieri, Bobby Flay, Paula Dean, Melissa d'Arabian, Alex Guarnaschelli, Robert Irvine, Nadia G, Marc Forgione, Sunny Anderson, Anne Burrell, Jeff Mauro, Rachel Ray, The Neelys, Michael Symon, Geoffrey Zakarian and more!
Take a look back at the best that Miami had to offer as Food Network recaps a weekend of sun, sand, BBQ, small bites, sweet treats and tons of starving fans:
Hang out with all the top Food Network, Cooking Channel stars all weekend long. All your favorite hosts and chefs were here: Guy Fieri, Bobby Flay, Paula Dean, Melissa d'Arabian, Alex Guarnaschelli, Robert Irvine, Nadia G, Marc Forgione, Sunny Anderson, Anne Burrell, Jeff Mauro, Rachel Ray, The Neelys, Michael Symon, Geoffrey Zakarian and more!
Take a look back at the best that Miami had to offer as we recap a weekend of sun, sand, BBQ, small bites, sweet treats and tons of starving fans.
Last year I made a pair of Burger Crawls, one in Los Angeles and the other in Mobile.  I waxed poetic about the Stout Burger at Stout, a gastro pub in the heart of Hollywood.  Likewise I gushed about the Wagyu Burger at Shamrock, Rose & Thistle Tea Room in Mobile's Spring Hill neighborhood.  I declared Shamrock's burger the best in the Mobile area and the Stout burger was the best I had ever eaten.  All that has changed.
My good friend, Pete Blohme has operated his celebrated sandwich shop over in Fairhope for years now.  Panini Pete's has been featured on the Food Network and the friendship that sprang from that first taping with Guy Fieri has evolved into something straight out of a cop/buddy film.  The Diners, Drive-ins and Dives host hit is off swimmingly with the South Alabama chef and since then Pete has been seen on multiple episodes of Guy's TV shows not to mention being a primary component in the Guy Fieri Road Show.
Well a few months ago, Pete opened up a satellite of his famous eatery in downtown Mobile.  Showing off the Tinsel Town flair that he picked up from his buddy Guy, Pete did a soft opening of his new digs last November and was nice enough to invite me in to take a gander.  The evening featured bite-sized versions of his popular menu items including his infamous turkey panino and some of his outstanding burgers.
One nibble in particular has haunted me since that night, Pete's Eastern Shore Burger.  A simple but eloquent offering of 100% Fresh Ground Certified Angus Beef on a perfectly toasted bun with onion confit and herbed goat cheese.  That's it, folks – a bun, a patty and two condiments.  Best.  Burger.  Ever.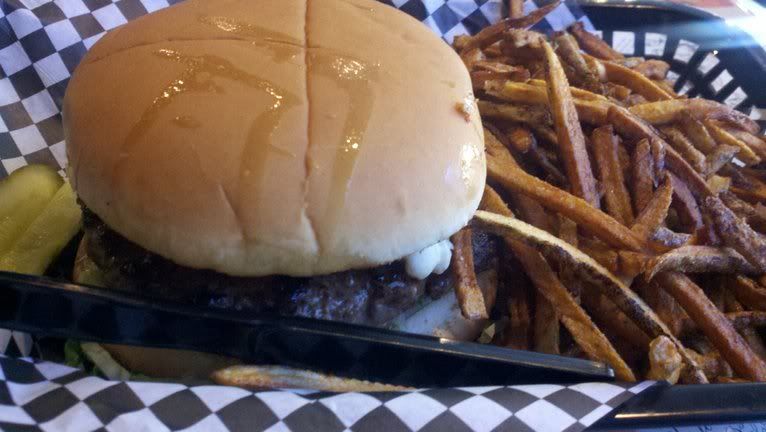 The other day I slipped back by the new location to chat with my buddy and to try the full half-pound version of the Eastern Shore Burger.  Bigger is better.  It's hard to put into words how perfectly the juicy burger, savory-sweet onions and the pungent goat cheese come together.  It's poetry on a bun.  It is officially my new favorite burger.
I also sampled Pete's one-of-a-kind shoestring fries.  Shoestring is putting it mildly.  These fries would make fat jokes about your typical shoestring fries and on bite number one it was obvious these were fresh cut.  They were fried crispy on the outside and tender in the middle then seasoned with an inventive blend that was a bit spicy (not unlike a Cajun Seasoning) and with the distinct air of cinnamon.  It was different yet comfortable.
There are a lot of cheflebrities out there who are heavy on the celebrity but light on the chef.  One stop at Panini Pete's proves that Blohme is not one of them.  His creativity and attention to detail is evident in every morsel you shovel down your gullet.
Last spring Pete, Guy and I had dinner with Alabama Governor Robert Bentley and a few hundred of our neighbors in Gulf Shores.  Check out the festivities.