Iron Chef Jose Garces faces off against challenger Rebecca Weitzman. Chef Weitzman is the executive chef at Redwood Kitchenette in New York's Chelsea neighborhood. The judges for Battle: Silkie Chicken are Karine Bakhoum, Art Smith, and Julie White.
Chef Weitzman grew up just outside of Boston but has made her bones working in some of the most well respected kitchens in the Big Apple.  That includes time spent working for chef Bobby Flay at Mesa Grill, Bolo and Bar Americain as well as 'inoteca Restaurant.  Pedigreed toque Rebecca Weitzman made her name thrilling Park Slopers with locavore plates at Thistle Hill Tavern (where she is still partner, though no longer head chef). After a brief stint at gourmand movie-theater café Indie Food and Wine, the CIA grad has turned up at the cheery Chelsea diner, sporting redwood paneling, U-shaped teal banquettes and a blown-up vintage photo of a trailer amid crisp fall foliage, plus an actual shiny Airstream trailer retrofitted to serve as a bar.
If Chef Rebecca looks familiar to Food Network viewers it's because she competed on Chopped back in 2010 on an episode called "First Things Worst."  There she took home the win making a dessert that included baby bananas, coconut flakes, pumpernickel rye and soy sauce.  Hopefully that experience will translate into a solid performance in Kitchen Stadium but it won't be easy as Iron Chef Jose Garces will be waiting.
Check below for the outcome.
| | | |
| --- | --- | --- |
| | Garces | Weitzman |
| Taste | 27 | 22 |
| Plating | 15 | 12 |
| Originality | 15 | 11 |
| Total | 57 | 45 |
Iron Chef Michael Symon faces off against challenger Stephanie Izard. Chef Izard, a James Beard Award nominee and Top Chef winner, is chef and owner of Girl & The Goat in Chicago. The Judges are Anthony Anderson, Karine Bakhoum and David Rocco (be sure to check out my exclusive interview with David HERE).
Stephanie Izard is no stranger to anyone who follows cheflebrities.  She was the winner of Bravo's Top Chef 4.  Today she is easily the most accomplished and successful TC winner.
After graduating from the Le Cordon Bleu program at the Scottsdale Culinary Institute, Chef Izard worked at the Camelback Inn Resort & Spa, as well as a couple other restaurants, but then made the very spur-of-the-moment decision to pack up and move to Chicago in 2001. She's been in love with the city ever since. After landing in Chicago, Stephanie got a gig as garde manger at Jean-George Vongerichten's Chicago outpost of Vong.
After leaving Vong, Steph worked as a roundsman at Spring under Shawn McClain and then sous chef at La Tache with Dale Levitsky. In 2006, she branched out on her own with the Bucktown restaurant Scylla, which was quickly named one of the 10 best restaurants in the country by Bon Appetit. Being both owner and chef of her own place was a huge learning experience, but she opted to close in 2008.
That's when she appeared on Top Chef, after which Izard assembled a team to open Girl & The Goat in Chicago's West Loop.  Food Network Star finalist and good friend Judson Allen assures me that Girl & The Goat is in his opinion the best restaurant in the Windy City.  The lady can bring it.
Top Chef vs. Iron Chef. Izard vs. Symon.  This should be one for the ages.  Be sure to check out my exclusive interview with Iron Chef Symon HERE.
| | | |
| --- | --- | --- |
| | Symon | Izard |
| Taste | 27 | 27 |
| Originality | 14 | 12 |
| Plating | 15 | 13 |
| Total | 56 | 52 |
Last week the Iron Chefs visited the set of Chopped.  This week the inverse happens.  Iron Chef Jose Garces faces off against challenger Madison Cowan. Chef Cowan is the first ever Grand Champion on the hit series Chopped. Judges are Karine Bakhoum, Laurent Tourondel and Farmer Lee Jones.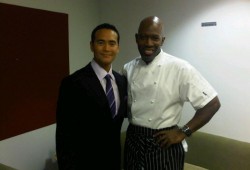 Chef Madison Cowan is a hands-on dad, author, restaurateur and former street resident with roots in London, Detroit and Jamaica. He also runs Madison Cowan LLC, a global culinary production company that oversees operations in licensing and consulting, cookery demonstration, television appearances and mobile clandestine dining that has reached throughout Africa, Europe, Japan and South America.
In 2010 Food Network selected him as a contestant for their hit Primetime series, Chopped where he competed and won three consecutive episodes to become the first ever Chopped Grand Champion. He will next be seen on BBC America's exciting new series No Kitchen Required, set to premiere April 2012. Madison has also written his first cookbook Soul Voyage about cooking from your soul, no matter the ingredients, location or who you are, as well as chronicling a few of his journeys. Madison currently resides in New York.
The Chopped kitchen is a tough venue to be sure but there is no place like Kitchen Stadium for there waits Iron Chef Jose Garces for Battle: Kale.
Check below for the outcome.
[ad] Empty ad slot (#1)!
Garces                       Cowan
Taste: 23                          Taste: 26
Plating: 13                        Plating: 13
Originality: 12                  Originality: 14
Total: 48                           Total: 53
Iron Chef Masaharu Morimoto faces off against Challenger Justin Bogle, Executive Chef at Gilt in New York City. Judges are Donatella Arpaia Stewart, Ben Sargent and Karine Bakhoum.  With Morimoto in the kitchen and Ben Sargent on the judges table it is safe to assume this will be a seafood battle.
Chef Justin Bogle continues to make his mark at GILT as their Executive Chef.  Rooted in the classics, Bogle's unique approach makes the most of the best ingredients, creating completely new ideas and innovative presentations while still utilizing comforting, familiar
flavors. His primary goal is creating something delicious that people will want to eat, always using the highest-quality, sustainable ingredients.  Before moving to New York Chef Bogle  worked at the Striped Bass where he worked side by side with Chef Christopher Lee in developing one of the most successful restaurants in Philadelphia.
A graduate of The Restaurant School at Walnut Hill College in Philadelphia PA, Bogle is the youngest chef in New York City to receive Two Stars from the MICHELIN Guide, which he has received for the third year in a row with the recent announcement for the 2012 Guide. (GILT has earned the coveted award for the fourth consecutive year.) In August 2010, Bogle was named a "Rising Star Chef" by Restaurant Hospitality, followed by Zagat honoring him as one of New York City's "30 Under 30″ Up-and-Coming Chefs to watch in 2011. He also recently appeared on the Martha Stewart Show, showcasing his celebrated "dirt salad."
So a challenger with a background in seafood is taking on Chef Morimoto (the king of fish battles) with the host of Cooking Channel's Hook, Line and Dinner sitting on the judges' table has got to mean a fish battle right?  You got it; Battle: Paiche.
Check below for the outcome.
[ad] Empty ad slot (#1)!
Morimoto           Bogle
Taste: 30                Taste: 21
Plating: 15              Plating: 12
Originality: 15         Originality: 10
Total: 60                 Total: 43