Originally published on June 17, 2009.
Last time on My Summer Reading List I reviewed Ruth Reichl's Tender at the Bone: Growing Up at the Table, the beautiful story of a little girl in love with food who grows up to be a renowned food writer. Tender is a romantic telling of a life spent in food. Kitchen Confidential is a whole other beast.
Semi-retired chef Anthony Bourdain shocked the world with his tome on the inside workings of the restaurant industry, Kitchen Confidential: Adventures in the Culinary Underbelly. As the story goes, Kitchen Confidential blew the lid of the industry upon it's release in 2000 by revealing the drunken, drug-laden debauchery that exists in American professional kitchens. I question how many people were genuinely surprised by the revelations in Bourdain's work, after all the restaurant industry employs more people than any other industry in the nation, save the Federal government, over 12 million jobs nationwide.
I believe that most of the hullabaloo was feigned. After all, of those in the media not currently employed in the Life (as Bourdain calls it) most at least used to be employed in it. To a lifer like myself the book was comfortable. It was like sitting down with an old friend over a bottle of Johnny Walker getting three sheets while reliving memories and swapping tales.
Bourdain paints a perfect picture of life in the kitchen, testosterone driven trash talking, seducing servers and drinking way too much. But what surprised me was the author's love of food. Images sketched in words of his first raw oyster freshly plucked from the brine while only a lad to his experiences with the amazing creations of Scott Bryan, Eric Ripert and Ferran Adrià. Throughout the text I was constantly reminded of both Bourdain's love affair with food and his sheer talent for the smithing of words.
The boy's got chops. At the time of its publishing I don't think Bourdain knew just how good a writer he was. The book was so explosive, so popular that it actually was made into a television series, all though it was a short lived one. Fast forward nearly a decade and Tony is no longer commanding the kitchen at Les Halles, no longer going on three-day coke benders (I hope) and no longer chasing tail. He has become what he loathed and found it's a pretty nice gig, this celebrity chef thing.
I made sure to put Kitchen Confidential on my summer reading list because I knew how important a book it is. What I did not expect was how much I would learn from it. In fact, I have gotten a whole new reading list from it. Bourdain emphasizes how important it is for any chef to read the classics, if you will, of our profession.
In sports the greats of the game are known by just one name: Hank, Bo, and Michael. Sports fans know of whom I speak. The culinary world is no different and it is these chefs of which Bourdain speaks. Works of literature produced from chefs so revered that they are known by just one name, Escoffier and Bocuse. So thank you, Tony. Not only have you penned a great book, but you have also made my summer reading project a little longer.
Next: Heat by Bill Buford.
On the Monday August 11, 2008 episode of No Reservations, Tony Bourdain ventures through the exciting culinary adventure to be found in Tokyo.  His guide along the way is none other than Iron Chef Masaharu Morimoto.  On the No Reservations site you can view highlights from the show as well as get a list of restaurants and what not Tony enjoyed while in the Land of the Rising Sun.  There are also crew blogs and Tony's photo journal.  Check it out!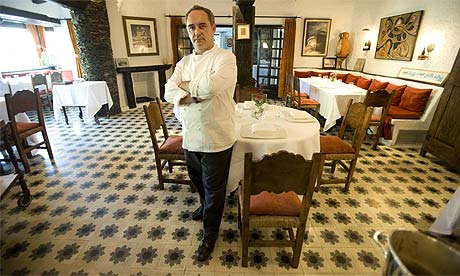 I can't wait to see how the media blames George W. Bush for this. El Bulli, arguably the best restaurant in the entire world is closing its doors. Is it another victim of the second Great Depression? Has the global economy even reached the Costa Brava?
No. In fact, the reason is quite the opposite – too much business.  Cheflebrity and owner Ferran Adrià is tired.  He cites 15 hour days and a desire to spend some time with his family for the recently announced closing of the famed Spanish eatery.  "No meals will be served in El Bulli in 2012 and 2013," he stated, adding, "But listen, these are not going to be years of sabbatical."  Chef Adrià made the announcement at the international culinary conference Madrid Fusion.  El Bulli celebrates its 50th anniversary in 2012.
Famed food writer Ruth Reichl spoke with Adrià tonight but only had this to say via her Twitter page, "Why do I never understand Ferran? Long talk tonight about why he's decided to take a break, but I understood about 1 word in 10. Sorry."
So why so much fuss about a restaurant in a hard-to-get to location in Spain?  Because El Bulli introduced the world to a whole new approach to cooking.  It is the Mecca of molecular gastronomy – the happy emulsion of food and science.  Adrià's concoctions are mind-bending – suds as a garnish, frozen passion fruit whiskey sour, brochette of banana with bacon, etc.
The news of El Bulli's closing is like Brett Farve retiring . . . and staying that way.  I'm sure the reservations book for 2014 is already filling up.  For an idea of what dinner at El Bulli is like check out this blog entry from Lia, Food Network employee and blogger of This Little Piglet.  It is a mind-boggling chronicle of the amazing expanse of Adrià's genius.   Or check out Anthony Bourdain's visit on No Reservations: