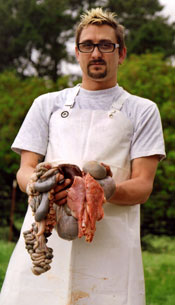 The following video is a proposed pilot for a very raw cooking show starring Incanto executive chef Chris Cosentino.  "Chef Unleashed invites the viewer on a global eating exploration.  It's a new kind of reality show, about where good food really comes from—when it's done right."
Cosentino is well know for his nose-to-tail approach to cooking.  As a chef he has a tremendous respect for the animals that feeds us and that is why he uses all them in his cooking, so nothing goes to waste.  That is a far more nature-friendly approach than treating animals as a minority group surrounded by a bunch of half-baked activists.
This is the kind of cooking show I would love to see and I think Americans could benefit from.  Let me warn you that if you are the type that can't bare to see Bambi drilled with a .306 through the jugular then this will be hard for you to watch, but you need to watch it.  Once you see Chris' actions and emotions you'll understand where he's coming from.  Plus we're only ever three days without power away from having to live like this again.  Anyway, this is what Extreme Chef should have been like.
Chef Unleashed from Chris Cosentino on Vimeo.
Cooking the Unthinkable is a series that examines some of the more eccentric ingredients.  Whether you are a fan of the bizarre or are preparing for the eminent collapse of Western society this series will help you better stomach weird food.
As a child I always thought of fried chicken gizzards as a treat.  Anyone could have fried chicken but chicken gizzards?  You had to be rich to have those right?  I mean they are so much tastier than most any other part of the bird, well except for the heart and a good package of gizzards would also have a few hearts thrown in.
Today I know better.  Gizzards aren't rich people food they are peasant food and yet another example that offal (what Tony Bourdain refers to as the "nasty bits") is the best part of an animal.  Offal refers to the various organs and generally unsavory parts that civilized folks don't eat.
In this case gizzards are the muscular, thick-walled part of a bird's stomach used for grinding food.  And if sissies want to turn their noses up at them that's OK with me because their childishness helps keep the
prices low on the good stuff.  I'd rather have thighs than legs, legs over wings and wings are far tastier than breasts which are the poultry equivalent to tofu only edible.
I'd take a plate full of fried gizzards over all of these.  I've used gizzards a number of ways including finely chopped to make Dirty Rice, giblet gravy and in dressing.  But for my money the best way to eat gizzards (or pretty much everything else) is fried.  Like my regular fried chicken I like to marinate them in buttermilk for a while to help tenderize them and add a little more flavor.  A nice spicy dipping sauce is the perfect accompaniment although making a little gravy of the frying oil works as well.  Heck I bet you could do them Buffalo style and they'd still be tasty.  Check it out:
Cooking the Unthinkable is a series that examines some of the more eccentric ingredients. Whether you are a fan of the bizarre or are preparing for the eminent collapse of Western society this series will help you better stomach weird food.
I remember watching the original Iron Chef from Japan and like most Americans I was enthralled by the things they ate. Weird things like eyeballs, shark's fin and the most unpalatable food of all time tofu.  Every time the secret ingredient was some animal it seemed someone would always make a course out of that animal's cheeks.  Apparently face is tasty.  So I tried it for myself.
I had been seeing Cryovaced packs of beef cheek at the market but I just didn't know what to do with it.  It was a meaty cut, bright red in color but how exactly does one cook beef cheek?  I checked Chris Cosentino's web site, Offal Good, which is devoted to offal and found some neat recipes.  The same with Michael Symon's site but it yielded no cheek recipes.
After a few searches I found that pot roast is a common application.  At least one article suggested that cheek was superior to chuck when pot roasting so that was what I did with mine.
I love pot roast. I really do and I made the best pot roast I ever.  Ever.  Usually my favorite parts of pot roast are the sweet and slightly tangy carrots and of coarse the beef itself.  But in this pot roast everything tasted equally as good as everything else.  So the next time you are going to do a pot roast save a little money by substituting cheek for your usual roast and reap the benefits.
Originally posted October 26, 2008.
Chris Cosentino is no stranger to Kitchen Stadium.  Chris Cosentino is no stranger to Michael Symon as Symon beat Cosentino among others to become The Next Iron Chef.  So, with a gaggle of experience on his side Chris Cosentino returns to Kitchen Stadium tonight to square off against Symon one more time.  So here's a little about Chris Cosentino from his web site, offalgood.com:
Growing up in Rhode Island, Chris Cosentino spent his time clamming, commercial fishing, and cranking the pasta machine in his great-grandmother's kitchen. He was raised on a cuisine particular to parts of New England where Atlantic seafood, Yankee fare and classic Italian cooking fuse into one colorful gastronomy. Creating good food was a family tradition, as Cosentino's maternal ancestors, the Eastons, were the founders of Newport's beloved Easton's Sausage Company.  Today, as executive chef of San Francisco's Incanto, where he cooks in an earthy rustic Italian style, Cosentino is proving that a penchant for meats may just be hereditary. Cured, raw or roasted; traditional cut or offal, meat is his muse. Incanto's lauded charcuterie selection, all cured in-house, ranges from mortadella to fragrant fennel salame to a sweetbread terrine and an intense salt-cured pork liver. Cosentino also has an abiding passion for offal, and is currently at work on a definitive cookbook on the subject. At Incanto, he features offal on his daily changing menu as well as in an annual Head to Tail dinner, and in a Quarto Quinto, or fifth quarter tasting menu.

Yet this meat-loving chef does not ignore produce. California is a giant garden, he says, and indeed, he can be spotted at San Francisco's Ferry Plaza farmers market every Saturday morning, rain or shine. His curiosity does not stop at the farm, and Cosentino is an avid researcher of cooking techniques, equipment, and culinary lore through the ages, which he is eager to share with his customers. Everyday I have the opportunity to educate people, just as each day is ultimately an education for me, he says.

Cosentino's formal education took place at Johnson and Wales. Upon graduation, he worked at Mark Miller's Red Sage in Washington, DC. "This was the best first kitchen job I could have had", he recalls, because I learned from Mark that food is deeply rooted in history and is not just something that a chef merely creates out of thin air. He credits Miller with sparking his love of reading and research through the access he gave him to his prodigious cookbook library.

After Red Sage, Cosentino worked at Kinkead's before moving to San Francisco to work under Traci des Jardins (who also competed on The Next Iron Chef) at Rubicon. He was then tapped by Drew Nieporent to open The Coach House on Martha's Vineyard. Cosentino returned to California to work briefly at (Alice Water's) Chez Panisse, as well as the three-star Belon as sous chef, and as a chef/consultant at Michael Mina's Aqua group, opening Nob Hill in Las Vegas.

One weekend while working at a gala event in Napa Valley, Cosentino found himself cooking alongside Jean-Louis Palladin. The meeting formed into a friendship that lasted until Palladin's death, and deeply influenced Cosentino's outlook on cooking. Jean-Louis taught me never to cook for reviews, but for my diners and myself, he says. An avid hunter, Palladin also taught him to be realistic and respectful about the path an animal takes from farm or forest to plate, sparking his interest in offal cooking.

At Incanto, Cosentino makes his Executive Chef debut. He took over the helm of the one year-old restaurant in 2003, immediately garnering a three-star review from SF Chronicle's Michael Bauer, the first of many critical accolades.

In addition to spending time with his wife and young son, Cosentino's other passion is endurance cycling. In between restaurant jobs, he was a professional cyclist, putting his single speed mountain bike through its paces in 24-hour ultra endurance mountain bike races through some of the most punishing terrain in North America. Today he takes his bike around Northern California's mountainous terrain, always on the lookout for wild edibles.