An alternative title for this post might have been Ace of Cakes vs Iron Chef as Cheflebrity Duff Goldman takes on fellow FN colleague Michael Symon.  This makes the second week in a row that Food Network employees have squared off against each other in Kitchen Stadium.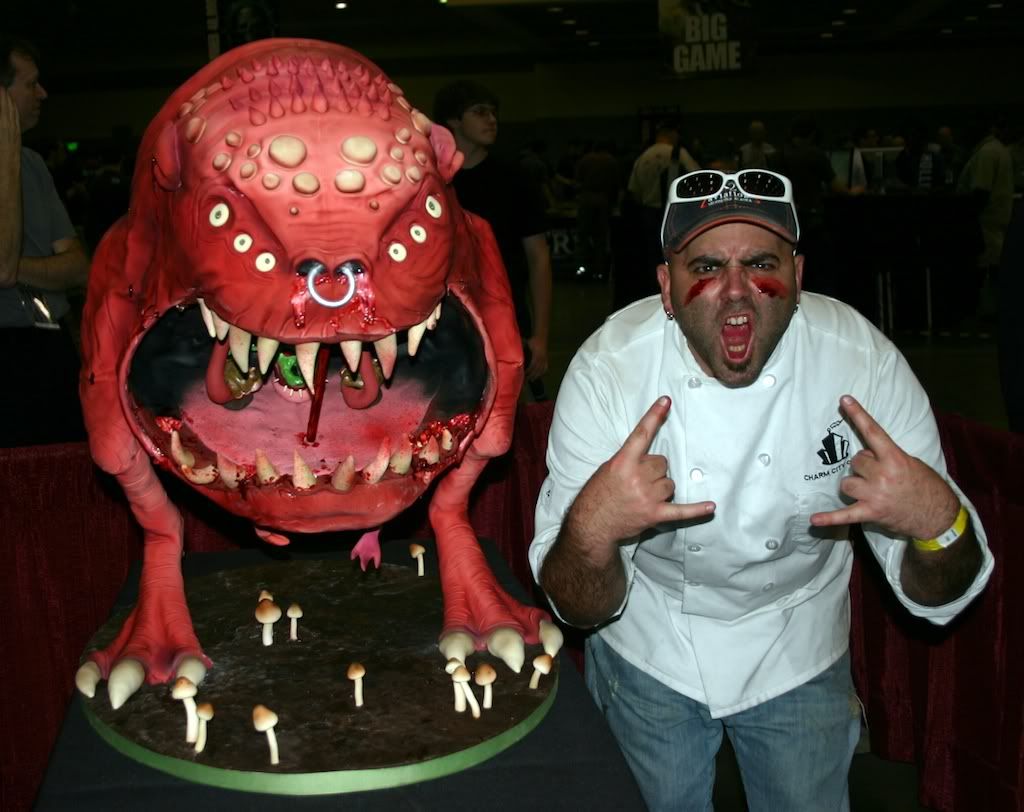 Many fans may not know that Duff is not just an Ace of Cakes, but a chef as well having studied at the Culinary Institute of America's Napa Valley campus.  He even did a little time working the line at The French Laundry owned by the man many consider the best chef in the world, Thomas Keller.
However, Chef Duff's tenure in Yountville was hardly a cakewalk.  Goldman famously abandoned his station in the middle of a rush only to return later begging for forgiveness.  Duff has also worked for Todd English at his DC restaurant Olives before returning home to Baltimore to open Charm City Cakes.
This is not Goldman's first competition on the Food Network.  He has appeared on Food Network Challenge multiple times both as a contestant and a judge for various cake challenges.  Goldman vs Symon premieres Feb 06, 2010 at 10:00 PM ET/PT.  Rumor has it one of Duff's signature power tools makes an appearance.
UPDATE: Iron Chef Symon smoked Duff winning 56 – 48 proving that savory is not a part time job.
If you haven't yet, check out my exclusive interview with Iron Chef Michael Symon HERE.
[ad] Empty ad slot (#1)!
Boston's foremost celebrity chef is still a bachelor. Todd English, of Olives and Bonfire fame, was supposed to marry Erica Wang, his girlfriend of almost two years, at the St. Regis in New York on Saturday night, but the pair canceled the wedding at the last minute.
English's reps say the decision was mutual and that the couple's family and friends were notified of the split a few days in advance, but some guests tell us they were already en route to New York City when they heard the wedding was off. Insiders tell us the news wasn't a shock. Apparently, English and Wang's relationship was a turbulent one.
According to the New York Post, Wang gathered her family and friends on Saturday night for a condolence party, making use of the food and drink that had already been purchased for the ill-fated affair. She wore all black, but kept the crowd dancing. English's reps would only make one official comment yesterday: "No wedding took place this weekend. We appreciate your respect of Todd English's privacy at this time." Those reps didn't shed light on why English and Wang's registry on the Tiffany's website lists their wedding date as June 1, 2009. Perhaps this isn't the first time the party was canceled? (For the record, the couple had registered for some clocks, frames, and $475 salt and pepper shakers.)
It seems the weekend wasn't ruined for English's friends, who wound up in New York City with nothing to do. John Henry's wife Linda Pizzuti Henry and Boston nightclub owner Ed Kane, who are pals of English, said on Twitter that they were spending Saturday night at NBC watching Ryan Reynolds and Lady Gaga on "Saturday Night Live." Not a bad Plan B, right?
UPDATE: Erica Wang was ultimately charged with with felony assault and criminal possession of a weapon after she allegedly attacked Chef English prior to the wedding.  The attack prompted him to call off the relationship.  Purportedly English tried to keep the matter quiet but Wang chose to play out the dispute in the media.  Wang's publicity-mongering only lends credence to the psycho-bride opinion that swarms this whole affair.  Neither does the fact that Wang through a $150,000 bash at the St. Regis and danced the night away at what was supposed to be the couple's reception.