Paul Bocuse, born on February 11, 1926 in Collonges-au-Mont-d'Or, was a French chef. He died on June 4, 2012, at the age of 86.
Friends and family are mourning the loss of a loved one.
That was the headline I read last night on multiple web sites and news sources.  It was a hoax.  Those news sources were duped and so was I.  Chef Bocuse is still with us.  It's crazy that people think that perpetrating such a fraud is fun.  Myself and several of my fellows in the chef world were in genuine mourning last night.
The bright sight of such events is that it does give us a chance to celebrate a great life while it is still going on.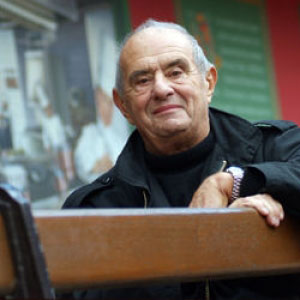 In the world of chefs the name Paul Bocuse is held up as one of the universal heroes of the industry, easily on par with James Beard and even (dare I say) Auguste Escoffier.  Chef Bocuse is not a regular on Food Network nor is he a judge on Top Chef.  He is the guy that inspired all of those famous TV chefs.  In fact he trained many of them.  He is a living legend and the name sake of the hardest cooking contest in the entire world, the Bocuse d'Or.
In my days as a professional musician there were names that we uttered with reverence, they were performers who fell under the heading of a musician's musician. The Canadian rock trio Rush is often referred to as a band's band because of their virtuosity.  Well, Paul Bucose is a chef's chef.
A good friend, Carl Tilley, the executive chef at renowned Kitchen on George had this to say about Chef Bocuse, "I remember watching highlights of the Bocuse d'Or competition when I was in Culinary School and being just blown away. He is one of the guys I would love to sit down and have dinner with."
There's a section of the Wikipedia entry on Chef Bocuse entitled "Contribution to French gastronomy."  It hardly does him justice but here it is:
Bocuse made many contributions to French gastronomy both directly and indirectly, because he has had numerous students, many of whom have become famous chefs themselves. One of his students was Austrian Eckart Witzigmann, one of four Chefs of the Century and the first German-speaking and the third non-French-speaking chef to receive three Michelin stars. Since 1987, the Bocuse d'Or has been regarded as the most prestigious award for chefs in the world (at least when French food is considered), and is sometimes seen as the unofficial world championship for chefs. Paul Bocuse has received numerous awards throughout his career, including the medal of Commandeur de la Légion d'honneur.
The Culinary Institute of America honored Bocuse in their Leadership Awards Gala on 30 March 2011. He has received the "Chef of the Century" award.
In 1975, he created the world famous soupe aux truffes (truffle soup) for a presidential dinner at the Elysée Palace. Since then, the soup has been served in Bocuse's restaurant near Lyon as Soupe V.G.E., V.G.E. being the initials of former president of France Valéry Giscard d'Estaing.
The folks at the Culinary Institute of America (CIA) recently put out this video featuring "Chef of the Century" Paul Bocuse.  How important a figure is Chef Bocuse in the world of gastronomy?  The top culinary championship in the world is named after him, Bocuse d'Or.  The chef's son, Jérôme (a 1992 CIA graduate) serves as translator as the elder Bocuse takes questions from the students.  Have fun: