So I opened up my P. O. box the other day to reveal this piece of junk mail for Pizza Hut's new P'Zolo.  So what's a P'Zolo?  Good question.  Pizza + Stromboli + Solo = P'Zolo; who knows?
Going by the picture it looks like a flat bread sandwich approximately 8″ long and 2 to 2.5″ in diameter.  It comes in three flavors – $3 each or two for $5.  Each one comes with your choice of marinara or ranch dressing.
Again, that's based on the pictures in the flier.
What arrived was, well, a pathetic excuse for a Hot Pocket.  And Hot Pockets aren't exactly culinary gold.  The actual P'Zolo was maybe 5 inches long and about an inch in diameter and looked nothing like the picture in the ad.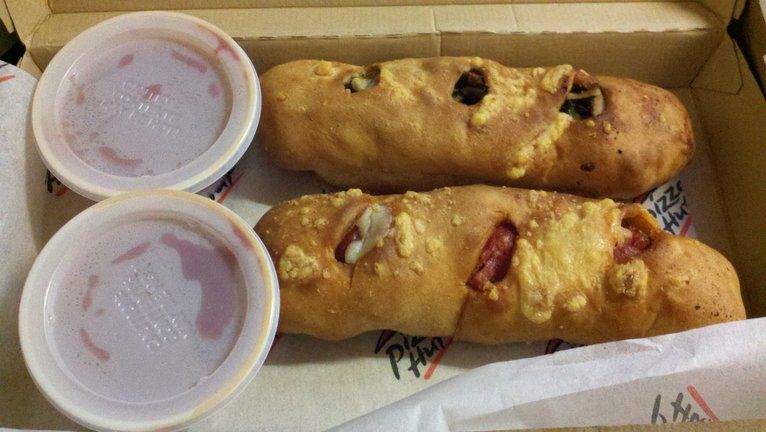 These little things are mostly bread.  The Buffalo Chicken had almost no chicken or Buffalo sauce in them, perhaps two bites right in the middle.  The Meat Trio wasn't too terrible when dipped in the marinara.  The Italian Steak was a freakin' joke.  It was mostly filled with bell pepper.  There was nothing in them that resembled steak and the mushrooms were scarce.
The dipping sauces are way off.  I don't eat ranch dressing on anything, furthermore the only dressing for Buffalo Chicken anything is Bleu Cheese.  It wasn't an option and marinara certainly doesn't work with it.  Luckily I had some bleu cheese in the frig.  The marinara (as I mentioned above) does work with the Meat Trio, however neither ranch nor marinara go with the Italian Steak.  You know what does go with it?  A horseradish cream which, luckily, I had some of too.  You know what else would have helped, some actual steak.
Now take a gander at a photo of the actual P'Zolo with the ad next to it for comparison and scale.  The flier features a picture of a hand holding a P'Zolo.  The hand in the picture is to scale with my own hand and as you can see there is at least 6 inches of sandwich thingy extending from it.
Even at $2.50 each these things were a tremendous disappointment.  After all a real Hot Pocket only costs .99¢ and they are much better tasting.  I would have to categorize them a complete and utter failure.  Whoever OK'd these things should be out of a job.  In a word, they P'suck.